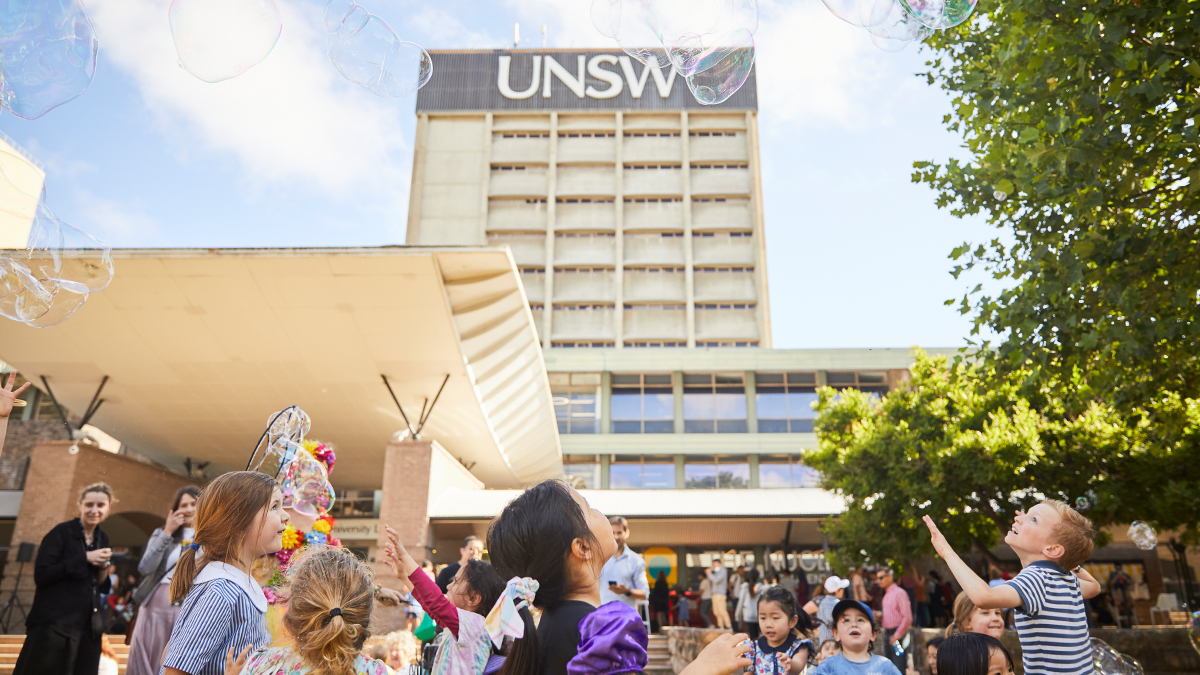 Dear colleagues
The past two weeks have been momentous, with some wonderful achievements and some fun to be had as well. The remarkable news of Scientia Professor Trevor McDougall, Associate Professor Brett Hallam, Adjunct Professor Alison Todd and Adjunct Senior Lecturer Dr Elisa Mokany being awarded Prime Minister's Prizes for Science is a perfect opener for this edition of Inside UNSW. Also featured is the brilliance of seven UNSW academics and alumni being named among the Best Female Scientists in the World and 25 women reshaping Australia. There's the joyful celebration of colleagues who have worked with UNSW for 20 years or more, and family fun with the thousands who joined us for Community Day (that's a lot of Chips on a Stick). And, in news that's out of this world, UNSW alumna Dr Meganne Christian became Australia's first female astronaut selected for a mission to the moon. Please read on for even more (inter)stellar accomplishments.
Putting ideas into action
I have almost reached the end of my first year as VC, one in which engagement, discussion and listening have been at the top of my priority list. Thank you to everyone who put ideas forward through the Ideas Hub, at the all-staff forums and in the many Faculty, Division and School visits. I really appreciate the time you took to contribute ideas or turn up and join the discussion. Hearing colleagues articulate what they are proudest of during these visits has been a real highlight for me. The top three most common sources of pride mentioned were: 1. The way we collaborate across UNSW; 2. Each other (that is, our amazing colleagues); and 3. The dedication of each School, Faculty and Division to looking after students, particularly during the last couple of years.
Invaluable time has been spent synthesizing your insights as we honed our focus for the UNSW 2025 Strategy.
I'm incredibly grateful for your input in establishing the six Strategic Focus Areas:
Improving Student Experience
Scaling Lifelong Learning
Research Excellence and Translation
Social Impact Momentum
Supporting Our People and Community
Simplifying/Upgrading University Systems
With year-end approaching, I wanted to share a selection of some of the focused programs and initiatives we've implemented together in 2022 based on your suggestions. Thank you to the Strategic Working Group leads, members and all with whom they have consulted to develop and implement razor-sharp recommendations. There is more discussion and consultation to come, but our shared motivation for positive impact is unmistakable.
A plethora of activities are underway or already delivered, including measures to improve access to education, to strengthen research commercialisation opportunities, to deliver lifelong learning, and to ease University bureaucracy. Of course, we still have more to do as we target concrete implementation for the last few years of the 2025 strategy. I had planned to list all the actions in this newsletter but thought a dedicated story would better do justice to the range of strategic successes you have contributed to over the course of the year.
I invite you to read the story here: Putting ideas into action – a year of tangible thinking.
Prime Minister's Prizes for Science 2022
Extraordinary news and warm congratulations to four UNSW colleagues who received Prime Minister Awards for Science 2022. These prizes are the most prestigious in Australia for outstanding achievements in scientific research, research-based innovation and excellence in science teaching.
Scientia Professor Trevor McDougall (UNSW Science) won the highest honour, The Prime Minister's Prize for Science. Trevor is the recognised world authority on ocean thermodynamics and a leading expert in the field of ocean mixing, received this exemplary prize for the significant advancement of knowledge through science and research.
Associate Professor Brett Hallam (UNSW Engineering) won the Prize for New Innovators. Brett, a global leader in the field of hydrogen passivation in solar cells, was recognized for an early achievement towards commercialisation of scientific research with substantial economic, social and environmental benefits.
Adjunct Professor Alison Todd and Adjunct Senior Lecturer Dr Elisa Mokany (UNSW Science), were joint winners of the Prime Minister's Prize for Innovation. Alison and Elisa were recognised for their outstanding contribution to public health through the invention of highly advanced molecular diagnostic tests, which are now distributed worldwide through their company SpeeDx.
I encourage you to read more about our colleagues' remarkable, prize-winning work here.
This is the first time UNSW academics have been honoured with the Prime Minister's Prize for Science, the Prize for New Innovators and the Prize for Innovation in the same year – a true indicator of the breadth of talent at UNSW.
Accolades aplenty
Because I am thoroughly spoiled for choice with congratulations and mentions this week, I am going to have to implore you to read Inside UNSW cover-to-cover. Our colleagues, peers and friends at UNSW continue to achieve mightily. Here's a selection to whet your appetite!
In a most excellent lunar eclipse, UNSW alumna Dr Meganne Christian has been selected from among 22,500 applicants as a trainee astronaut for the European Space Agency. Meganne joins a new class of trainee astronauts who will focus on the construction of an outpost orbiting the moon, as well as missions to the moon's surface – and is Australia's first female astronaut selected for a mission to the moon.
In one of my favourite events of 2022, I celebrated with around 300 of the more than 500 colleagues who have UNSW careers spanning 20 years or more – that's a collective 10,000+ UNSW-years of hard work and dedication!
Our first Community Day in several years was a beautiful evening, with stunning spring weather and a tremendous turnout among the nearly 4000 people who registered to attend. Thank you to everyone who attended, everyone who chatted to me, and a big thank you to Hospitality and Campus Security for enabling the event.
PLuS Alliance partners Arizona State University, King's College London and UNSW have reaffirmed our alliance for another three years.
Congratulations to UNSW Business School alumna Jessica Cong, who has been announced as a 2023 John Monash Scholar.
UNSW has signed an MOU with the Grok Academy, reflecting our joint vision for transformative – and transforming – computing education. The work at UNSW will be led in the School of Computer Science & Engineering and the School of Education.
I have asked Associate Professor Bruce Watson to act in the role of DVC Equity Diversity and Inclusion following Professor Eileen Baldry's last day at UNSW on 20 December. Bruce, a valued member of the leadership team in the Faculty of Arts, Design & Architecture, will act in the role for six months, or until the role is advertised and filled on an ongoing basis.
Over the break – everything that opens and shuts
The UNSW year-end break begins at 5pm on Tuesday 20 December 2022 and uni reopens on Tuesday 3 January 2023 (UNSW Sydney and UNSW Canberra). Estate Management will streamline building access and services during this time, as in previous years. Please read this handy summary of campus arrangements (at Kensington, Randwick and Paddington) for the break.
Before I sign off today, I'd like to provide an update on how UNSW is supporting students who may have been impacted by the recent data breach at Medibank. We have sent an email message to all affected students, urging them to contact Medibank either by phone (13 23 31) or by visiting the Medibank store on campus if they have any concerns. If you receive any inquiries from students, please direct them to Medibank, and encourage students to continue to check their emails for updates.
Best regards
Attila
Professor Attila Brungs
Vice-Chancellor and President
Comments