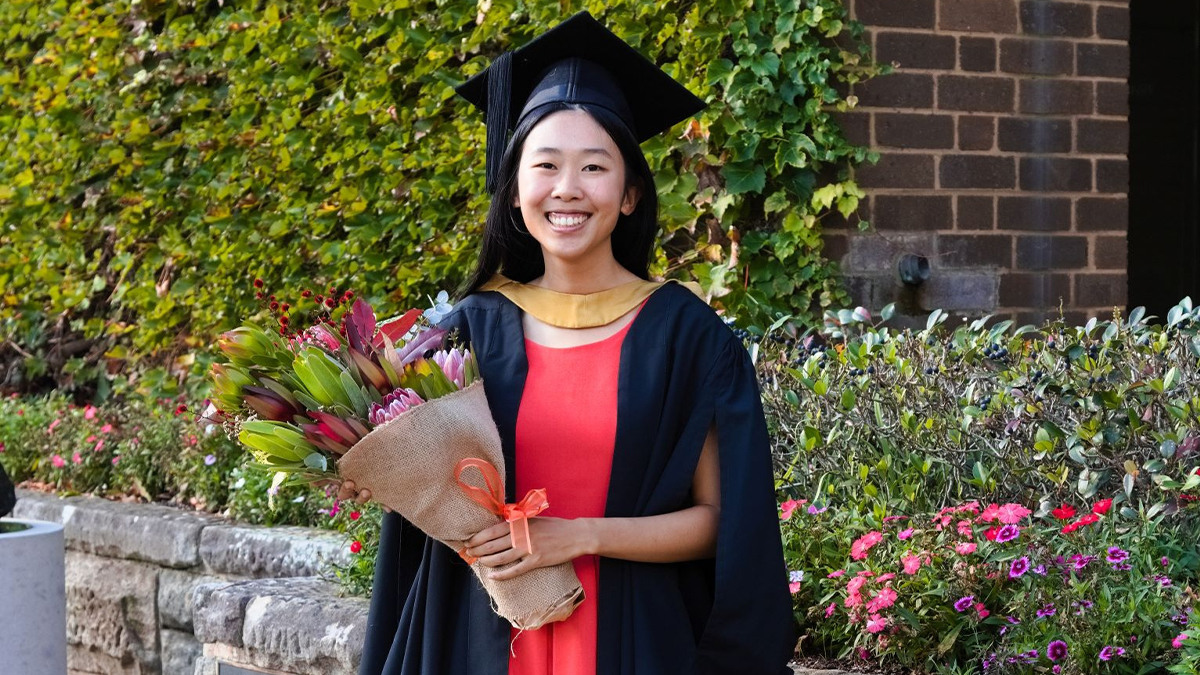 Jessica Cong is committed to bridging the worlds of business and social impact to support financial inclusion and will undertake a Master of Business Administration next year.
UNSW Business alumna Jessica Cong has been announced as a 2023 John Monash Scholar. She is one of 15 recipients to be provided the chance to study at any of the leading tertiary institutions across the globe.
Awarded the 2023 Roth/Segal John Monash Harvard Scholar, Ms Cong hopes to undertake a Master of Business Administration with a specialisation in social impact. She aims to use the knowledge and skills gained from her MBA to provide access to inclusive financial services which are affordable, safe, and appropriate for the needs of vulnerable Australians.
"I feel incredibly grateful and excited to be awarded the John Monash Scholarship alongside an outstanding group of 15 young Australians. More than anything, I am immensely grateful for the generous support from mentors, teachers, colleagues, friends, and family," Ms Cong said.
Bridging the worlds of business and social impact
Ms Cong is a Bachelor of Actuarial Studies (Co-op) graduate. She is dedicated to bridging the worlds of business and social impact to support financial inclusion. Currently working as a strategy consultant at L.E.K. Consulting, Ms Cong is also a volunteer coach for socioeconomically disadvantaged girls at the Harding Miller Education Foundation.
"I believe that business skills in the private sector can be transferred to deliver meaningful outcomes for social impact," Ms Cong said.
"One issue that is close to my heart is financial inclusion. These are incredibly complex problems that require collaboration from the private, public, and social impact sectors." 
Professor Chris Styles, Dean UNSW Business School, congratulated Ms Cong. 
"We are incredibly proud of Jessica, and I have no doubt she will have an impact on the access to inclusive, affordable financial services for vulnerable Australians in the future," he said.
"John Monash Scholars are the future leaders of Australia that are already breaking new ground in their chosen fields. It's wonderful to see Jessica's passion for addressing societal challenges and improving the lives of others."
Educational journey
Ms Cong said that studying at UNSW provided her opportunities to learn, explore, and create her own experience. Highlights include participating in the Co-op program, a career development scholarship, and receiving a New Colombo Plan Scholarship to study and gain work experience in the Indo-Pacific region.  
"The Co-op program enabled me to gain hands-on experience through internships in disability, social policy, and healthcare sectors. I am very grateful for these early career experiences – they showed me how technical skills in maths, statistics and data can be used to deliver real social impact," Ms Cong said.
"My time in Indonesia on the New Colombo Plan Scholarship was one of the most rewarding experiences throughout university. It shaped my interest in financial inclusion."
Whilst In Indonesia, Ms Cong interned in a credit union in Yogyakarta which distributed microfinance and microinsurance products to micro and small business owners.
"I gained hands-on insight into how microfinance institutions operate, the challenges they face, and the impact they have on increasing financial access to traditionally underserved communities."
Comments