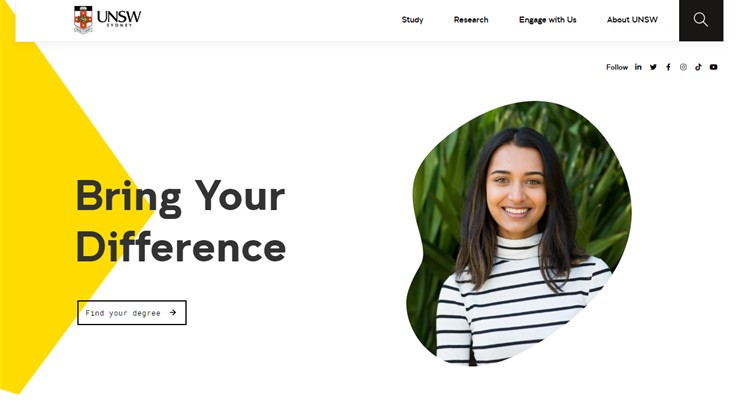 Audience-centric, streamlined, data-driven, and personalised – our new Future Students online experience is here.
UNSW launched our new single web landing page for all future student audiences on Wednesday 12 August.
Built on the Adobe Experience Manager (AEM) platform, the site incorporates various design features that improve on the previous sites used to attract future students to the University. Together with other products within the Adobe Experience Cloud ecosystem, the new site optimises content, creating an intuitively designed, powerful experience based on prospective students' preferences.
The site offers specific, curated content for domestic undergraduate, domestic postgraduate and international audiences to ensure the right audience sees the right content at the right time. The Future Student Recruitment (FSR) team is able to test and optimise content for each of these audiences so that future students can enjoy a personalised digital experience from the first moment they engage with UNSW, creating leads that can be converted to applications.
"COVID-19 has had an enormous effect on the university sector and competition to recruit students is only set to intensify," said Fiona Docherty, Vice President – External Engagement.
"It is fundamental that we focus on the most effective ways to showcase what UNSW has to offer. Personalisation offers a highly relevant experience, giving prospective students the information and confidence they need to choose UNSW as the best place to undertake their studies. I commend everyone on their efforts in bringing this important project to fruition."
Incorporating user-friendly interfaces and tools, AEM, together with other Adobe products within the Adobe Experience Cloud suite, contributes to a more agile and efficient experience for UNSW, upgrading our primary recruitment tool to a more modern and innovative way of working.
Offering centralised data management, including an expansive image library, the FSR team can make use of smart tags, smart crop and smart imaging, making it easy to repurpose images and text without the need for excessive editing, saving valuable time and effort. A central and searchable database of content will reduce duplication and contribute to a single point of truth for information. Using Adobe Analytics, recruitment staff have access to next-level business intelligence and visibility. Adobe Audience Manager enables data collection for future segmentation and personalisation, while leads are being captured into Adobe Campaign to enable email communications.
The previous Future Students and International homepages have been redirected to this new landing page, though current content on both sites will still be linked to and accessible as the team works on moving all pages over to the new Adobe Experience Cloud environment.
This is a phase one minimum viable product (MVP) of the larger UNSW web co-design project, and more pages are set to follow in the coming months.
"Building this page has been a collaborative effort across UNSW & UNSW Global, with members from Future Students, DEx, Faculties, Divisions and IT all involved at various points," said Sofia Lloyd-Jones, Chief Marketing Officer.
"Particular thanks goes to the Future Students Digital, Marketing and Content teams, the DMP team, and the DEx Digital and Corporate Communications team for bringing it to life."
The Future Student Recruitment team welcomes your feedback via the following feedback form.
Comments