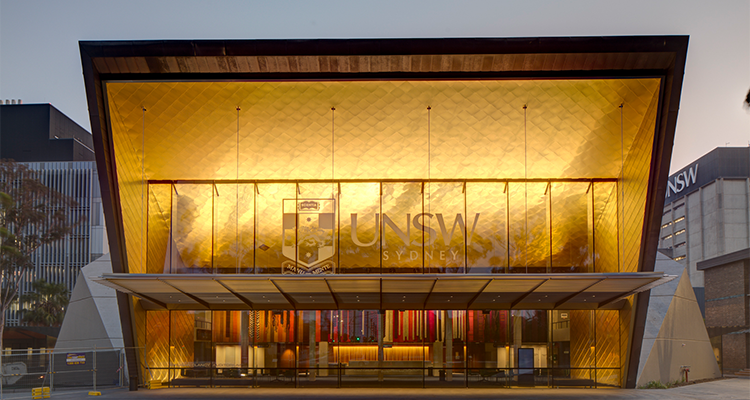 Dear colleagues
Congratulations to all who contributed to our success in the 2020 Academic Ranking of World Universities released last week. We climbed 20 places to 74th and equal to the University of Sydney, having entered the top 100 for the first time last year. We have been on a rising trajectory since 2016, when UNSW ranked 134th. The rise of 60 places in just four years reflects the steadily increasing quality of our research efforts. It follows our strong performance in the 2020 ARWU subject rankings, in which UNSW had the most subjects ranked number one in Australia for the third year in a row.
None of the global university rankings are perfect, but they are the best measure we have of our quality and reputation compared to other universities across the world and we can take pride in this achievement. Australia now has 23 universities in the ARWU top 500 and six of our Go8 peers are in the top 100. Among the Go8, the University of Melbourne is ranked highest, up three spots over the last two years to 35th position.
Voluntary redundancies and workplace change
Following the expression of interest process and after careful review, offers of voluntary redundancy were made to relevant staff yesterday. Staff who would like to accept their offer of voluntary redundancy must do so by this Friday, 28 August.
We received an excellent response to the call for expressions of interest, meaning that the need for compulsory redundancies will be reduced significantly. In early September we will release the workplace change proposal to all staff and invite your feedback, as part of the consultation process. I will continue to keep you informed as planning progresses.
Safe return to campus
There are now more than 3500 staff and researchers back on campus through our Safe Return to Campus approval process. It is good to have many students and staff back on campus, but we will proceed cautiously and follow the advice of NSW Health closely to minimise the risk of community transmission.
While we have reopened applications for Safe Return to Campus, we will be ready for a return to off-campus teaching and learning if circumstances require. Please visit the HR Hub for information about our Safe Return to Campus process, including how to apply. I look forward to seeing more students and staff return to campus in the coming months.
New online destination for all our Future Students
Our domestic and international undergraduate and postgraduate Future Students now have an impressive online destination to encourage their choice of UNSW. The new page has a user-friendly design with curated content for all our Future Student audiences. It is a terrific showcase of our culture, encouraging students to 'Bring Your Difference' and discover the best version of themselves as they study with us. Creating this new page has been an important collaborative effort – you can visit the new page at unsw.edu.au/study and please do tell your friends about it!
Concerns about Foreign Interference
Some of you will have read recent media reports raising concerns about Australian university researchers and their involvement in a Chinese government scheme called the Thousand Talents Programme. Several world-leading UNSW researchers, as well as many from other Australian universities, have been selected to participate in the plan, although currently no UNSW academics have active membership or involvement.
International collaboration on research and education is the hallmark of a globally leading university. UNSW has a wide range of collaborations and partnerships involving most countries across the globe and we are proud of our profile as Australia's Global University. This brings intellectual and economic benefit as well as influence and a network of valuable contacts to Australia.
We are working closely with the Federal Government, and relevant defence and national security agencies, to ensure that our teaching and research is protected from foreign interference and along with other Australian universities, we have provided input to the government's Universities Foreign Interference Taskforce (UFIT). The UFIT work acknowledged the importance of sustaining and extending our current international research collaborations to solve the world's most pressing problems – highlighted by the current global partnerships to find a vaccine for the COVID-19 virus. The taskforce members also recognised that we are working in a much more complex, and volatile, political, diplomatic and trade environment that requires reviewing and revising rigorous procedures and stronger communications, and cultural awareness. These points were reiterated yesterday by the Federal Minister for Home Affairs, Peter Dutton, and the Federal Minister for Education, Dan Tehan.
You will all be aware that UNSW requires all staff to disclose information or issues that are relevant to their roles, constitute a conflict of interest, or require disclosing under government regulations or relevant UNSW policies. We also have rigorous assessments as required by the Australian Government's Defence Export Controls framework including external commercial and risk reports for overseas funders and obtaining approval from the Department of Defence. Participation by academics in unpaid/honorary appointments is allowed and is approved by the relevant Faculty or School line manager, as is approval for conference travel, study leave, and related expenditure. Part-time external appointments at other universities are less common and require a written declaration and specific approval before being commenced.  
UNSW wins three architectural excellence awards
UNSW received three awards for architectural excellence in this year's NSW Architecture Awards. The Science and Engineering Precinct received an award for Urban Design, and the Electrical Engineering Building and Clancy Auditorium refurbishments were both awarded for Educational Architecture. These were the second prestigious awards for the Science and Engineering Precinct and the Electrical Engineering Building. I'm sure you will join me in acknowledging the fine work of UNSW Estate Management in delivering these projects for the benefit of our students and staff. Well done.
Population Health experts discuss the challenge of COVID-19
The COVID-19 crisis has demonstrated the terrific breadth and depth of health and medical knowledge in the university sector and it has been reassuring to see governments relying on the advice of experts in their pandemic responses. At UNSW we are privileged to have staff and alumni making significant contributions to managing one of the greatest public health challenges in our lifetime. I am particularly proud of their commitment to collaboration with government and community groups across Australia and the world.
Our newly renamed School of Population Health recently brought together a panel of experts to discuss COVID-19 as 'The Ultimate Public Health Challenge'. The panel featured NSW Chief Medical Officer and 2020 UNSW Alumni Award recipient, Dr Kerry Chant; Dr Mark Wenitong from the Apunipima Cape York Health Council; and UNSW Medicine's Professor Mary-Louise McLaws, epidemiologist and advisor to the World Health Organisation.
I was pleased to give a welcome to the event and to acknowledge the high regard in which our School of Population Health is held, and the great leadership of Professor Rebecca Ivers. The seminar provided some fascinating insights, which you can view online.
The School of Population Health is the new name for the School of Public Health and Community Medicine. The new name reflects the school's broader approach to global and population health, teaching and research, as well as a change in language since the school's inception.
UNSW Medicine launches Health 25 Strategy
Also in the health vein, I was pleased to take part in the launch of UNSW Medicine's Health 25 Strategy earlier this month. The five-year strategy sets a course for UNSW Medicine to pursue its noble ambition of improving quality of life for all, with a clear focus on people, collaboration and interdisciplinary approaches to improving health and wellbeing. Health 25 positions UNSW Medicine to tackle the complex and important health challenges our society will face in coming years – in Australia and across the globe. That it has been published during one of the greatest health challenges of our time is both historic and poignant. Congratulations to our Dean of Medicine, Professor Vlado Perkovic, and the Strategy Team.
Equitable Learning Plans extended to Term 3
Due to the ongoing impacts of COVID-19, the Equitable Learning Services Team has made some changes to help relieve some of the challenges that students are experiencing. Equitable Learning Plans from Terms 1 and 2 have been extended to cover Term 3. The ELS Team asks Term 3 course convenors to accept ELPs that were issued in Terms 1 and 2. There is also a guide on the Learning & Teaching website to help academic staff implement students' exam adjustments in the online delivery mode. Thank you to all staff for your flexibility and understanding in supporting students amid the disruption of the pandemic.
R U OK? Day
R U OK? Day has special significance this year as many feel the isolation and upheaval that the pandemic has brought about. Supporting each other and maintaining connections is critically important. While asking R U OK? is a very real act of support, this year UNSW Wellbeing will take R U OK? Day into the virtual world, with a Teams Live Town Hall event hosted by UNSW Disability Champion, Dr Alanya Drummond, on Thursday, 10 September. If you are able to attend, please do. And please remember that any day may be the right time to ask a friend or colleague R U OK?  
Vale Elizabeth Fell
It was with sadness we learned of the passing of Elizabeth 'Liz' Fell, on 13 August 2020. Liz taught in the School of Sociology here at UNSW in the 1960s and 70s, as well as at the University of Sydney and UTS during her career. She was as an esteemed thinker and academic, ground-breaking broadcaster, award-winning journalist, passionate feminist and activist, and will be long remembered for her significant contribution to Australia's intellectual culture. I extend my condolences to those who knew and loved Liz: her family, friends and colleagues.
Consultation on Federal Government higher education proposals
Earlier this month the Federal Government called for comment on the draft legislation for the 'Job-ready graduates' reform package that Minister Tehan announced in June. Universities Australia and the Go8 made submissions to the consultation, outlining concerns with the proposals and legislation as drafted. You can read the UA submission and the Go8 submission online.
In closing, may I encourage you to continue to check the NSW Government website for news and updates related to COVID-19 health alerts. If you need support, free, confidential counselling is available through our Employee Assistance Program. The service is also available for immediate family members. Assistance for our students is available via The Nucleus on 02 9385 8500 and our Student Support Advisors.
Take care and stay well.
Ian
Comments