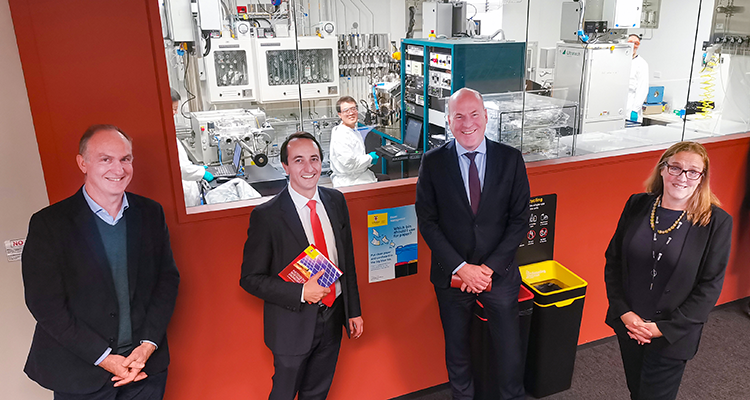 Federal MPs Trent Zimmerman and Dave Sharma visited the Kensington campus earlier this month to learn about UNSW's world-leading renewable energy technology.
UNSW recently welcomed Member for North Sydney Trent Zimmerman MP and Member for Wentworth Dave Sharma MP to campus to demonstrate UNSW's work on renewable energy technology.
Renewable technology remains an important area of policy focus, as it offers Australia the chance to create new jobs and businesses, while also securing energy supply and reducing carbon emissions.
The MPs visited the Tyree Energy Technologies Building, including the rooftop solar installation, to learn about UNSW's pioneering work in solar photovoltaics and were amazed to find out that approximately 70 per cent of solar panels being manufactured worldwide use technology developed at UNSW.
Justine Jarvinen, CEO of UNSW's Energy Institute, explained that UNSW is drawing on our experience translating University-led research into a thriving industry through our work on solar photovoltaics, and applying it to emerging areas such as hydrogen, electrification and battery storage.
Mr Zimmerman and Mr Sharma heard how our experts are using renewable solar and wind energy to produce other materials such as hydrogen and ammonia. They also visited the Real Time Digital Simulation Laboratory and learnt about electrification and the integration of renewable energy into the electricity grid. 
"It was fantastic to see members of the Federal Government eager to learn more about the ground-breaking research on renewable energy being conducted at UNSW," Ms Jarvinen said.
"Long-term government support for this research is crucial. Support for demonstration and deployment is also important to ensure that our amazing work can be taken from the lab and applied to the real world, providing practical renewable energy solutions and contributing to new industries and jobs in Australia."
The highlight of the tour was a visit to the Hydrogen Lab where Mr Zimmerman and Mr Sharma saw firsthand UNSW's game-changing hydrogen storage solutions, and the potential applications of hydrogen in devices such as a hydrogen-powered bicycle and barbecue.
"It was great to talk to the experts at UNSW and see firsthand the innovative research being produced in this important field," Mr Zimmerman said following the visit.
"The research from UNSW lays the foundations for some amazing opportunities for Australia in renewable technology in the coming decades – which will create lots of new businesses and jobs."
Photo: Professor Alistair Sproul, Head of School of Photovoltaic and Renewable Energy Engineering, Mr Dave Sharma MP, Mr Trent Zimmerman MP, Professor Renate Egan, Deputy Head of School (Industry and Engagement) and leader of the UNSW activity in the Australian Centre for Advanced Photovoltaics
Comments