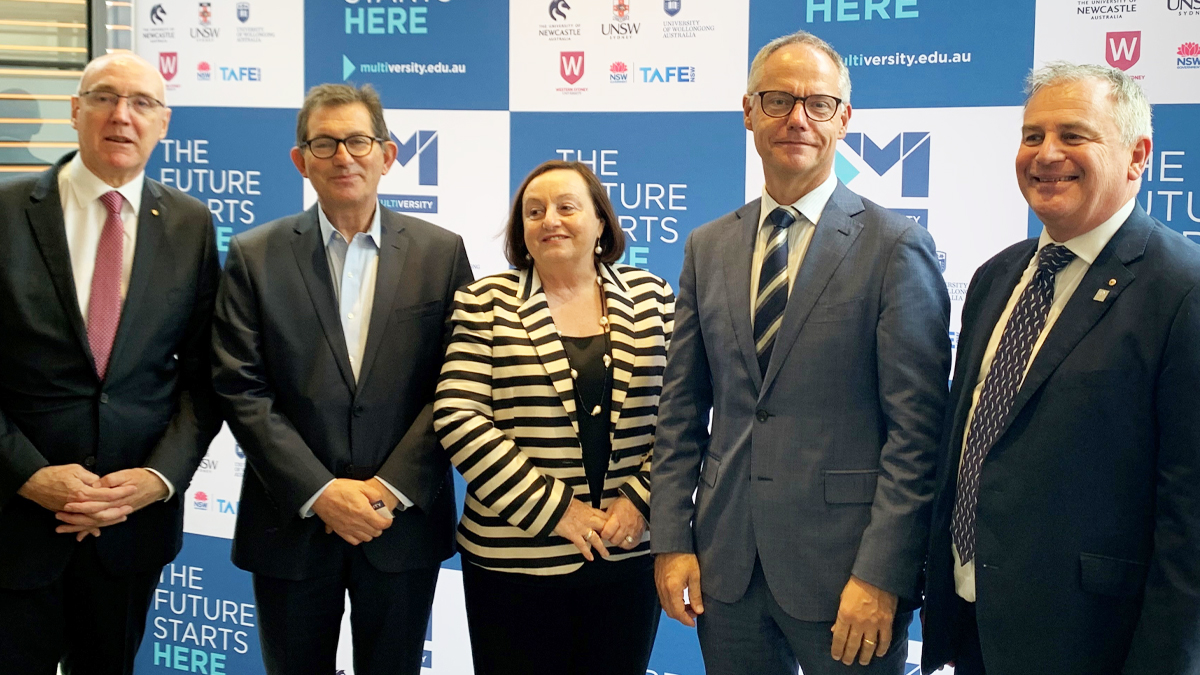 The 'Multiversity' has announced scholarships and course offerings combining university and vocational education, and workplace training in an Australia-first model to support new jobs at the Western Sydney Aerotropolis.
The Multiversity has announced its new program of Aerotropolis-focused courses across Science Technology Engineering and Mathematics (STEM) disciplines. The courses offer a unique mix of university, vocational training and industry-based study, purpose-built around the future needs of the Western Sydney Aerotropolis and Western Parkland City. This initial program includes an Australia-first Diploma in Aerotropolis Industry 4.0 (Mechatronics Skills) designed in collaboration by four of the country's leading universities.
The Multiversity is a unique partnership between four of our leading universities – UNSW Sydney, the University of Newcastle, the University of Wollongong and Western Sydney University (collectively, the NUW Alliance) and TAFE NSW.
The Multiversity program has been developed with industry. It differs from traditional educational offerings in how it brings together disciplinary and knowledge-based education with industry-relevant skills at all Australian Quality Framework levels.
Professor Alex Zelinsky AO, Chair, Multiversity Board said: "The Multiversity leverages the proven strength and quality of our partner universities and TAFE. We are together reimagining the future of education and training in Australia and with our industry and government partners, the Multiversity is working ahead of the curve and growing an exceptional pipeline of Industry 4.0 ready graduates."
Dr. Andy Marks, Chief Executive Officer, NUW Alliance believes there is a transformation of manufacturing taking place in Western Sydney.
"Now is the time for the region's school leavers, with an interest in STEM, and existing workers to look at opportunities to future-proof their careers and jobs. This program delivers on that front," Dr Marks said.
"Through the Multiversity and with a financial boost of a Multiversity Industry Scholarship Fund for both Undergraduate Certificate and Diploma students, people can build the skill set they need to position themselves within the internationally engaged industry ecosystem emerging in Western Sydney on the back of generational opportunities like the Western Sydney Airport and Aerotropolis."
Further, the Multiversity Industry Scholarship Fund is designed to support industry participation with the first 50 enrolments via industry receiving a $2000 scholarship per student when they complete the first four weeks of study. Half of the scholarship will be made available to each enrolling student with the remaining $1000 to be retained by the industry employer or passed on to their participating employee. An additional 50 scholarships will also be available for general enrolments.
Students can tailor training to meet individual and industry needs, and on completion of one of eight short undergraduate certificates or the new Diploma in Aerotropolis Industry 4.0 (Mechatronics Skills), will receive advanced standing into higher level courses at all participating universities. The Multiversity model offers agility with multiple course entry and exit points, strong industry-based training, recognition of prior learning gained at a workplace, practical skills, industry readiness and research enrichment.
Dr Sarah Hill, Chief Executive Officer, Western Parkland City Authority said: "The Authority is delivering an economic powerhouse on the doorstep of the Western Sydney International (Nancy-Bird Walton) Airport which will drive the creation of jobs and opportunities for future generations.
"Education is key to realising our ambition for the Western Parkland City which is why the Authority welcomes the launch of the Multiversity and looks forward to continuing to work closely with the NUW Alliance in the future."
The Multiversity is here and ready to enrol students for Semester 2, 2021.
For further information on the courses and the scholarship terms and conditions please visit www.multiversity.edu.au.  
Comments