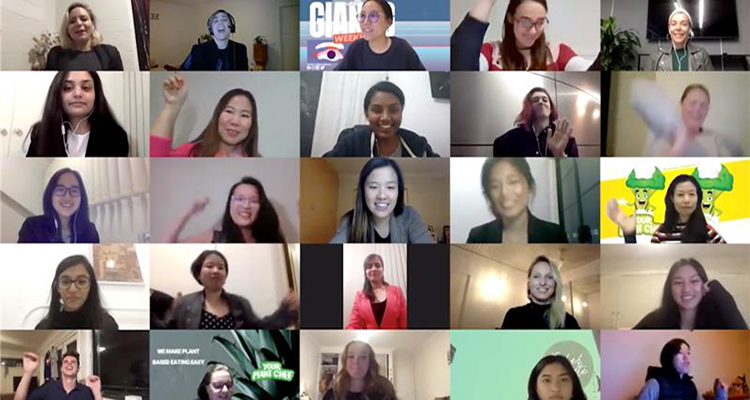 Software to promote green infrastructure expansion in urban areas wins New Wave Showcase.
Linda Romanovska, Isabella Notarpietro, Kathy Liu and Vicky Wei's startup Natureval took the top prize at the UNSW Founders New Wave Showcase. Meeting only a few weeks ago in the program, the team collaborated to help commercialise Ms Romanovska's PhD findings. They developed a user-friendly, adaptable and evidence-based software that evaluates and quantifies the environmental, social and economic benefits of urban green infrastructure. The software will support public and private sector decision-making.
While nature in the city is highly beneficial it remains severely undervalued, said UNSW Built Environment PhD candidate, Linda Romanovska.
"I joined the UNSW Founders New Wave program to explore the viability of transforming my research into a feasible product and service to help urban developers worldwide," she said.
UNSW Founders New Wave helps women from the UNSW community build entrepreneurial skills and launch new women-led startups. In this last cohort, 11 teams of women were supported by 14 industry-leading mentors. They collaborated in a two-week incubator, learning essential entrepreneurial skills, from design thinking and branding to user journeys and pitching.
"I was completely inspired by the strength, intelligence and resilience of this last cohort who participated in our first fully digitally delivered program," said New Wave Program Manager, Kristen Phillips.
The other winner on the night was People's Choice Award recipient, Travelify. Founders Leila IIarrull, Dhriti Narsey, Shruthi Sasidaran and Sally Wang designed a digital platform that provides travellers with access to key information on their country destination, creating a seamless and personalised travel experience.
Watch the New Wave Program highlights and be inspired to join the next cohort. Applications close Friday 31 July. Find out more and apply now.
Winners' details
Judges' Award Winner - Natureval

Name

UNSW affiliation

Faculty

Linda Romanovska

PhD Candidate

Built Environment

Isabella Notarpietro

Undergraduate

Arts & Social Sciences/Engineering

Kathy Liu

Postgraduate

Built Environment/Engineering

Vicky Wei

Undergraduate

Business School

People's Choice Awards Winner - Travelify

Name

UNSW affiliation

Faculty

Leila IIarrull

Undergraduate

Business School

Dhriti Narsey

Undergraduate

Business School

Shruthi Sasidaran

Postgraduate

Art & Design

Sally Wang

Undergraduate

Business School
Comments