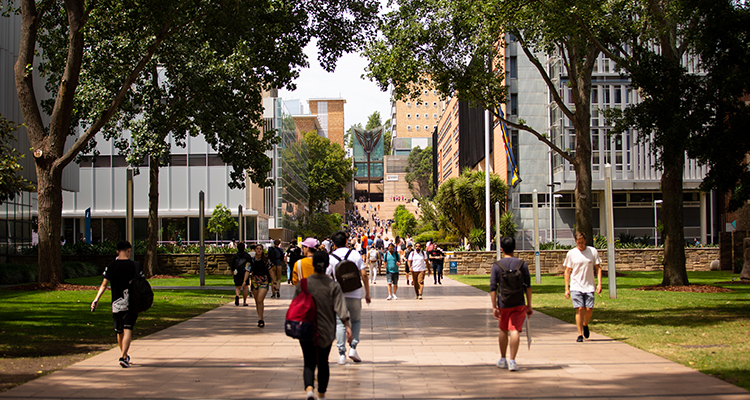 Expressions of interest are open for five new members to join the Athena SWAN Self-Assessment Team at UNSW.
Since 2015, UNSW has been a proud member of the Athena SWAN Charter and  one of the  45 institutions participating in  the Science in Australia Gender Equity (SAGE) Athena SWAN initiative. In 2018 the University received SAGE's Athena SWAN Bronze Institutional Award as recognition for its work and ongoing commitment to advancing gender equity and diversity in the STEMM disciplines in higher education and research.
There is now the opportunity for five new members to join the 30-person Athena SWAN Self-Assessment Team (SAT), to help guide gender equity at the University through our next stage of the program.
The SAT supports Athena SWAN lead Associate Professor Lucy Marshall and her Deputy Academic Lead, Melanie Schwartz. Usually the term of the Academic Lead, Athena SWAN would be two years, however Professor Eileen Baldry, the University's Deputy Vice-Chancellor Equity Diversity and Inclusion, has requested Lucy stay on until the end of this year to assist the University to navigate the rapidly changing landscape, both internally and in higher education more generally, as a result of COVID-19.
"It is more important than ever that gender equity considerations are kept on the University management's radar. We must ensure recent gains in gender equity are maintained, lest they are lost easily or unwittingly," said A/Prof. Marshall.
"One of the reasons Athena SWAN is highly regarded across the higher education sector is it requires rigorous and publicly available self-reflection and data analysis. Athena SWAN is therefore a terrific way of maintaining accountability in decision-making. I am delighted to have a role in this and continue serving the University as Academic Lead, Athena SWAN."
Would you like to be involved?
There are five vacancies on the SAT to replace members departing at the conclusion of their two-year term in July. See the SAT's Terms of Reference for details about this commitment.
The SAT is interested in expressions of interest from all staff, academic and professional. It is important for representation purposes that the SAT comprises a mix of genders and career stages (including students), and it would be ideal if every faculty and division was represented. Given the current composition of the SAT and so the burden of diversity work doesn't always fall upon the shoulders of the University's women, it would also be ideal if there were more members from the Faculties of Science and Engineering, those who identify as culturally diverse and/or Indigenous, and more men.  
Application is by a written expression of interest (EOI), due Thursday 23 July 2020. 
Successful candidates will be determined by a selection panel comprising a mix of current SAT members and leaders from the Division of Equity Diversity & Inclusion. Applicants who are unsuccessful will still have opportunities to contribute to the SAT's discussions on gender equity by joining its Teams group.
The University is committed to continuing to participate in this program throughout COVID-19 and beyond, and recognises the significant contribution the program has made towards achievement of the University Council's 2025 gender equity KPIs:
40% females for Academic Staff at Level D and above (currently 33%, up from 28% in 2015); and
50% females for Professional staff at HEW 10 and above (currently 52%, up from 50% in 2015).
Comments