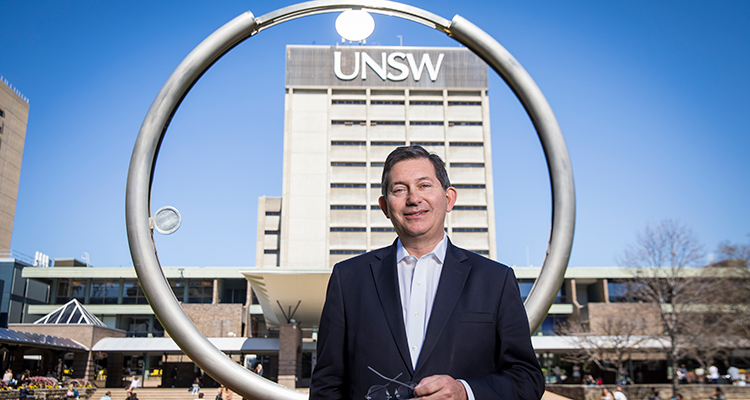 Dear colleagues
I start with good news from the ARWU subject rankings. UNSW had 12 subjects ranked first in Australia: Water Resources, Civil Engineering, Library and Information Science, Remote Sensing, Finance, Aerospace Engineering, Psychology, Atmospheric Science, Mechanical Engineering, Instruments Science and Technology, Management, and Mathematics – more than any other Australian university. Globally, we have the highest number of subjects ranked in the list of research disciplines (52 of 54), equal first with the University of British Columbia. This outstanding achievement reinforces the strong trajectory of our research internationally.
From a higher education perspective, the past fortnight has been dominated by discussion of the federal government's proposal to overhaul university funding arrangements, and the escalation of fees for study in some fields of education.
As I wrote to our students, staff and alumni last week,* I am proud of UNSW's desire to make a 'collective difference' to our society: an objective we pursue with commitment to the full spectrum of educational experience. I have been heartened by the groundswell of support for the humanities over the past week from many parts of the community, some unexpected. I have also noted the widespread recognition of the value of a university education with a remit that includes not only jobs and careers, but also has a focus on encouraging a questioning and caring approach to our world.
Universities, our students, educators, researchers and alumni are crucial to addressing the grand challenges facing our society, including but not limited to the immediate global issues of COVID-19 and climate change. The 'Knowledge by heart, mind and hand' mantra that defines UNSW will continue to enrich our community as we strive to improve lives in Australia and around the globe.
Expectations of staff and student behaviour
UNSW has high expectations of the behaviour and integrity of our staff and students. In the last few weeks, a number of incidents have focused attention on this area.
One was the recent media coverage of the High Court's statement about a former Justice, which reminds us that sexual misconduct has been and continues to be pervasive in our society. At UNSW, we will continue our determined efforts to create a culture that does not tolerate sexual misconduct in any form and actively works to prevent it. Where it does occur, we will continue to improve the support we provide to anyone experiencing or harmed by misconduct and to prevent perpetrators from continuing these unacceptable behaviours. I invite you to read the statement that the Deputy Vice-Chancellor Equity Diversity and Inclusion, Professor Eileen Baldry; the President of the Student Representative Council, Manu Risoldi; and I have made to the UNSW community about calling out sexual misconduct and supporting the people it affects.
A second is the launch of SpeakUp@UNSW. We expect the highest standards of integrity and ethical behaviour from all our staff and affiliates as they carry out their responsibilities for our university. We expect that our staff do not participate in, assist in, cover up, or ignore wrongdoing such as fraud, corrupt conduct, or maladministration. An important part of maintaining these high standards is ensuring our staff are confident and supported to report wrongdoing when it occurs. That is why we have created SpeakUp@UNSW, a new program to encourage and support the responsible reporting of wrongdoing at UNSW. SpeakUp@UNSW includes an anonymous, confidential, independent reporting process, as well as protections for people who make reports. UNSW is committed to reviewing all reports of wrongdoing, investigating, and taking appropriate action where wrongdoing is proved to have occurred. You can find out more about SpeakUp@UNSW, the new Report Wrongdoing Policy and the Report Wrongdoing Procedure, which will be launched tomorrow, 1 July 2020.
A third area is the periodic election of officers to the UNSW Council, Academic Board and Faculty Boards. Many of you will have voted in the Council Staff and Student Elections that closed yesterday afternoon; elections for the Academic and Faculty Boards will be held later this year. I ask you, in all University elections, to observe the equity, diversity and inclusion principles that are at the heart of the UNSW community. These principles aim to create a culture that values and benefits from equality of opportunity; inclusion of diversity of culture, gender and ability; and fundamental respect for each other. Our students and staff are required to follow these principles in our interactions with each other and the broader community, in all our work at and with UNSW.
The standards of behaviour we expect of students and staff are explained in our UNSW Equity, Diversity and Inclusion Policy. They include our intolerance of discrimination, racism, transphobia, homophobia, or bigotry. Please read the statement prepared by the Deputy Vice-Chancellor Equity Diversity and Inclusion, Professor Eileen Baldry; the President of the Student Representative Council, Manu Risoldi; and me about our University's commitment to preventing and responding to disrespectful behaviour.
International Universities Climate Alliance
During the last year UNSW has led the establishment of the International Universities Climate Alliance (IUCA) involving 45 universities from 20 countries. This month Professor Matt England and I hosted the inaugural President and Vice-Chancellor meeting of the Alliance, which will focus on communicating climate research to inform policy makers, industry and the public, in the quest to influence key decision-makers. During the meeting we discussed how the alliance could improve universities' leadership on climate action across the spectrum of our operations, from education to campus sustainability and regional relationships. There was a consensus amongst the university leaders that we should be ambitious in our strategy and activities and ensure that the climate emergency remains a priority in the midst of the pandemic.
I thank Professor Matt England for his contribution to developing the alliance and for sharing his insights at the meeting. Over the next few weeks, the IUCA Secretariat will consult with members and call for ideas about how we can make a real difference to combatting this most urgent of challenges.
Founders New Wave Showcases green infrastructure
Congratulations to Linda Romanovska, Isabella Notarpietro, Kathy Liu, and Vicky Wei, who won first prize in the recent UNSW Founders New Wave Showcase with their startup, Natureval. Natureval's software evaluates and quantifies the environmental, social and economic benefits of urban green infrastructure – benefits many of us have enjoyed over the past months spent close to home. The Founders New Wave program addresses the underrepresentation of women in entrepreneurship. I applaud all who took part in this most recent event and wish them well in further ventures.
The virtual Museum of Human Disease
The UNSW Museum of Human Disease has entered the virtual sphere, making part of its 2,500-specimen collection of real organs and body parts available online to members of the public. The museum has the invaluable objective of enabling people to make educated decisions about their health and lifestyle choices, by demonstrating and helping us understand how diseases affect our bodies – an aspect that is pertinent as we live through the COVID-19 pandemic. 'Human disease' may be a sombre topic, but I assure you the museum is fascinating so do consider a virtual wander through.
Prestigious Prize for Analytical Science
My warm congratulations to Professor Kourosh Kalantar-Zadeh, whom the Royal Society of Chemistry has awarded the 2020 Robert Boyle Prize for Analytical Science. This prestigious prize is conferred biennially for outstanding contributions in the field; Professor Kalantar-Zadeh has been recognised for significant and frequently world-first research in areas including two-dimensional materials, liquid metals and microfluidics, and point-of-care diagnostic systems.
UNSW receives International Space Investment grant
Researchers in the Australian Centre for Space Engineering Research have been awarded nearly $700k in the federal government's first round of 'International Space Investment – Expand Capability' grants. This was one of only 10 grants awarded from more than 100 applications in this funding round. Professor Andrew Dempster, Director of ACSER, and Dr Eamonn Glennon, Senior Research Associate, will upgrade their single-frequency GPS receiver, improving the precision of global positioning information and benefiting a range of industries. Best wishes to our UNSW researchers and their industry partners for this exciting work.
Farewell
You may have already heard about the departure of a UNSW stalwart, Professor Bob Clark. Bob's association with UNSW spans more than 30 years, with his study here being interwoven with an illustrious professional career both at UNSW and elsewhere. Bob has contributed greatly to our university in various capacities. After leaving a faculty position at Oxford, he returned to UNSW in 1991 to take up the Chair position of Professor of Experimental Physics at UNSW where he founded the National Magnet Laboratory and Semiconductor Nanofabrication Facility and then served for a decade as Director of the ARC Special Research Centre for Quantum Computer Technology, which he established. In 2008, Bob was appointed Chief Defence Scientist of Australia, head of the Defence Science and Technology Organisation and a member of Australia's Defence Committee and Prime Minister's Science Engineering and Innovation Council. His return to UNSW at the end of his three-year term was an astute move by my predecessor as Vice-Chancellor, Professor Fred Hilmer. As a result, for the last few years, I have had the benefit of Bob's extraordinary experience, intellect and wise counsel in his role as Senior Advisor in my office. He has contributed an enormous amount in that time – you can read more about Bob's outstanding career here. Bob will remain a member of the UNSW community as an Emeritus Professor. On behalf of the UNSW community, Bob, I offer my congratulations and wish you all the best for the future.
I wish all our students and staff well as we pass the mid-way point of this most extraordinary of years. As COVID-19 restrictions continue to ease in NSW, I encourage everyone to remain vigilant and adhere to health and physical distancing measures to keep you, your family and friends safe.
Please remember if you need support, free, confidential counselling is available through our Employee Assistance Program. The service is also available for immediate family members. Assistance for our students is available via The Nucleus on 02 9385 8500 and our Student Support Advisors.
Take care and stay well.
Ian
* My 22 June message about the funding reforms included that the fee for students in creative arts would increase by 66.1%. This figure was sourced from the Department of Education, Skills and Employment. Information since published by the Department of Education, Skills and Employment indicates that there will be a 13% increase in the student contribution for creative arts.
Comments