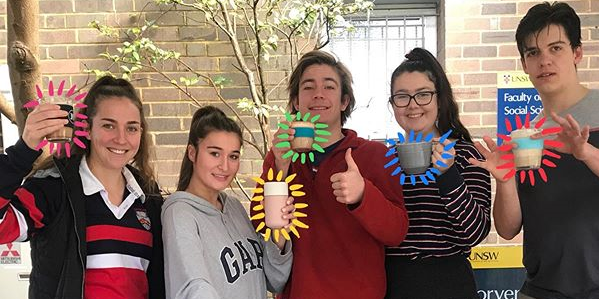 Join the Plastic Free July movement and refuse single use plastics.
On the 10th anniversary of Plastic Free July, the UNSW community can again take part in this important global initiative to reduce single-use plastic on campus or wherever you are working from. Plastic Free July is an initiative that aligns with the goals set in UNSW's Environmental Sustainability Plan 2019-21 to reduce general waste by 10% and close the loop by minimising waste, improving resource efficiency and managing waste responsibly.
In 2019, 250 million people from 170 countries joined the movement and helped to avoid over 825 million kg of plastic waste, creating cleaner campuses, streets, oceans and community spaces (2019 Plastic Free July Report). Thousands of students and staff at UNSW made a commitment to reuse and recycle by participating in the Ditch the Disposable contest and Return and Earn engagement event during July. Use of reusable coffee cups on campus doubled during the campaign.
"UNSW students and staff have embraced Plastic Free July in recent years. It's a great movement which we are proud to be a part of, and it's led to some fantastic results in the past," said Arifa Sarfraz, Manager, UNSW Sustainability.
"Even your smallest actions can bring about real change with lasting environmental benefits, whether you are on campus or working from home."
This year the Plastic Free July challenge is more important than ever. The COVID-19 pandemic has changed the landscape significantly when it comes to avoiding single-use plastic and choosing reusables. However, the problem of plastic pollution has not gone away, and we all have a responsibility to take action against plastic waste. You can minimise single-use plastic in your own home, at work or get involved in community initiatives.
Four things you can do to be part of the Plastic Free solution:
Become a planner: Single-use plastic is convenient and hard to avoid if you have not planned how to do it. This can include planning a plastic free event or having reusable shopping bags in your car, buying in bulk to reduce packaging, or taking your reusable cup, straw and cutlery out with you.

Sustainable takeaway packaging: If reusable containers are not an option when organising an event at work or dining out with family, then choose compostable takeaway packaging. Although the best option is to stick to reusable tableware, using 100% compostable packaging is the next best option.

Less plastic shopping: While on campus or at home, plastic free shopping is another way for us to reduce our impact on the planet. Buy less, buy ethical, support small and local business, and consider alternatives before you purchase items. Here are some resources to support you:

Get involved in community initiatives: Join beach or park clean ups or a plastic free picnic in your area – or organise your own. These are FREE, family-friendly activities in the fresh air, with an educational aspect too. Take the Plastic Free July, Take 3 for the Sea or National Geographic Plastic pledge. Here are some more tips for you to get involved.
You can explore the new UNSW Sustainability website to view the Environmental Sustainability Plan and find more information about sustainability at UNSW
Comments