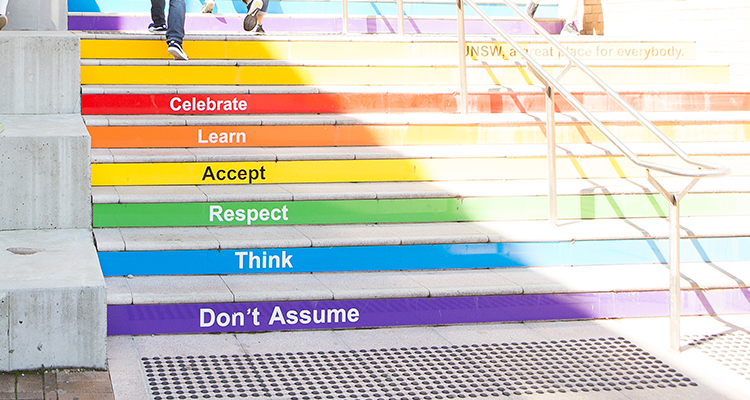 There has been an outpouring of anger globally, about racism, inequality and discrimination in the past few weeks, sparked by the police killing of George Floyd on 25 May.
In the United States, public protests have been spontaneous and emotionally charged; symbolised by passionate community calls for authorities to face up to the unequal treatment of black Americans, and those of different cultural backgrounds. Australia has also seen protests, public rallies and media coverage highlighting Australia's shameful discriminatory treatment of our First Nations people. We urge you to read / listen to Indigenous journalist Allan Clarke's statement on the ABC. Read the full story.
We note in the past week there have been disturbing posts on social media concerning some members of the UNSW community. UNSW has no tolerance for discrimination, racism, transphobia, homophobia, or bigotry. The concerns that have been raised with the University are being taken seriously and investigated by the Conduct and Integrity Office.
We are proud of our academic and research leadership in inclusion but recognise that there is more for us to do. We strive for a culture that values and benefits from equality of opportunity; inclusion of diversity of culture, gender and ability; and a fundamental respect for each other. UNSW requires that students and staff follow these principles in all our interactions with each other and the broader community, in all our work at and with UNSW. It is vital that our council and board members represent a diversity of views, interests, abilities and backgrounds, as they make decisions that have impacts throughout our University. We encourage you to Read the UNSW Equity, Diversity and Inclusion Policy.
UNSW Students' Respect Week reminds us of these values; to restate our commitment to live by these principles - and to be up-front on our obligation to continuously learn and improve the way we relate to one another. How we do more to prevent, and respond to, disrespectful behaviour.
While we strongly commit ourselves to the right to freedom of speech, academic inquiry, and expression, UNSW is equally totally committed to calling out disrespectful behaviour. We are proud that we have achieved the level of Gold Employer status in the Australian Workplace Equality Index (AWEI) as recognition of our commitment to the inclusion of gender, sex and sexuality diverse (LGBTIQ+) staff and students. This is the third consecutive year that UNSW has been honoured as a leader in LGBTIQ+ inclusion, moving from bronze to gold status in the past year, emphasising the University's continuous improvement in embracing diversity and building a culture of inclusion.
If you are experiencing distress and would like support, please visit Student Wellbeing or Counselling and Psychological Services (CAPS) for Staff.
Professor Ian Jacobs
President and Vice-Chancellor
Professor Eileen Baldry
Deputy Vice-Chancellor Equity Diversity and Inclusion
Manu Risoldi
President, Student Representative Council
Comments