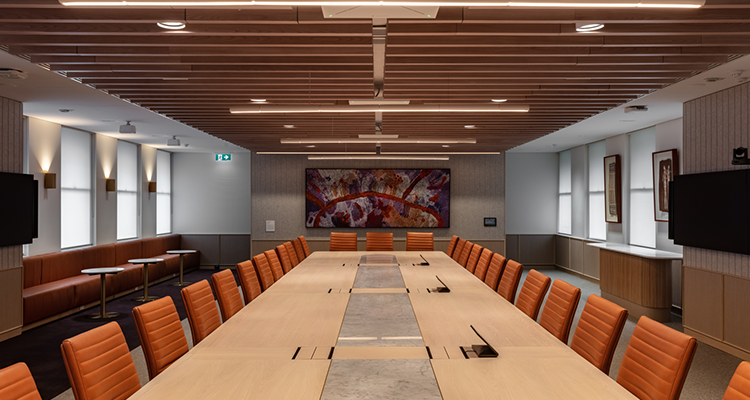 UNSW Sydney has reinvented 33 spaces across its campuses to enable hybrid learning and meeting experiences.
The upgrade of 13 teaching spaces to hybrid learning allows academic staff to teach with futuristic fluidity, enabling students in remote locations to learn alongside those in the classroom. Twenty meeting rooms across the Kensington and Paddington campuses have also been updated to allow staff in remote locations to connect to campus spaces seamlessly, with Microsoft Teams-enabled AV setups and updated room acoustics.
"We are now uniquely positioned to face the hybrid future of teaching", said Jeff Peers, Chief Technology and Infrastructure Officer. "The installation of hybrid learning technologies and meeting room upgrades across campus was a proactive move by the University, and it has paid off. Alongside our existing Teams-enabled rooms, we now have 33 new hybrid, acoustically-treated spaces catering to the diverse needs of our vibrant campus and its faculties and divisions."
These spaces have been upgraded for a range of needs specifically identified by faculties and divisions. Hybrid rooms enable various modes of hybrid learning, such as live or recorded lesson delivery, and cater to specific room layouts and acoustics.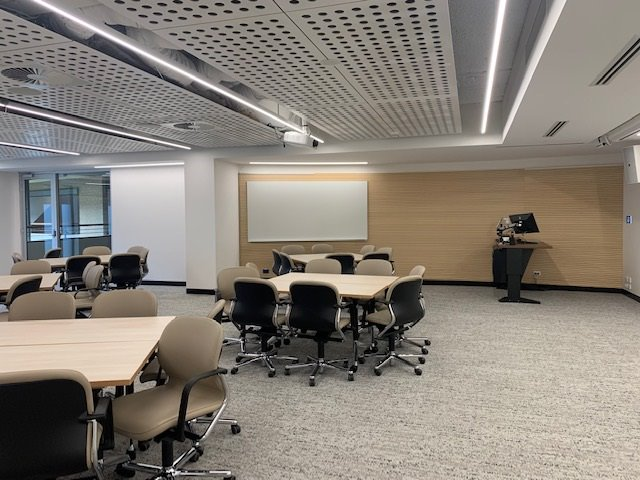 "The learning environments have been augmented with a variety of new and innovative technologies to help bring the world into the classroom and take the classroom out to the world," said Dinesh Paikeday, Director, Educational Delivery.
"Hybrid classes are a way to include students online while delivering to students face to face. Our academic community have been supported with good practice resources, just in time support and communities of practice that have helped inspire confidence and enabled them to provide equitable, inclusive, and flexible learning to our students - anywhere at any time!" he said.
The Streaming Studio, one of the newly upgraded spaces, is a state-of-the-art space for UNSW staff that enables hybrid online events and conferences with global reach and professional presentation. The studio, located in the Scientia building and run by UNSW Hospitality, will be made available for virtual conferences, town halls, panel discussions, public lectures, information sessions and more.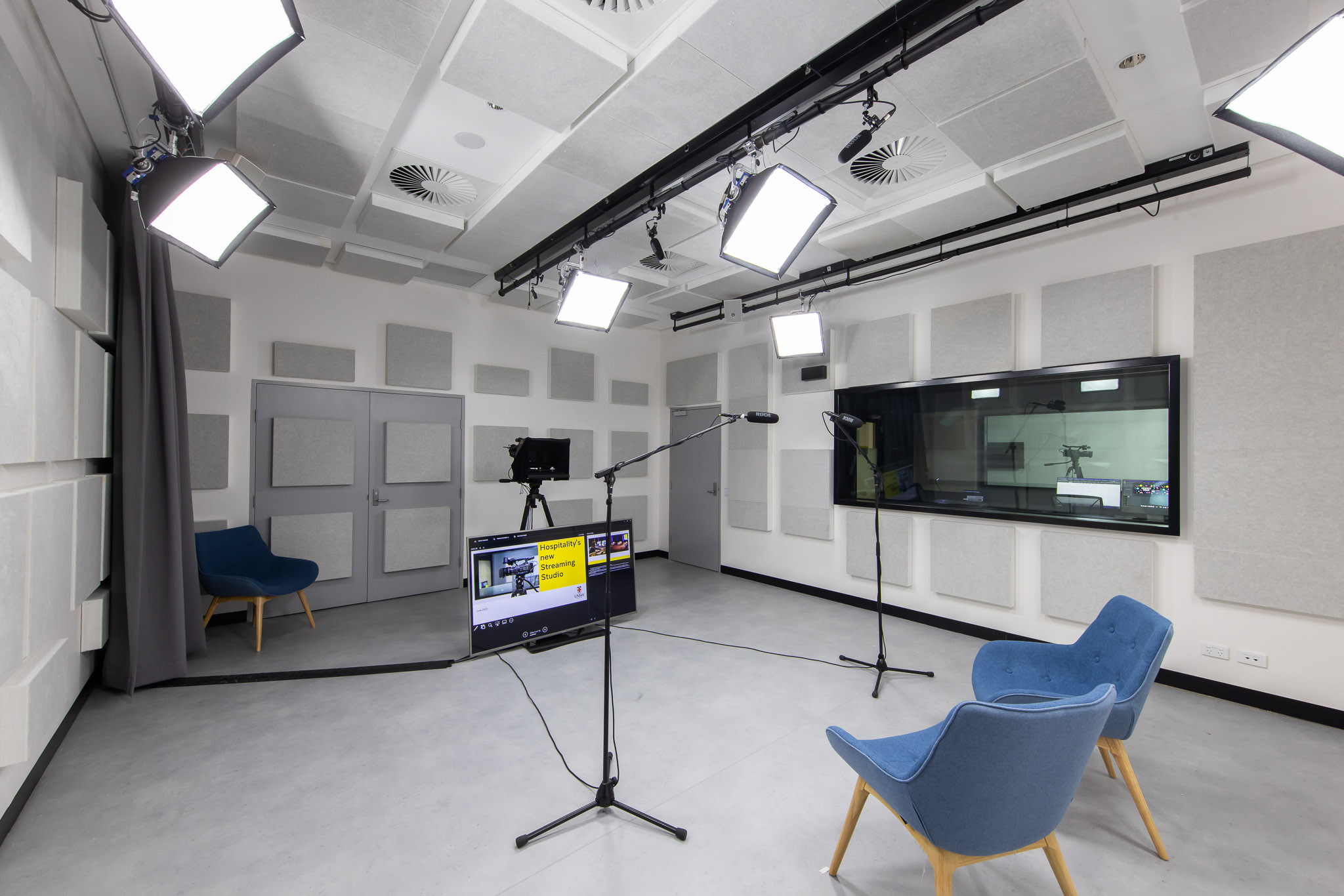 Fiona Docherty, Vice President, External Engagement, said, "Through the efforts of Estate Management team in consultation with UNSW Hospitality, the purpose-built streaming studio within Scientia offers a state-of-the-art facility for the UNSW community to engage with local and international stakeholders and audiences in a virtual and environmentally sustainable manner. The studio will become a vital enabler in achieving UNSW's strategic priority of creating social impact through thought leadership activities."
The recent upgrades also saw the reinvention of spaces across the Chancellery Building, consolidating teams into specific areas and transforming Level 3 into a space for staff to come together. The three new meeting rooms and boardroom are enabled with the latest hybrid Microsoft Teams meeting technology, expanding on the existing network of Teams-enabled rooms to allow stronger online collaboration.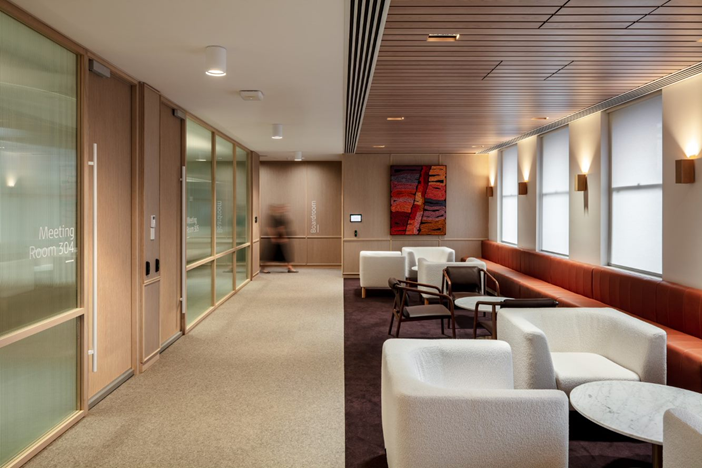 "The pandemic has forever changed the way we work, and the Flexible Working Policy launched in December last year reflects this change by supporting these new ways of working," said Deena Amorelli, Chief Human Resources Officer.
"The University has embraced the opportunity to equip our campuses with the technology and resources needed to enable hybrid working arrangements, showcased by our hybrid meeting spaces, which make work inclusive for everyone as we balance work and other life responsibilities."
You can view the full list of upgraded spaces below:
G14 Robert Webster L1, rooms 128B, 129A, 129B Streaming Studios acoustic upgrade
E15 Quadrangle acoustics and lighting upgrade
F8 Law L2 common room 250 acoustic refurbishment
G27 AGSM GF G03 & G11 flat floor classroom fitout
G19 Scientia LG07 & LG08 Streaming studio acoustic fitout
E12 ASB L1 The Place refresh - computer labs AV upgrade
C22 Chancellery 148A
F23 Mathews 1512
H6 TETB 208
G17 EET 302, 340, 403, 441
E10 Hilmer 223, 323, 423, 723
E12 Business School 612
E15 Quadrangle 3052
C27 Wallace Wurth LG02 & LG03
M15 Rupert Myers 2063
F8 Law 206
Block F Paddington F219 & F402
F12 Dalton 111
Comments