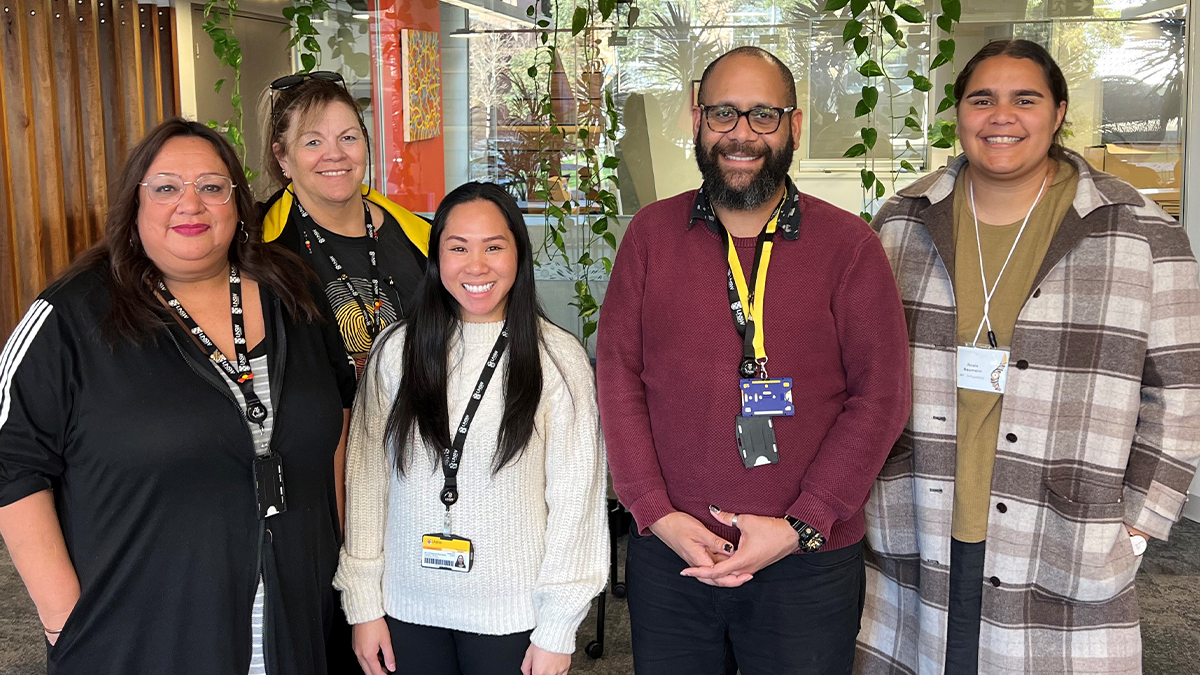 Dear colleagues
For many people across NSW, last week was an incredibly difficult one, with floods across more than 20 local government areas causing significant loss of homes, belongings and habitat. I offer my heartfelt sympathy to the students and staff who have been affected by this severe weather, and my thanks to many across our community who are working tirelessly in volunteer organisations to support the impacted communities. To all who were able to take advantage of Recharge Week last week, I hope you found it helpful and true to its name. Thank you to all who observed a quieter schedule to allow colleagues some space to focus, plan and catch up. The past week was a celebratory one, too, with NAIDOC Week 2022 – themed Get up! Stand up! Show up! – an opportunity to recognise the history, culture and achievements of Aboriginal and Torres Strait Islander people. I invite you to read more in this edition of Inside UNSW.
Recharge Week: wellbeing and beyond
I'll come right out and say that for colleagues with children on school holidays, Recharge Week may not have featured a surplus of clear head space, but I hope that most of you, like me, enjoyed fewer work engagements and a portion of time to dedicate to projects or plans.  
Recharge Week is one of the ways UNSW seeks to concretely support the wellbeing of staff, and we know from feedback that it's an initiative that's well liked. Wonderful people are the heart of everything we do at UNSW.
I want to assure you that we are taking steps to help ease some of the pressures colleagues are feeling after a couple of really challenging years: Recharge Week is just one of these. Many of the ideas through the Ideas Hub and discussions with staff across the University have focused on practical ways to achieve this too, which I know Faculties and Divisions have been introducing. We have brought in new, flexible work arrangements; we are committed to reducing red tape and streamlining the way we work; we have been able to increase resources and spending recently to alleviate some identified pressure points; and we have increased recruitment activities.
I hope you are beginning to see the positive impacts of these changes in your teams and workplaces – and even more so as the year progresses.
NAIDOC Week 2022: Get up! Stand up! Show up!
UNSW hosted a celebration of NAIDOC Week last week, marking the 2022 theme of 'Get up! Stand up! Show up!'. On Wednesday, local Traditional Owners performed a Welcome to Country and Smoking Ceremony on campus at the invitation of UNSW Indigenous. Celebrations on campus also included a display of traditional Aboriginal and Torres Strait Islander dance, and a range of workshops, talks and events.
NAIDOC Week celebrates and recognises the history, culture and achievements of Aboriginal and Torres Strait Islander people, in a national event that takes place in the first week of July each year. Fittingly, the Esme Timbery Steps were a gathering place for these events at UNSW – the steps are named for Esme Timbery, a revered Bedegal artist and Elder from the La Perouse Aboriginal community.
Across our University, we share a commitment to creating an environment for Aboriginal and Torres Strait Islander students and staff to thrive. Thank you to UNSW Indigenous, UNSW ADA and the many colleagues across the University community who organised and participated in NAIDOC events this year.
I took the photo at the top of this page when I visited our Nura Gili: Centre for Indigenous Programs on Friday. Pictured, from left to right, are Tanya Griffiths, Lizzy Mayers, Kyla Sumaylo, Quinton Vea Vea and current student Rosina Baumann.
The flood crisis: support available
Yet again we are witnessing the impact of the climate crisis with record flooding in NSW. For some areas of the state, this is becoming a frequent occurrence.
I ask that you extend friendship and understanding to students and colleagues who now face the task of recovering from these devastating events. Here are links to some of the support services in place for students and staff who have been affected.
On a broader note, we must not become desensitised to the impact of what were once 1-in-100 year floods that now happen annually or even more often. Nor should we resign ourselves to this being 'the new normal'. We must continue to do all we can as individuals and as a world-class university, with peerless credentials in climate and renewable energy research, to help society mitigate and avoid the very worst of this existential threat. I will certainly be offering UNSW's support to federal and state government ministers as they respond to the climate emergency.
Our next Co-DVC Equity Diversity & Inclusion appointed
Please join me in congratulating Professor Rosalind Dixon on her appointment as Co-Deputy Vice-Chancellor Equity Diversity & Inclusion. Rosalind, whom many may know as a Professor of Law in our Faculty of Law & Justice, will work in partnership with DVC EDI Professor Eileen Baldry, in the 'vertical job-sharing' Co-DVC role that was established in 2019. Rosalind is a great supporter of the vertical job-sharing model, having developed the concept and reported on its trial.
I also acknowledge the wonderful work of Professor Leisa Sargent, who has stepped down from Co-DVC after three years and take up the role of Dean, University of Sydney Business School, in December. Thank you to Leisa for her outstanding leadership at UNSW over the past six years.
Through the stewardship of Leisa and now Rosalind, I am sure that the role of Co-DVC EDI will continue to contribute deeply to the work of the DVC, the Division and to our quest for equity, diversity and inclusion across UNSW.
Farewell Professor Rorden Wilkinson
I extend the warmest congratulations to Professor Rorden Wilkinson, PVC Education & Student Experience, who will soon leave UNSW to take up the role of Deputy Vice-Chancellor Academic at Macquarie University on 1 September.
Rorden joined UNSW from the University of Sussex, arriving only weeks before the pandemic started, and beginning almost immediately to coordinate the move to online education. Rorden also developed a new Education and Student Experience Strategy, and under his leadership the PVCESE Portfolio has delivered many initiatives with a clear focus on our commitment to excellence in teaching and providing a student experience of the highest quality.
Please join me in thanking Rorden for his immense contribution to UNSW and in wishing him well in his new role.
Annual Pride Game right on the mark
UNSW's partnership with the Sydney Swans is a relationship of which we can all be proud. Especially so in the glow of the resounding Pride Game win against St Kilda at the Sydney Cricket Ground (SCG) on 25 June. (Swans 12 11 83 def. St Kilda 4 8 32.)
Since 2016, Swans v. St Kilda has been an annual fixture to celebrate equity, diversity and inclusion and the Pride Game was an excellent way for UNSW and the Swans to show our alignment in values.
UNSW was well represented at the match, with 10 athletes from the 2022 Swans playing group studying with us at present, 300 current students there to cheer the team on, and a strong representation from the UNSW Elite Athlete Program. Supporters witnessed not only a famous victory, but the Swans' first donning of the pride guernsey in front of a home crowd at the SCG.
They often say football is the winner, but we can certainly claim a win for the Swans, UNSW and equity, diversity and inclusion this time around. Read all about the game of four quarters here.
For the diary…
A reminder about COVID-19
Given the rising numbers of the Omicron variant, I'll close today with a reminder to take precautions regarding COVID-19. Every single one of us has a responsibility to help keep ourselves and others safe.
Wear a mask, particularly in enclosed spaces and when you cannot physically distance, and on public transport where they remain mandatory.
Get a COVID-19 test if you have symptoms.
Do not come to campus if you have symptoms, even if your COVID-19 test is negative.
Do not come to campus if you are a household contact.
Get your booster(s). The Australian Technical Advisory Group on Immunisation (ATAGI) last week recommended a fourth dose of a COVID-19 vaccine and you can find out more about the group's recommendation here.
Tell us if you test positive to COVID-19 and have been on campus while potentially infectious by completing this form.
Keep up to date on the latest cases on campus and follow the guidance.
We are all enjoying connecting with our colleagues and students on campus and if we continue to maintain these simple but important behaviours, we will help minimise the risk of illness and disruption.
Best regards
Attila
Professor Attila Brungs
Vice-Chancellor and President
Comments