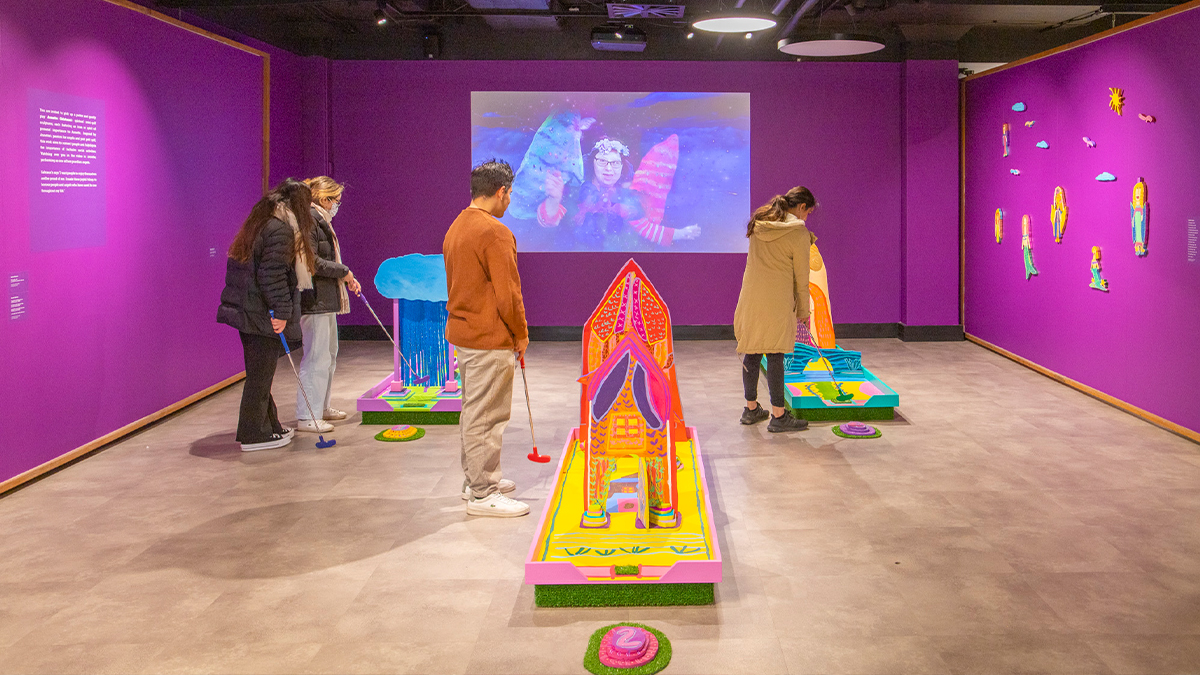 The exhibition addresses issues relating to our relationship with the spirit world and features new artworks specially commissioned for UNSW.
UNSW Library and the UNSW Art Collection have partnered with Studio A to create Trophy Dreams, a multi-artform interactive exhibition that lets visitors see the world from the perspective of nine artists from Studio A.
Studio A is Australia's leading art studio for artists living with intellectual disabilities. Led by a team of talented UNSW alumni, the studio is a powerhouse in contemporary art, with artists regularly participating in major exhibitions and collaborating with other creatives. Studio A tackles the barriers that people living with intellectual disability face and paves professional pathways for artists to achieve their creative and economic aspirations.
In his opening speech for Trophy Dreams, Shane Simpson AM said, "Commentators often remark on the colourfulness and the joy of the artists' work. But don't be deceived: the artists are painstaking in the craft that they bring to their chosen form of expression. It's not just spontaneous and decorative – it's considered. Often within what may appear to be a colourful, joyous image are stories of loss of loved ones, expressions of frustration, allegories of anger or grief. The keys to a work are often fabulously complex."
In preparing for the exhibition, Studio A artists were invited to consider what universities mean to them. In response, they created spectacularly decorated graduation gowns that reflect their unique concerns and interests. Visitors can try on these wearable artworks in the exhibition and consider the importance of access to tertiary education.
The exhibition also features a spiritual mini golf experience created by artist Annette Galstaun. Galstaun is an artist with a passion for angels, altars and putt putt golf. She said, "I want people to enjoy themselves and be proud of me. I made these joyful things to honour people and angels who have cared for me throughout my life."
The UNSW Art Collection has recently acquired a selection of artworks by Studio A artists that are featured in the exhibition. After the exhibition has finished, these artworks will be available for display in public spaces and offices across UNSW.
The exhibition has become a popular on-campus experience. Third-year commerce student Vivienne Tico Salcedo shared her thoughts on the exhibition in the student publication Blitz.
"I felt like I was surrounded by joy," said Ms Salcedo. "The artworks from the Studio A artists are physical proof of the happiness and love that the artists have experienced."
Trophy Dream – Visual Communication and Inclusive Practice Symposium | Friday 15 July 2022
This half-day symposium co-hosted by the UNSW Disability Innovation Institute will feature Gabrielle Mordy, CEO and Artistic Director of Studio A and Studio A artist Greg Sindel, along with leading UNSW researchers. This symposium is aimed at anyone working in the area of disability inclusion and will expand the conversation around using visual strategies to include, engage and collaborate with people with disability.
Come and experience the Trophy Dreams exhibition Level 5, UNSW Main Library, Kensington Campus until 30 August. Entry is free and morning tea will be provided. Visit the Eventbrite page to register.
Comments