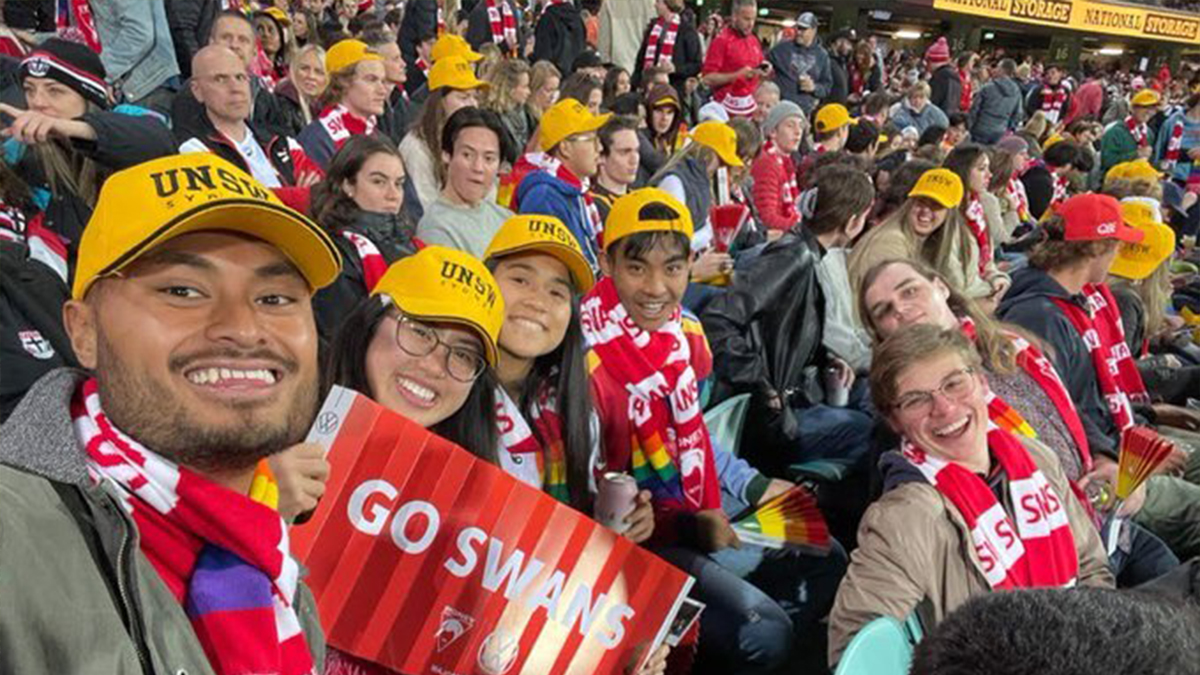 Over 300 participants from UNSW Sydney enjoyed the Sydney Swans' annual Pride Game.
Held at the SCG on Saturday 25 June, the strong and vocal contingent made the most of the Swans' group-ticketing to enjoy the game all together.
The Pride Game is played each year against St Kilda and was established by the two clubs in 2016 as a celebration of equity, diversity and inclusion.
The Swans also use this match each year as an opportunity to learn from the LGBTIQA+ community, by listening to and highlighting stories from across the community.
The 2022 match was the first time the Swans wore the pride guernsey and rainbow in front of a home crowd at the Sydney Cricket Ground and this provided the perfect opportunity for the UNSW community to turn out and cheer them on.
The 300-strong contingent of students in their distinctive yellow caps enjoyed the match with representatives from the UNSW Elite Athlete Program.
NSW Swifts shooting sensation and UNSW Science student Sophie Fawns, Central Coast Mariners key attacking midfielder and UNSW Business School student Max Balard and GWS Giants AFLW star and recent UNSW Art & Design graduate Rebecca Beeson were among the group of incredible athletes who cheered the Swans to a 51-point victory.
UNSW was also represented on the field, with 10 athletes from the 2022 playing list currently studying at UNSW.
Among those athletes was Swans' co-captain Dane Rampe, who is studying a Master of Commerce at UNSW Business School, where the flexibility of the program has allowed him to shine.
"I could not ask more of (UNSW Elite Athlete Program Manager) Helen Bryson and her team – they provide us with the flexibility we need to suit our schedule and I think most importantly, a strong support network which helps us get the most out of the time we do have at uni," he said.
"I transferred to UNSW when the uni adopted trimesters, as it suits our program and our season structure much better."
The partnership between the two Sydney institutions continues to grow – and with the release of the Swans' inaugural AFLW fixture, a further step will be taken in the journey with a number of the new recruits set to study at UNSW.
The Pride Game provided the perfect opportunity for UNSW and the Sydney Swans to showcase their alignment in values, with a focus on equity, diversity and inclusion and the creation of a welcoming space for people from all walks of life.
UNSW will continue to be part of this annual tradition and support the diversity and educational goals of the famous 'Bloods' team on and off the field in 2022 and beyond.
Comments