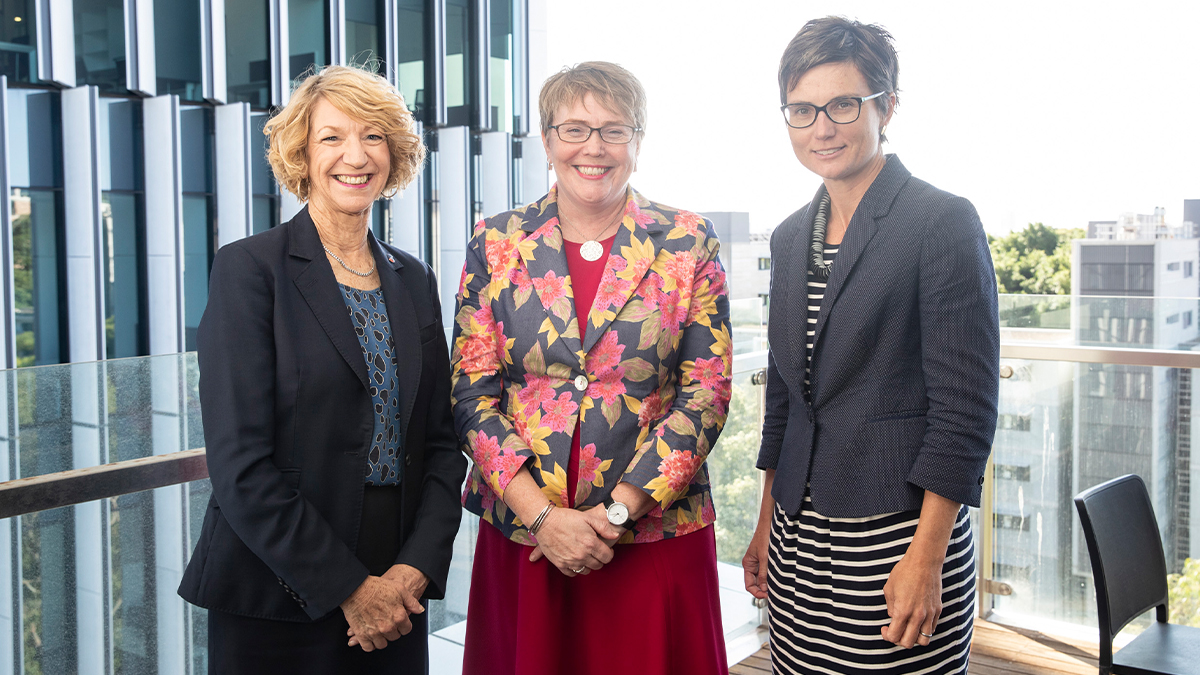 Vertical Job Sharing of Co-DVC position with Professor Eileen Baldry to continue in the Division of Equity Diversity & Inclusion.
Professor Rosalind Dixon recently stepped into the role of Co-Deputy Vice-Chancellor Equity Diversity & Inclusion, continuing the vertical job sharing (VJS) of the Co-DVC role established within the Division in 2019.
Prof. Dixon's appointment as Co-DVC EDI follows the decision of Professor Leisa Sargent to step down after three years and take up the role of Dean, University of Sydney Business School in December. 
Prof. Sargent was the inaugural Co-DVC alongside Prof. Eileen Baldry, in a trial of the innovative vertical job share concept developed by Prof. Dixon.
"I and the EDI team have benefitted greatly and more than we could have imagined, from Professor Sargent's Co-DVC work and contributions" said Prof. Baldry.
"Working in this innovative VJS model has resulted in an outcome that is much greater than the sum of its parts. Professor Dixon is a fine successor to Professor Sargent, and will assist in building an even more integrated, vibrant and inclusive student and staff community."
Prof. Dixon says it's "a real privilege" to be appointed to Co-DVC EDI, and praises Prof. Sargent for the amazing work she has done within the Division in partnership with Deputy Vice-Chancellor, Prof. Eileen Baldry.
She looks forward to supporting other people's journeys in working to achieve equality while in the role, which she will hold in a temporary 0.2 FTE capacity until 31 December 2022.
VJS was trialled by both EDI and the UNSW Knowledge Exchange, with both studies revealing numerous benefits of the model. The 2020 report, Reimagining Job Sharing, by Prof. Dixon with the assistance of Grand Challenge student interns Jessie Zhang and Rose Vassel highlights the results of both trials, and how they have fundamentally changed people's views about job sharing at UNSW.
Prof. Baldry noted in the report that the VJS trial at EDI "had a huge impact in signalling UNSW's commitment to flexibility", with staff members from both within the Division and at the Business School, where Prof. Sargent continued as Senior Deputy Dean, reporting significant positive flow-on effects. Increased opportunities for career development and increased availability of the DVC for mentoring and support were both listed as direct outcomes of the shared arrangement between Prof. Baldry and Prof. Sargent.
As a leader and big believer in vertical job sharing, Prof. Dixon says it feels very natural to step into a role that has adopted these virtues. "VJS unlocks the potential for better decision making and for more diverse leaders. It allows people with caring responsibilities to hold leadership positions, and it's wonderful to see EDI walking the walk by adopting this model."
There is, however, no reason why VJS should be limited to the EDI space. Prof. Dixon says that "senior leadership roles across the board have grown to a level where they aren't manageable consistent with wellbeing and other commitments. This is a way to retain people as well as enhance performance."
As someone passionate about the student experience, Prof. Dixon notes that there is now much work to be done post-pandemic to reinvigorate student experiences, particularly those with EDI challenges, and looks forward to supporting other people's journeys in working to achieve equality.
"There are so many parts of the Division's work that I find really exciting. While I'm here, I'm looking forward to building on and enhancing our inclusive leadership training program and working with faculties and student organisations to create a more inclusive student experience, amplifying student voices at every step."
EDI is delighted to welcome Prof. Dixon to the Division.
Comments