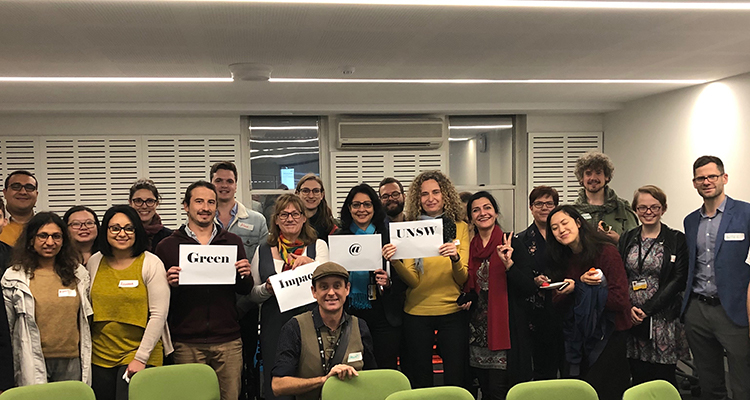 Registrations are now open for 2020 Green Impact, giving you a chance to reduce your environmental impact on campus or from home. 
After a hugely successful pilot last year we're back in 2020 with the Green Impact competition. 
What is Green Impact?
Green Impact is an engagement program that empowers you to make your workspace more environmentally sustainable. You'll form or join a team and see how many actions in the Green Impact toolkit you can complete over three months. It's a fun, easy way to reduce your everyday environmental footprint and change the way you think about sustainability.
Here's a snapshot of what some of our amazing teams did last year.
This year we have updated the actions and toolkit so that you can make your workspace more environmentally friendly – whether you're still on campus or working from your home office. 
Last year's teams will also be rolled over into 2020, so if you are happy to keep your team, just add or change members so it's up to date. 
Why should I get involved?
Every action you take will have a positive impact and show others how easy it is to be more sustainable. This year we're aiming to complete 1000 actions collectively. 

It's fun! You'll get to network and collaborate with like-minded colleagues.

There's a new Green Impact fund – up to $500 is available for four selected projects. 

You can win awards! Teams that complete the most actions or have the most innovative ideas for new actions will win a prize. This year we've also expanded the categories so you can win a gold award.

Many of you will be working from home where you have more power to make changes to your environment than before. You'll benefit from those changes long after the program. 
What help will I get?
We'll provide guidance and support along the way through webinars and information sessions. You'll also be added to a new Microsoft Team to collaborate with other participants and get the latest updates about the program. The best teams will be recognised at an awards ceremony at the end of the program.
Am I eligible?
All UNSW staff, research students with a dedicated workspace and residential students are invited to join or form a team. 
So, what are you waiting for? Click register now and get involved!
Find out more about the program here.
 
Comments