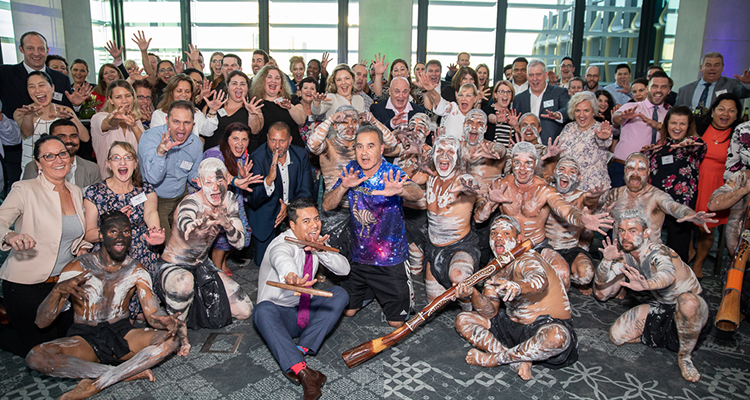 The European Federation of Management Development (EFMD) has awarded the Australian Graduate School of Management (AGSM) Emerging Indigenous Executive Leaders Program (EIELP) the 2020 Silver 'Excellence in Practice' award in the talent development category. 
Since 2007, the EFMD Excellence in Practice global awards (EiP) have recognised outstanding and impactful learning and development partnerships from around the world in the domains of leadership, professional, talent, organisational and ecosystem development. 
"This year, with more than 40 submissions spanning across different continents and industries, we came across many exceptional cases illustrating the power of multi-partnership collaborations and testifying to the impact of investing in human and organisational development," EFMD said in an announcement.
EIELP was developed by AGSM and Professor Mark Rose in collaboration with Reconciliation Australia and the Elevate Reconciliation Action Plan (RAP) working group, including the National Australia Bank, Richmond Football Club, Crown, Australian Football League, Broadspectrum, Australian Institute of Aboriginal and Torres Strait Islander Studies (AIATSIS) and Services Australia.
The program is designed to cultivate the next generation of senior Indigenous business leaders who will have an influential role in shaping the future of Indigenous and non-Indigenous Australia.
"We are proud that the RAP Program has initiated organisations to drive and deliver important projects such as the Emerging Indigenous Executive Leadership Program," said Karen Mundine, CEO, Reconciliation Australia. 
"Ensuring that First Australians have the opportunity to engage in career development opportunities is critical, and is an important step in empowering our people," she said.
More than 65 Indigenous emerging leaders have completed the EIELP since it was launched in 2017 and another 31 participants make up the fourth cohort that commenced in May 2020. The program impact analysis reveals that almost all participants have, since completion of the program, progressed their career, increased their well-being and capabilities, and positively impacted their organisations.
The EIELP program is unique in Australia in many ways. Prof. Rose works with each participant to strengthen the connection to their 'Ancestral Mandate' and to make the classroom a culturally safe environment for the free and frank exchange of traditional and contemporary knowledge. 
"The power of the program lies in the intersection and recognition of the integrity of both Aboriginal and Torres Strait Islander and Western knowledge systems and is an extreme example of co-design," Prof. Rose said.
The success of the program is a great example of collaboration between a number of organisations that are leading reconciliation through Reconciliation Australia's RAP program. 
"The RAP working group is proud to have played its role guiding AGSM in the development of EIELP, and we are delighted the program has been recognised for this significant global award," said Michael Lacy, Chair Elevate RAP working group and Head of Community at Richmond Football Club. 
"Importantly, we believe that First Australian voices will be amplified around decision making tables as a result of the program, which ultimately will strengthen business performance."
Upon completion of EIELP, participants receive an AGSM Certificate of Executive Management Development (CEMD) with credit points that equate to two subjects in the AGSM Executive MBA or MBAX and a micro-credential digital badge from AGSM.  
"The EIELP shone a light on my ancestors' achievements, awakened me in a way in which I can infuse my Aboriginal learnings and Westernised leadership qualities together," said EIELP 2018 alum Steve Munns, Director Services Australia and recipient of a Sir Ronald Wilson Pat Turner PhD Scholarship at the Australian National University and AGSM Adjunct Faculty. 
"It has given me a platform in which I can mentor and influence up and coming Indigenous Leaders both within my community and organisations I work for in the future," he said.
 
The EIELP covers five modules over nine months, with classroom sessions held in Melbourne, Sydney and Uluru, complemented with online coursework. It aims to empower Indigenous leaders to embrace their distinct cultural identity in their workplace to create strategic change and prepares them to step into executive leadership roles in the future. 
"Winning the EFMD award alongside some of the best management educators across the globe, recognises the achievements of not only our program, but all the people associated with it, particularly our alumni who have taught us a great deal. We have learnt alongside our participants and we celebrate with them their courage and strong voice," said Eva Freedman, AGSM EIELP Program Director. 
"Together with our partners, Elevate RAP and Reconciliation Australia, we will continue to support these talented alumni as they progress to the highest levels of leadership across Australia."
To learn more about the AGSM Emerging Indigenous Leaders Program click here. 
To learn more about AGSM Indigenous Leaders Scholarships click here. 
To learn more about the EFMD Excellence in Practice Awards click here.
Comments