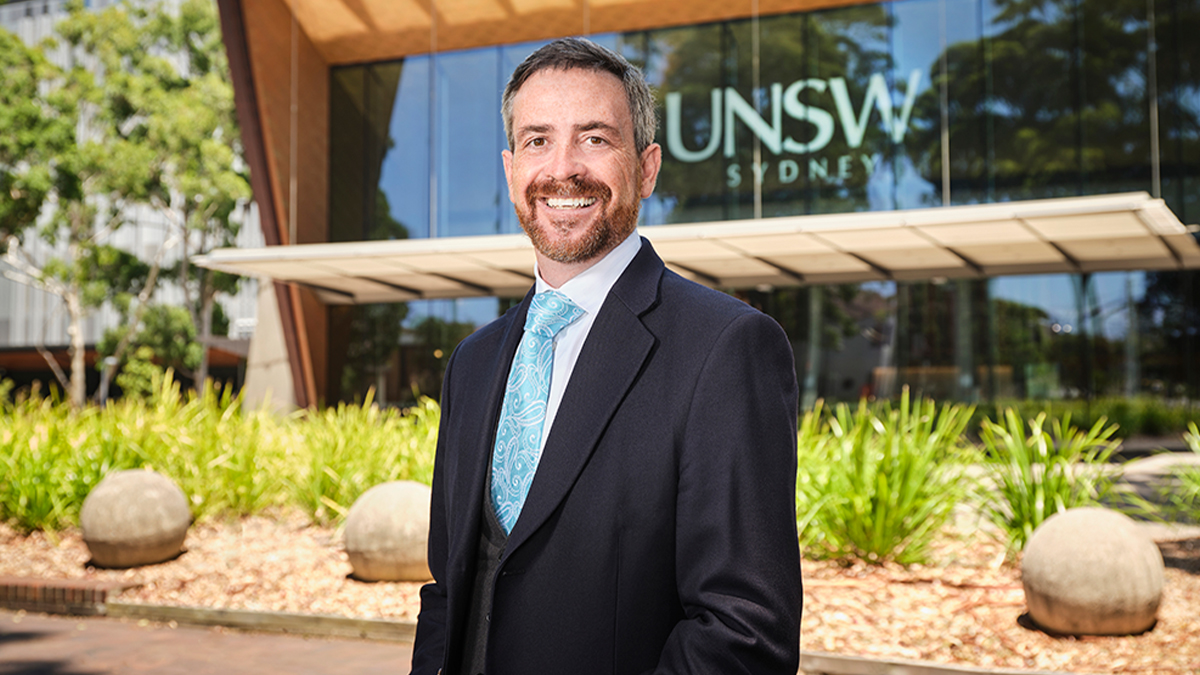 On 20 May, over 3,000 UNSW staff tuned in to our first all-staff forum of 2022 to hear from our new Vice-Chancellor, receive an update on progress and new initiatives, and to ask questions of Professor Brungs and the University leadership team.
Hosted virtually as a live Teams event, Professor Brungs opened the forum with his reflections and learnings from his first four months as Vice-Chancellor and President of UNSW, noting how much he has enjoyed meeting staff across campus and getting to know people face-to-face.
"I really appreciate staff taking the time to introduce themselves to me, talking about what you're passionate about, and giving me some excellent ideas about the University. So, thank you for that," he said.
"I had very high expectations coming into UNSW, knowing it was an excellent institution, and from my time here as a student… but those expectations have been exceeded."
Professor Brungs went on to praise staff for a strong commitment of purpose, and our shared vision of UNSW as a public institution for the benefit of all society. "Right across the Uni, that's what I've seen without exception."
Celebrating successes
In his presentation, Professor Brungs shared some notable achievements from the beginning of 2022, including our two successful bids to secure funding under the Federal Government's Trailblazer Universities Program, Law & Justice's new approach to Criminology courses, the introduction of the Australian Graduate School of Engineering (developed in conjunction with AGSM), the PVCESE Moodle Enhance Project, and the new UNSW Course Design Institute.
He also praised the work of Professor Jason Sharples and his team at UNSW Canberra for their work spearheading greater understanding and prevention of firestorms and bushfire management.
"It's wonderful work that Jason's been doing. As someone whose parents' house was burned down, I have personal experience in the impact that bushfires have on local communities."
Future focuses
Professor Brungs affirmed his commitment to the strong vision of Strategy 2025 but with a streamlining of activities and the pace of progress to ensure workload expectations are realistic, and to better reflect the reduction in resources in the workplace restructure.
During this period of significant turbulence and change for higher education, Professor Brungs highlighted the importance of advancing our commitment to lifelong learning, so that the workforce in Australia can be more resilient to disruption and long-term trends.
"We want to be teaching our students not just for job readiness, and to get a great job, but to continue learning throughout life. So how do we support learning for our students, our postgrads, and our 300,000+ alumni around the world?"
Accelerating our broader research translation will also be a major focus, including support for foundational research as well as transformational, while ensuring our campuses are optimised with the right spaces and facilities to support our research activities, said Professor Brungs. He also praised the role of our Precincts across the state, with collaborative partnerships across government and industry advancing research translation where it is most needed in society.
"One of the things that attracted me to this university was the fact that one of the strategic pillars was around social impact," said Professor Brungs. Continuing to drive positive societal impact will always be a priority, he explained, especially in the aftermath of the pandemic, where society has become more fragmented, and those who experienced disadvantage have been disproportionately impacted. "It's up to us to find the solutions, to drive important conversations in the public arena, but now we need to consider how we increase momentum," he added.
Professor Brungs expressed his strong commitment to prioritising student safety and tackling toxic attitudes that result in harassment and inequity. He also committed to driving a more trust-based policy system, and a thorough analysis to optimise the 3+ academic calendar.
Staff feedback and questions
Professor Brungs opened the virtual floor to questions, inviting staff to share feedback which was addressed by members of the University leadership. 90 questions were asked, ranging from suggestions about operational efficiency to expressions of gratitude for the Vice-Chancellor's proactive approach towards health and safety on campus.
Topics addressed by the University leadership covered workplace change, systems and processes, the 3+ calendar, student expectations, first nations events, research translation in practice, flexible work, the ongoing role of the campus, supporting academic research, recognition of the role of professional staff, and PhD funding.
The range of topics covered, and the depth of staff members' questions, show an active interest in the direction of UNSW from all parts of the University. Alongside the feedback gathered through the Ideas Hub, Professor Brungs has been provided with invaluable insights into the running of UNSW and the thoughts of staff.
The Vice-Chancellor and leadership team are responding to all questions asked by staff at the forum, as well as the hundreds of pieces of feedback provided through the Ideas Hub.
Strategy in action
To close the session, Professor Brungs welcomed three guest speakers from across UNSW to showcase some key initiatives driving our strategy success.
Professor Justine Nolan spoke on the work and progress of the Australian Human Rights Institute, Martin Borchert shared several excellent initiatives in place across UNSW's Libraries to support students, and Professor Renate Egan spoke on the research impact of Recycling and Clean Energy, one of UNSW's winning Trailblazer bids.
You can view the slides from the forum here.
Comments