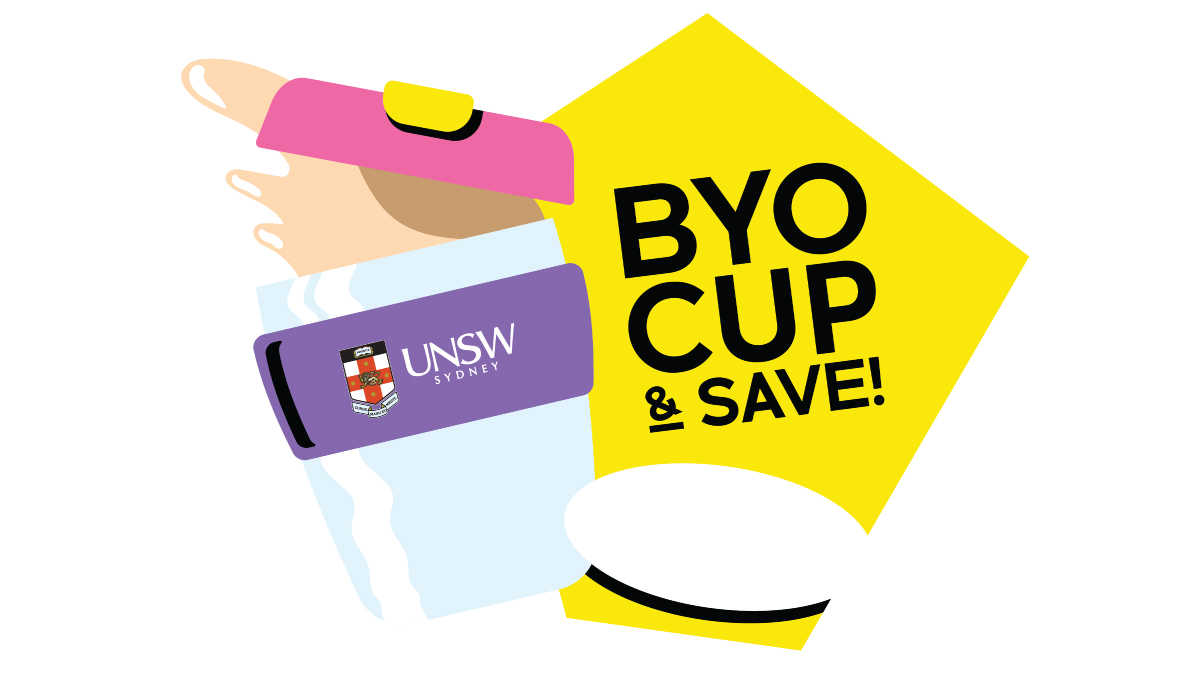 Bring along your reusable cups and containers to enjoy exclusive discounts at campus retailers and enter to win one of 25 Grad Shop e-vouchers worth $50 each. 
Plastic pollution is a global problem, and UNSW is dedicated to addressing it through the Plastic Free Dining program. Each year, we actively support Plastic Free July, a movement focused on minimising the use of single-use plastics. This event is an opportunity for our community to contribute meaningfully to the cause. 
Here's how you can get involved and be rewarded for your commitment this July: 
Bring your reusable cups and containers 
Whenever you visit on-campus retailers and cafeterias please bring your own reusable cups and containers to help eliminate the need for single-use plastics. You can contribute to a cleaner, greener future. 
Enjoy retail discounts 
Several on-campus retailers are offering exclusive discounts to those who bring their own cups and containers. Look out for the 'BYO cup and save' signs at these establishments and receive discounts on your purchases. This is not limited to July – you can enjoy these discounts on an ongoing basis.  
Spread the word, inspire others and win 
This Plastic Free July, you can win one of 25 Grad Shop e-vouchers worth $50 each by helping to spread the word through social media. On Instagram, share a cool BYO comment or post a photo of your favourite BYO cup or container – the brighter and bolder, the better. Include #BYOunsw and set your account to public so we can find your post. This competition is open to all UNSW students and staff.  
At the end of July, the top 25 most engaging and innovative photos or comments will be selected, and the winners will receive a $50 Grad Shop e-voucher.   
These are the participating retailers:  
Thoughtful Foods  
Stellini Pasta Bar 
Tropical Green (Pho House) 
Southern Wok 
Maze Cafe  
Plume Café  
Campus Village Café 
Home ground café 
Gradueat 
Yallah Eat 
XS Espresso 
Boost Juice 
Soul Origin  
Every Plastic Free July and beyond, we have the opportunity to collectively reduce our environmental footprint and inspire others to adopt sustainable habits. Let's make this Plastic Free July the start of lasting change.  
Comments