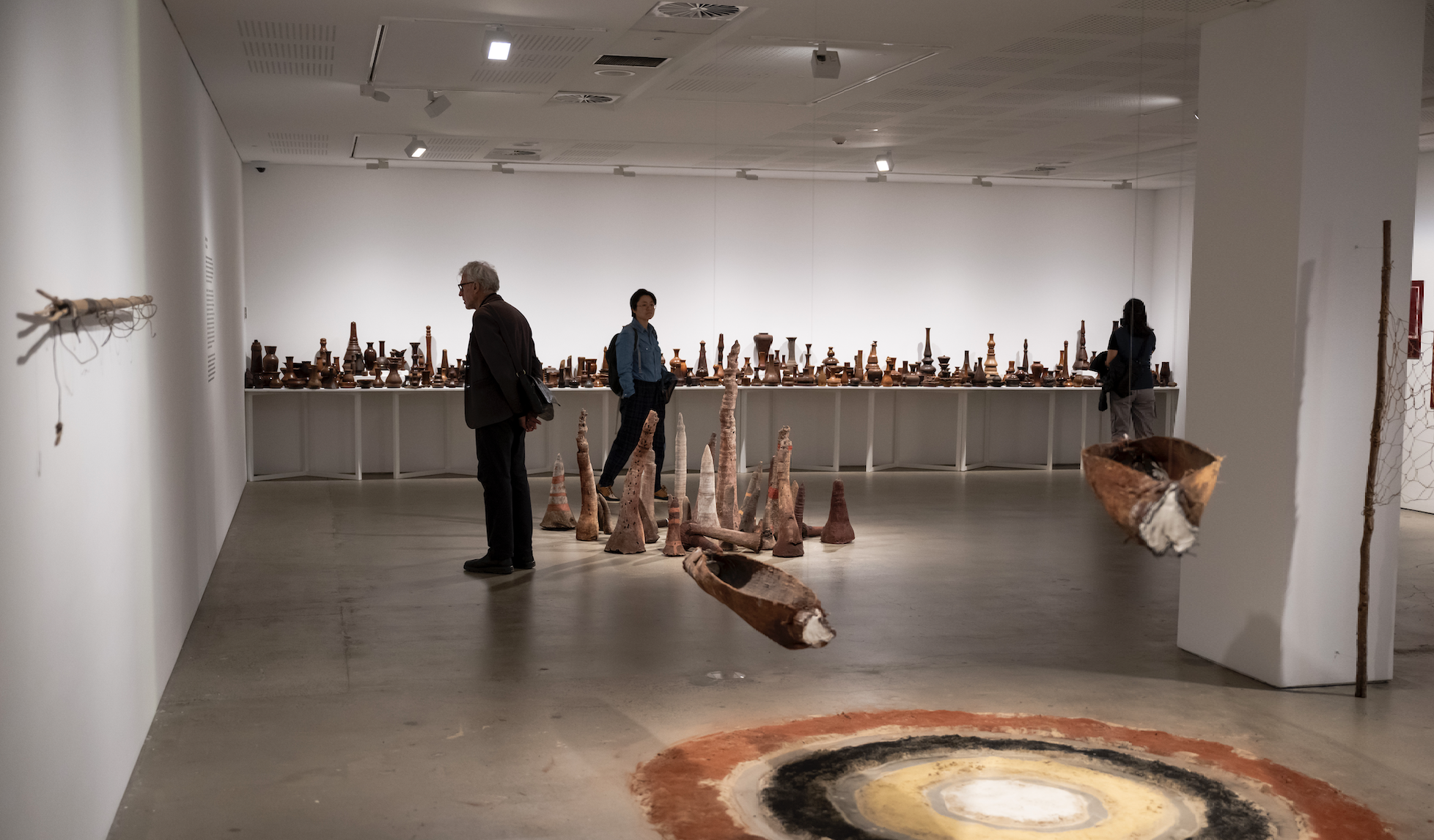 You can visit two exhibitions of First Nations art and design at UNSW Galleries on Bidjigal & Gadigal Country (Paddington Campus).
UNSW Galleries brings together the work of leading Australian and international practitioners, curators and writers working in the fields of contemporary art and design. This NAIDOC Week, all of UNSW Galleries' space is dedicated to amplifying the voices of indigenous creatives and thinkers.
Learn more about the two exhibitions below. Both are open during NAIDOC week (2 July – 9 July) and beyond. You can also register for a free spotlight tour of both exhibitions at 1pm on Thursday 6 July.
barangga: First Nations Design
Saturday 17 June – Sunday 30 July 2023
The exhibition and companion program of workshops celebrates design and making practices as a vital form of cultural knowledge transfer in First Nations Communities across Australia. Coinciding with NAIDOC Week: For Our Elders, the project engages with the 2023 theme by honouring the knowledge of Elders and highlighting the importance of Community consultation and intergenerational knowledge exchange.
The exhibition unites designers with an ongoing commitment to revitalising cultural practices and preserving material culture. The project is led by Nicole Monks, a multidisciplinary creative of Yamaji, Wajarri, Dutch and English heritage, and Professor of Practice at UNSW Art & Design.
"This exhibition provides a critical platform to showcase the innovative processes and expansive cultural knowledge that First Nations practitioners are contributing to design fields today," said Professor Monks. "'barangga' emphasises the importance of making in continuing our culture, sharing our histories, and creating pathways for the next generation."
The project's title is drawn from the Dharawal word 'barangga' meaning 'large vessel' or 'island'. It speaks to the significance of design and making in First Nations practices, while embodying the notion of holding space for Community. The exhibition encompasses a range of fields from fashion, jewellery, textiles, and sculpture to glassmaking, woodworking, tool-making, and video. Together the works explore connections with Country and demonstrate a breadth of innovative approaches to environmentally sustainable design.
The exhibition is activated through a series of workshops offering a space for connection, creativity, and learning. The project launched on Saturday 17 June with an afternoon of knowledge sharing and making workshops inviting audiences to collaborate on works for the exhibition. Remaining programs include an eco-dying workshop with Debra Beale on Wednesday 5 July and a kangaroo bag-making workshop led by Nicole Monks and Charmaine Papertalk Green on Saturday 22 July.
You can find the full program on the UNSW Galleries website.
Turrangka...In the shadows
Friday 12 May – Sunday 30 July
This landmark survey of leading Australian artist James Tylor brings together a decade of practice by acclaimed multidisciplinary artist James Tylor for the first time. Tylor's practice unpacks the histories of colonisation and its profound impact on Indigenous cultures as informed by his heritage comprising Nunga (Kaurna Miyurna), Māori (Te Arawa) and European (English, Scottish, Irish, Dutch and Norwegian) ancestry. His expansive practice combines historical and contemporary photographic processes, exploring the complexities of cultural identity and relationships to place, in particular to the Kaurna Country of South Australia.
This extensive survey features over 200 works across fifteen series, establishing a potent interplay between Tylor's renowned daguerreotypes, expansive digital photographic series, handmade Kaurna cultural objects, and furniture. The exhibition calls attention to Tylor's enduring interest in the Becquerel Daguerreotype, a 19th-century photographic process to which he has returned throughout his career. These works consider the contested role of the daguerreotype in representations of
Indigenous peoples, recontextualising this unique process to interrogate colonial records and generate a new archive of pseudo-historical images.
James Tylor said, "It's a real honour to have my first solo institutional show at UNSW Galleries. It brings ten years of my work together and places them in conversation with each other. It's incredible to see all my ideas and images in one space. 'Turrangka…in the shadows' is a collection of all the things I feel are important and that I needed to say something about."
Comments