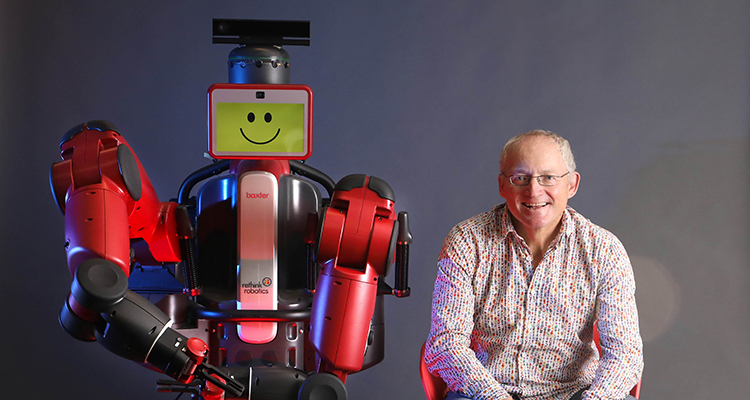 As a valued staff member at UNSW, you are invited to attend the monthly Learn@Lunch lecture series.
Take advantage of this free continued-learning opportunity across a range of relevant and pressing topics, unpacked in one-hour lunchtime presentations from some of the University's leading academics.
Each presentation takes place in the Sydney CBD on the second Wednesday of every month. Learn@Lunch offers staff, alumni and friends the opportunity to foster lifelong connections with a raft of accessible insights from across business, art, science, law, engineering, and more.
The next Learn@Lunch session will be on Our Artificially Intelligent Future with Scientia Professor Toby Walsh. For those who can't make it or want to relive the lesson, a podcast of each presentation is also made available on the UNSW Alumni website.
Originally introduced as a Business School event series, the lunchtime sessions have been attended by thousands of alumni since the first speaker in 2013. For the first time this year, Learn@Lunch is open to the whole UNSW community, with all-new lectures from a range of faculties and fields.
Make the most of your lunch hour by breaking away from your desk and attending these free presentations from leading academic minds, each of which promises to be fast, fascinating, and easy to digest. Whether it is understanding 'moral injury' or uncovering new facts about history, new applications for stem cell research and artificial intelligence, or challenging ideas around refugee policy or behavioural economics, the series features a wide breadth of significant research insights sure to feed your mind.
Sign up to receive regular Learn@Lunch invitations
Learn@Lunch event details
Time: 12:30 – 1:30pm
Venue: The Barnet Long Room, Customs House, Level 1, 31 Alfred Street, Circular Quay
Cost: Free. Registration is essential and will be open monthly
Comments