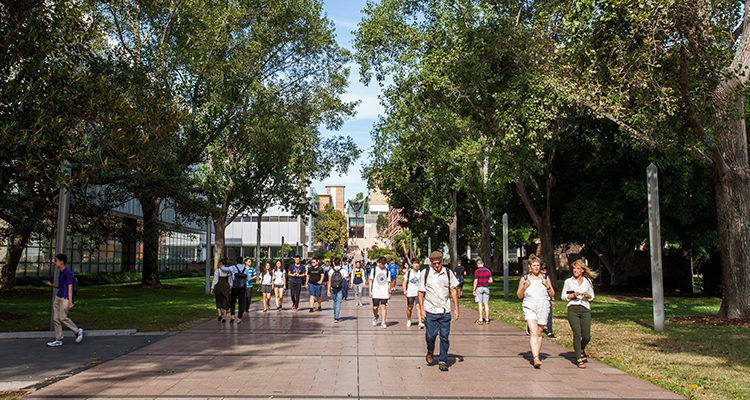 With the accountability for delivering Operational Excellence moving into my Division, I thought it was a good time to give everyone an update on the progress and future of this important work.
Operational Excellence is about investing for growth by designing and implementing a way of working that provides excellent, consistent and appropriate levels of professional support across functions.  At the same time, we have been looking to clarify performance expectations and career pathways for professional staff.
More than 60 per cent of the $3 billion being invested over the next 10 years will be invested in our people and as a result of the 2025 Strategy our professional and academic workforce will grow overall by 2025.
This whole process started when the University undertook an extensive review in 2016. The review looked at the delivery of support services, and identified a number of issues that effected the consistency and quality of support services across the university.  From this review, we started a program of work that invested in greater automation, standardisation, improved centralised systems, consistency of services, and the removal of re-work or double-handling. This work continues today, and will continue into the future.
New roles and opportunities have been, and will continue to be, created as improvements are implemented across UNSW. As part of these improvements, more visible career pathways are being created for our professional people as we focus on making sure we have the right people in the right roles.
So far UNSW's work on delivering Operational Excellence has resulted in the following:
The implementation of new structures and delivery models for Finance, External Relations and HR Help. A large number of roles have been filled with many successful candidates being internal staff

The creation and commencement of four Customer Services Committees (CSC) for Finance, Corporate Services (EM and HR), External Relations and IT with the Student Support Services (SSS) committee to commence in 2019

The drafting of a series of service standards and KPIs to create clear accountabilities and benchmarks for measuring success

The creation and achievement of professional staff opportunities with job level alignment, consistent roles and clear career paths

Leadership of UNSW behaviours by streamlining position descriptions, facilitating assessment centres and creating a clear, aligned service ethos

420 staff attended training which was organised through the UNSW Capability & Development team including 238 staff from Divisions and 182 from Faculties.
The Customer Service Committees that have been established are led by Deans to provide governance and oversight in establishing the services and standards to be provided and ensure continued focus on service improvements.
Looking at the future of Operational Excellence activities, we continue to work on improving how we do things, focusing on delivering efficient and effective professional services to the University. 
To that end, Finance, Estate Management, UNSW Planning and Performance, Teaching Support, Governance and Legal functions have all implemented their recommended changes and are now fully under local leadership with teams better enabled to deliver the new model. The main focus of improvement is now on SSS as well as some continuing improvements for Human Resources, IT and External Relations. 
As we move through the planning for SSS we are looking at the lessons learned and feedback from faculties on previous waves of change, and ensuring they have been incorporated into planning for the SSS functional changes. Taking that feedback into consideration has allowed us to further explore the processes and activities that support the Student Hub, and progress the technology enhancements.
Looking at Operational Excellence at a program level, and like any program of this size and investment, we continue to use strong governance and assurance to review the progress of the program and the initiatives within it.  Program reviews are a standard component of quality program delivery.
Moving forward, we are transitioning the responsibility for Operational Excellence into the Division of Strategy & Quality.  This new UNSW Service Improvement team will lead the support for the Improve Phase of the Operational Excellence strategy, where improvement will become a business as usual activity. I am currently recruiting for a new Director to lead this area. The new role, Director of UNSW Service Improvement will lead our ongoing efforts to improve the way we do things, make them more efficient and provide higher levels of service to the University. 
Russell Nelms
Vice-President
Strategy & Quality
Comments