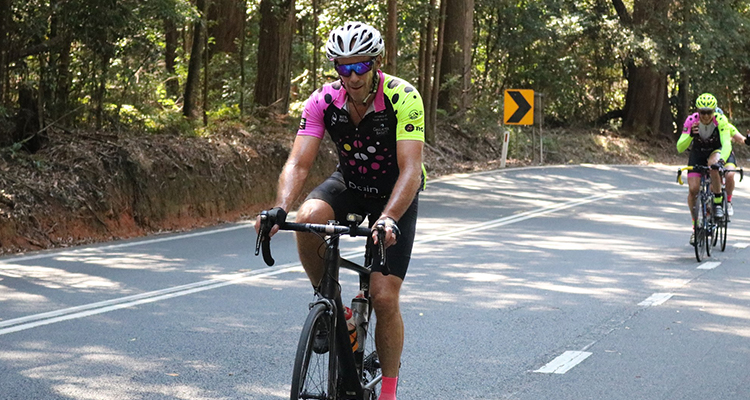 UNSW Medicine's Dr John Booth participated in the second edition of the Pain Revolution Ride, cycling over 750 kilometres during his week on the bike to promote community-led change in the treatment of persisting pain.
The cycle tour, held from 11-17 April, was an educational outreach initiative led by University of South Australia's Professor Lorimer Moseley (also Senior Principal Research Fellow at Neura) and hosted community educational events.
Dr Booth and Professor Moseley were part of a team of around 50 riders and support crew who hit the road for the tour, departing from Sydney and visiting Wollongong, Nowra, Canberra, Cooma and Corryong before finishing in Albury-Wodonga. The riders came from diverse health care and research backgrounds and were united in the mission to put themselves in some pain to bring rural Australians a fresh understanding of the science of pain.
The support crew represented some of Australia's leading pain researchers and educators and divided their time between supporting the ride and the riders, presenting the evening educational events and speaking to the public at the Brain Bus, a travelling experiential lab open to the public.
In addition to the ride and community events, a national network of Local Pain Educators has also been established to continue the community-based work of the Pain Revolution Ride in rural Australia. The first 13 Local Pain Educators, who represent many regions across NSW, Victoria and WA, have been awarded a scholarship to UniSA's Professional Certification in Pain Sciences and have been paired up with industry and research mentors to work together to establish community-based education programs. For the cyclists who rode and educated during the week, they too will take a life-changing, transformative experience with them back to their clinics and labs that infuses a revolutionary air into their work with people in pain.
The Pain Revolution Ride is sponsored by organisations that share the vision of reducing the financial and human cost of persisting pain. In 2018, AIA Australia, Gallagher Bassett, University of South Australia and NOI Group Australia led the way in getting the ride on the road, with added help from Association Partners the Australian Physiotherapy Association, the Australian Pain Society, and the Australasian College of Sport and Exercise Physicians. 
The Local Pain Educator Network is wholly supported by the fundraising efforts of the Pain Revolution riders, who pay their way on the ride and fundraise from their local communities and networks. The 2018 fundraising drive continues, with the aim of reaching $80,000 raised this year. You can support UNSW Pain Revolution rider Dr John Booth to help him cross the fundraising finish line in the coming weeks.
For more information on the event and the riders, visit the Pain Revolution website.
Comments