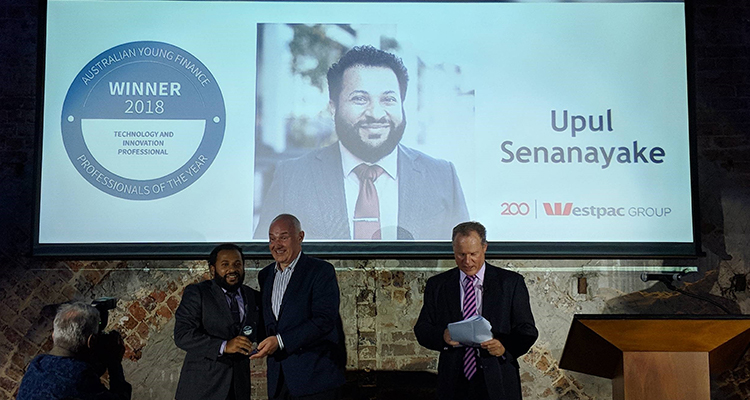 UNSW STEM PhD Program student Upul Senanayake has won the FINSIA Technology and Innovation Young Professional of the Year award for 2018.
After being awarded a prestigious scholarship at the end of 2016, Upul now works part time at Westpac in the Data Driven Experiences team while concurrently completing his PhD.
"As this is the first time I've worked in a corporate environment I feel fortunate to be able to directly apply the machine learning knowledge from my PhD to help transform the Westpac customer experience," Upul said.
"This is a truly fantastic opportunity for me to work at Westpac to continue with my expertise in data modelling, particularly as I can leverage any and all existing data assets of the organisation to re-engineer business critical problems."
The STEM PhD Program is part of Westpac's ongoing commitment to STEM disciplines and was established in recognition of the importance of the STEM fields to the future of Australia. It aims to deliver greater research outcomes while offering professional development to researchers who can make an enhanced contribution to the economy.
The majority of Upul's work at Westpac is concentrated on building models that draw on the bank's massive data sets to learn customer behaviour. In his PhD research, Upul used state-of-the-art deep learning techniques to predict a patient's progression to Alzheimer's disease through brain MRI data. At Westpac, he has found accurate ways to predict customer behaviour at different stages of their life, informing the bank's work to deliver on its service promise and improve customer experience.
Upul said: "This is where the work I do for my PhD comes in handy. Although my PhD concentrates on proactive recognition of individuals at risk of Alzheimer's, the underlying techniques I use to achieve this are readily applicable to the kind of problems faced by major financial institutes like Westpac.''
Sandra Casinader, the head of HR Strategy at Westpac, was deeply supportive of Upul's work and his recognition as young professional of the year: "Upul truly lives the values of Westpac, contributing not only as a dedicated member of his own team, but also sharing his expertise widely across the organisation to help other areas leverage machine learning techniques to improve their outcomes.
"This is an incredibly well-deserved recognition of Upul's efforts and we are looking forward to seeing his continued achievements with us."
The STEM PhD Program is joint venture between Westpac and the Group of Eight (Go8) universities and recognises the importance of STEM fields to the future of Australia.
Now in their fourth year, the FINSIA awards recognise and celebrate the finance industry's brightest professionals and are open to professionals aged 35 and under.
Comments