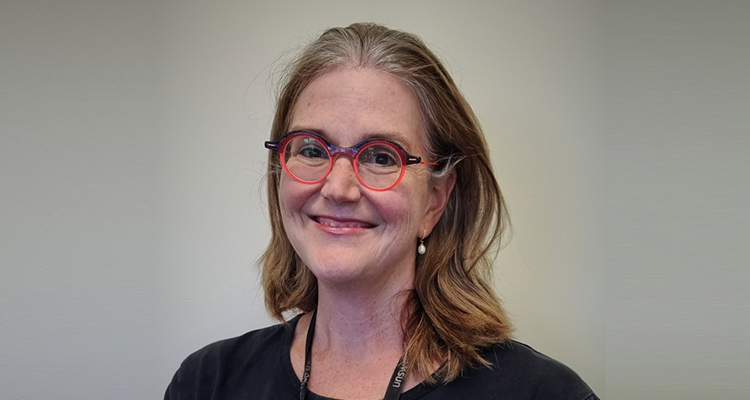 A/Prof Isabelle Jalbert from UNSW Medicine and Health has been awarded a Citation for Outstanding Contributions to Student Learning, as part of the 2021 Australian Awards for University Teaching (AAUT), a highly competitive and prestigious accolade. 
Isabelle has been credited with leadership that has enhanced optometry education through development of evidence-based curriculum and teaching resources, and with contributions to teacher training, credentialing assessments and competencies for optometrists. 
"I am thrilled to be recognised for the work I've contributed to the field of optometry. There is a great need for quality eye care, and to enable that, we need better trained optometrists," said A/Prof Isabelle Jalbert.
Joining UNSW in 2008 as an early career academic, Isabelle was already a force to be reckoned with. She was a part of the team of Australian researchers that developed novel highly oxygen permeable contact lenses. It was during this time that she became acutely aware of the challenges associated with practitioners adopting new research, and the slow pace of it being integrated in curricula. This led her to research and advocate for evidence-based optometry, spearheading the future of optometry. 
Isabelle started by partnering with academics from her field and other health professions (medicine, speech pathology, psychology, physiotherapy, medical education) across six universities. Through persistence and hard work, evidence-based teaching is now embedded in all optometry curricula across Australia.
"A/Prof Jalbert has formed educational streams and working groups in domains such as ocular disease, therapeutics, pre-clinical, clinical and vision science, to support curriculum mapping and renewal. She has made a major contribution to our standing as a premier School of Optometry and Vision Science, internationally." – Professor Lisa Keay, Head of School for Optometry and Vision Science.
Isabelle widely shares her extensive experience on collaborative curriculum renewal, online resource development and validation of assessment practice at her School, University and beyond. Internationally, she has helped train more than 50 international optometry fellows and educators from various developing countries at programs and conferences such as the Australian Leadership Awards Fellowships Optometry Faculty Development Program in 2012-2013, and the World Congress of Optometry in 2017. 
"My vision is to inspire other educators and optometrists to equally share in my passion and belief in evidence-based optometry education. My approach is to inspire health care professionals to integrate and apply new research knowledge in their professional life and for university curricula to equip them with these competencies," says A/Prof. Isabelle Jalbert.
In the classroom, she is inspirational and challenging, and was one of the first optometrists to use problem-based learning in her teaching. Students are given virtual cases and are asked to source the best evidence to propose a diagnosis and management strategy in a time-bound manner. This reflected real optometry in practice and encouraged independent self-directed learning and critical thinking. The success of this approach prompted colleagues to introduce similar activities in third year and master level courses. 
"Her one-on-one engagement with students, comprehensive knowledge and ability to give guidance whilst not sharing the whole answer immediately, allowing for best students learning," states a 2020 OPTM6413 Student.
Isabelle is already working on her next project and is excited to be adopting HyFlex teaching into her courses, a format that allows a combination of face-to-face and online learning. Each lesson is offered in-person, synchronously online, and asynchronously online, providing students with different learning pathways to achieve the same learning outcomes. 
Isabelle's influence and impact in the field of optometry is evident. Her impressive resume includes teaching invitations from international institutions and conferences, a position as the Chair of the Education Committee for the Optometry Council of Australia and New Zealand, nine scholarly grants and publications and two university teaching awards, including the 2020 UNSW Vice-Chancellor's Award for Teaching Excellence. More recently, Isabelle was invited as an expert contributor to the 2021 full review of the Competency Standards for optometrists, led by Optometry Australia, and is continuing to shape the future of optometry in Australia and beyond. 
In related news, Sarah White joined UNSW Sydney earlier this year and is currently a Senior Lecturer at the Centre for Social Impact. Sarah was also awarded a 2021 Citation for Outstanding Contributions to Student Learning during her previous role at Notre Dame University in the Clinical Skills Team. Sarah is a testament of UNSW continuing to attract outstanding world-class educators. 
Discover more award-winning educators at UNSW here.
Comments