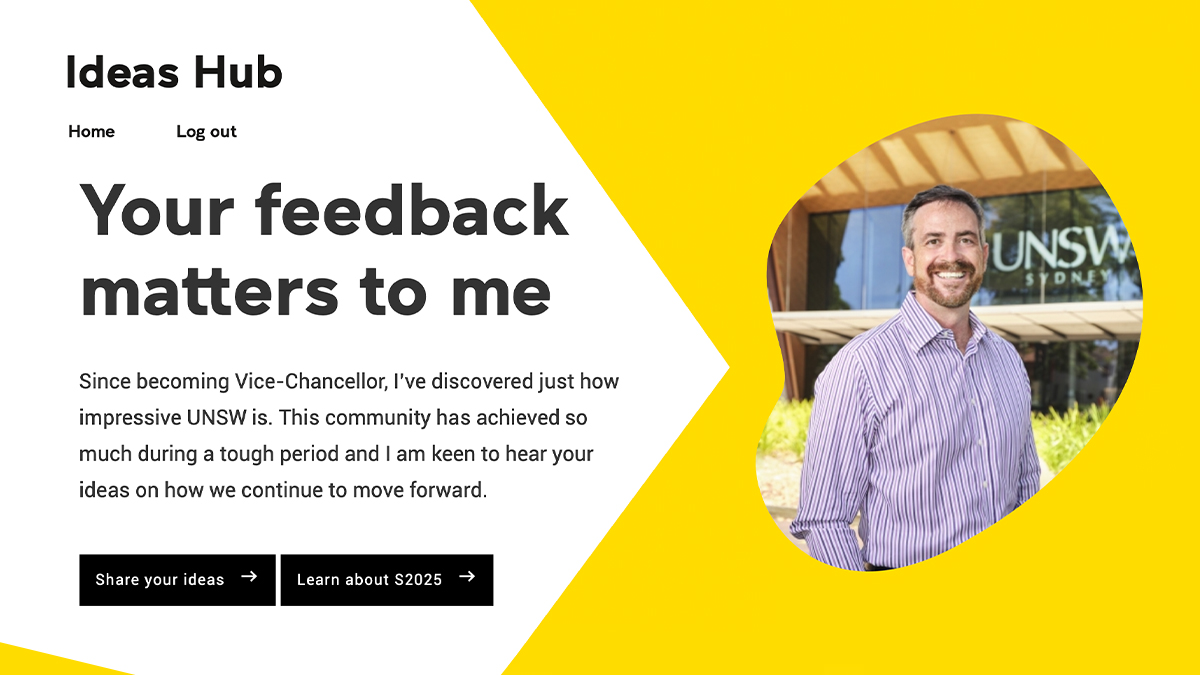 UNSW's Ideas Hub will close the current round of feedback on 30 April and we want to hear from you!
If you haven't had a chance to submit a comment to the Ideas Hub yet, there's still time. Reflect on how you would like to see UNSW evolve – whether it be ways to improve efficiency, how we can best support our community, or raise the bar when it comes to our experiences and impacts.
Alternatively, share praise – for your team, a collaborator, a process, or a leader.
The feedback on the Ideas Hub is divided into four headings, reflecting the themes of the 2025 Strategy, and some of the feedback received so far is captured below:
Our Community - Ideas submitted to date have included topics such as leave allowances, professional development opportunities, improved campus facilities, and new systems and platforms to support work
Innovation and Engagement - From hybrid teaching and working, engaging with industry and government, supporting startups, or providing more opportunity for all staff to innovate, feedback has included new programs, procedures, and partners to advance our work in this area
Social Impact - Comments have spanned new fundraising and research initiatives, new ways to acknowledge our different communities, new opportunities to promote our impact, to how we resource our Equity, Diversity & Inclusion work
Academic Excellence – Suggestions have included feedback on course syllabuses and streamlining systems and processes, to ideas around the 3+ system, our strategic global alliances, and student-led learning opportunities. 
Log onto the Ideas Hub today and share your thoughts with the Vice-Chancellor and President on how to make UNSW the best it can be.  
Comments