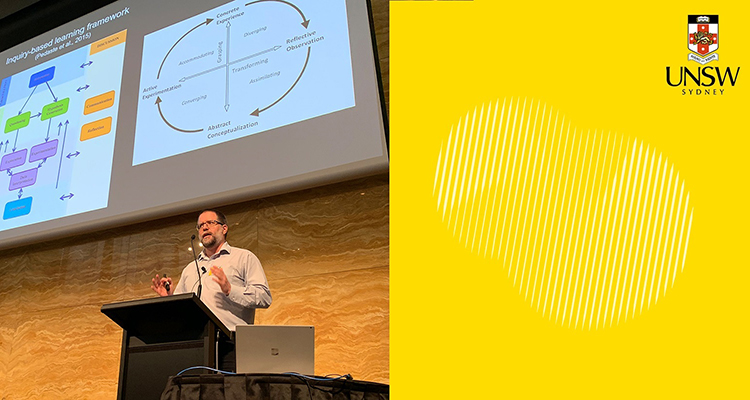 With just over two weeks to go, spots are filling up quickly for the annual event focused on teaching excellence. 
The Pro Vice-Chancellor, Education (PVCE) Portfolio-led 2020 Learning and Teaching Forum is the annual platform for all UNSW academics and community to share good practice in learning and teaching. 
Now in its 17th year, the Forum will feature presentations and academic posters from all corners of the University, making it one of the most important cross-faculty events for educators at UNSW. More than 50 educators and their students are delivering 29 presentations and 23 academic posters. 
The examples they share, including presentations and posters, will fall within the following topics: the future of assessment at UNSW, rethinking assessment, capability building, developing an online community, synchronous/asynchronous lectures, course design and more. 
"The Learning and Teaching Forum gives staff an opportunity to share their research and teaching practice, bringing learning and teaching out of the classroom and into professional conversation," said Catherine Ryan, lead Forum organiser from Academic Development Services in the PVCE portfolio. 
As one of the many examples of disruption in education, this year, for the first time, the Forum will be run fully online over two half-days. 
Dates – Thursday 19 and Friday 20 November 2020 
Time – 9:00am - 1:30pm (Day 1), 9:00am - 12:30pm (Day 2) 
Where – Delivered fully online (Register now to receive information on accessing the event on the day) 
What's on the agenda? 
This year's keynote will be presented by Professor Sally Kift, a Principal Fellow of the Higher Education Academy, a Fellow of the Australian Academy of Law and elected President of the Australian Learning & Teaching Fellows.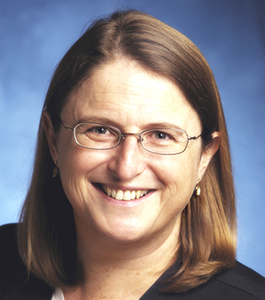 Prof Kift's will be presenting on "Higher Education Leading the Change? Enabling a Lifelong Learning Ecosystem". As a tumultuous year for higher education policy and practice draws to a close, what does it mean to 'learn without limits' and how might our sector 'lead the change'?  
This presentation will consider the promise of a connected lifelong learning ecosystem, founded on universal access to tertiary education and collaboration between schools, learners, universities, vocational education providers and industry.  
Program overview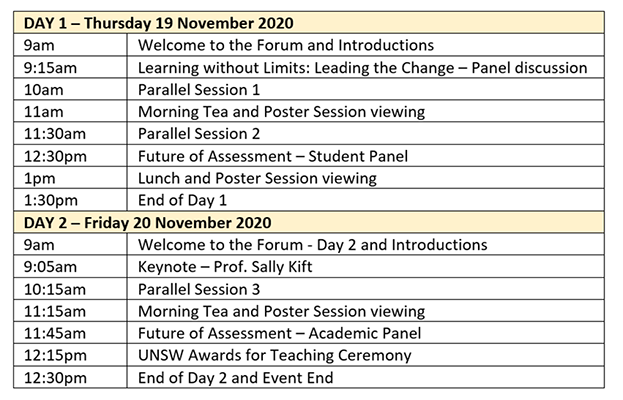 Please note that the full program will be made available in November here. 
The UNSW Awards for Teaching will also make an appearance for the second year in a row, with the winners announced at the end of this year's Forum. The awards will recognise and acknowledge outstanding educators at UNSW in 2020. 
Register now to secure your place at the online Forum. Note that you must register for the Forum via this Eventbrite listing in order to receive all the necessary information that will allow you to attend virtually the day, including the official calendar invitation. 
Please contact pvce.events@unsw.edu.au if you have any questions regarding the Forum. 
Comments