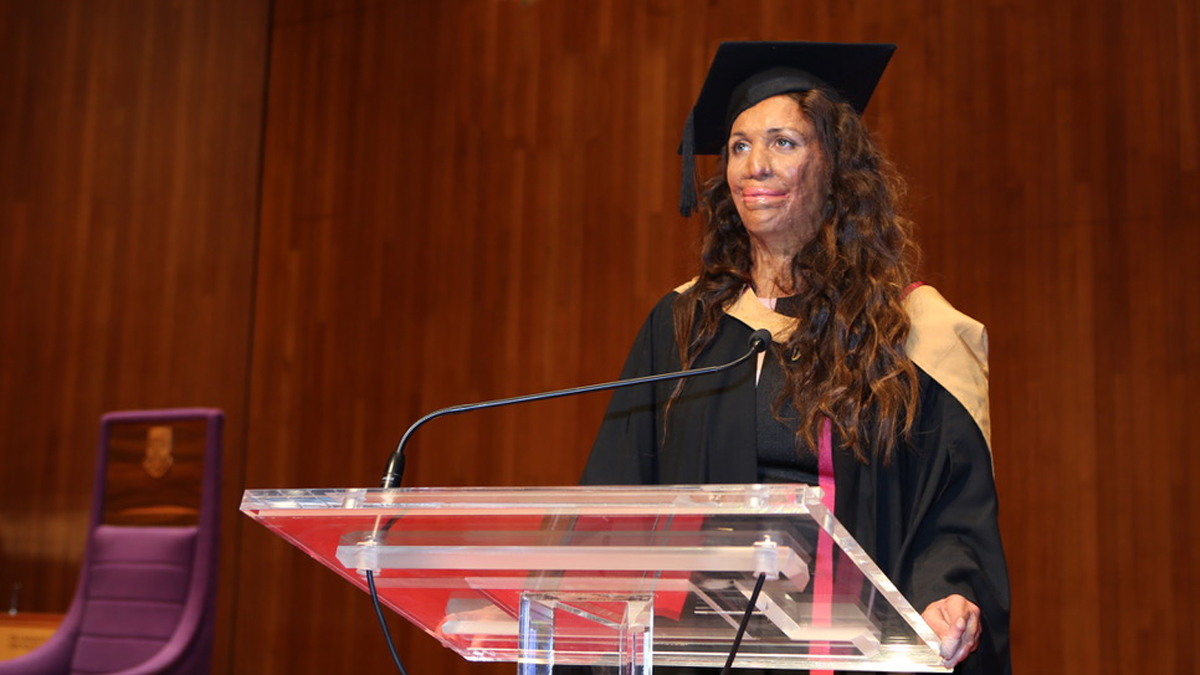 With on-campus graduations unable to be held due to health regulations, UNSW graduates experienced the first-ever virtual graduation ceremonies at the University. 
Among the many setbacks students have faced during the COVID-19 pandemic, an inability to host on-campus graduation ceremonies for UNSW graduates could have meant an anticlimactic ending to their university studies. Thanks to the dedication and ingenuity of the Student Services and Systems team, UNSW has produced eight faculty-specific graduation videos for our graduates who would have normally attended their ceremony in May or August this year to recognise and celebrate their achievements. 
"We wanted to create an online celebration which encompassed some of the traditional elements of a graduation ceremony while breaking new ground for UNSW in a virtual environment. It enabled our graduates to have a similar opportunity to be recognised for their outstanding achievements," said Head of Student Lifecycle Clare Jones.
Opening with a triumphant soundtrack, and aerial shots and cutaways of UNSW's most iconic locations and landmarks, the videos offer graduates the chance to share their campus environment with their family and friends. 
"I love graduations, and it really saddens me that I'm not able to meet, greet and indeed congratulate each of you who are receiving your awards in this virtual graduation ceremony," said UNSW Chancellor David Gonski AC in his address following the video's introduction. 
"You have really achieved something, and I hope it stands you in wonderful course for the next chapters of your lives. Please fight narrowness to be a great human. And for us both personally and generally, savour the relationship with the University because we are very keen to see you prosper and have wonderful lives. Congratulations to all of you," he said. 
Joining the Chancellor in the graduation videos were the respective faculty Deans, Emeritus Professor Ian Dawes, and UNSW alumni Mr Adam Brimo, Ms Melissa Ran and Ms Turia Pitt.  
Ms Pitt graduated from UNSW in 2010 (Bachelor of Engineering (Mining)/Bachelor of Science). In the following year, her life turned upside-down when she suffered burns to 65% of her body after a grassfire trapped her while competing in an ultramarathon. In her keynote address, she gave some crucial advice on being able to bounce back from adversity. The class of 2020 will no doubt carry this advice with them as the world adapts to the COVID-19 pandemic. 
"Being able to adapt and pivot is now more crucial than ever," said Ms Pitt.
"The world is adapting and changing, and you get to be a part of it – the possibilities are endless. But it is also a little bit terrifying and uncertain. What is the economy going to do? What will the long-term impact be of social distancing and isolation? Will your job be secure three years from now?  
"The only way we learn resilience is by going through the hard times. What we're living through right now will strengthen us and it will fortify us. It could just be the making of all of us. Whatever your gift is, the world needs it now more than ever," she said. 
Comments