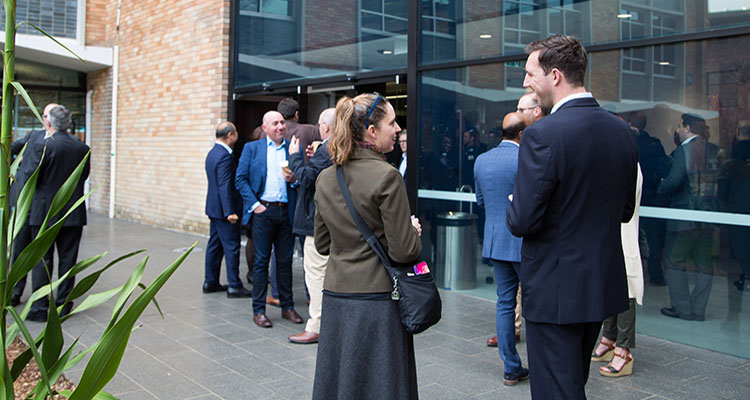 When innovative researchers and leaders in manufacturing got together at UNSW, the topic of conversation soon turned to a revolution in the industry.
A new generation of advanced manufacturing in Australia was discussed by more than 100 industry players at a UNSW forum last week, including a possible collaboration with a global firm.
The Advanced Manufacturing Growth Centre (AMGC), one of UNSW's partners in the Knowledge Exchange program under the 2025 Strategy, hosted industry players from small startups to global organisations such as GE at the event.
Discussions between AMGC members and the UNSW faculty on emerging trends and research were energised by the gathering and created a strong appetite for more collaboration, said Michael Sharpe, Director – East at the Advanced Manufacturing Growth Centre.
"AMGC and its members working with UNSW and other universities gives all parties the opportunity to make a meaningful impact in Australian manufacturing," Michael said. "No one group can transform the industry alone, and certainly transforming the great ideas at UNSW into a commercial reality is vital for our industry's leadership."
AMGC is one of six centres established under the Australian government's $248 million Industry Growth Centres Initiative. An industry-led, not-for-profit organisation, AMGC supports the development of a world-leading advanced manufacturing sector in Australia. It fosters collaboration between industry enterprises and the scientific and research community – such as its partnership with UNSW.
"As was illustrated at our joint event, just the simple act of connecting conversations between AMGC members and UNSW faculty sparked some potential collaborative projects, including with one large global manufacturing firm," Michael said. "It's a win-win-win model and we need to do more of this, collectively."
Behrang Poorganji, Materials Development Leader, GE flew in from the US to talk about how GE is developing additive materials.
Lochie Bourke, Co-Founder, JAR Aerospace addressed how advanced manufacturing is driving the company's mission to be in space in the next five years.
UNSW's Professor Gangadhara Prusty, Director UNSW AMAC Centre, and Scientia Professor Veena Sahajwalla, Director UNSW SMaRT Centre, showcased how the research capabilities of their respective centres can help businesses and the industry translate ideas and discoveries into real impact.
Tours of the AMAC Centre and SMaRT Centre showcased the facilities in action.
"In 2016 we committed to doubling our engagement with industry in five years as a means to ensure our research has impact in the society we serve - our partnership with AMGC is central to our engagement strategy," said Professor Brian Boyle, Deputy Vice-Chancellor, Enterprise in his opening remarks.
"We aim to minimise the barriers at all levels whereby our industry partners can access the know-how they need to address their problems and generate economic and social progress for Australia and beyond," Brian said.
Veena echoed that message in her presentation.
"It's not just about having the research, IP, science and technology," Veena said. "We need the connections, partnerships and exchange of knowledge and ideas to successfully export it to the rest of the world. That's when we'll have the 'a-ha' moment. It all starts with simple conversations."
Comments