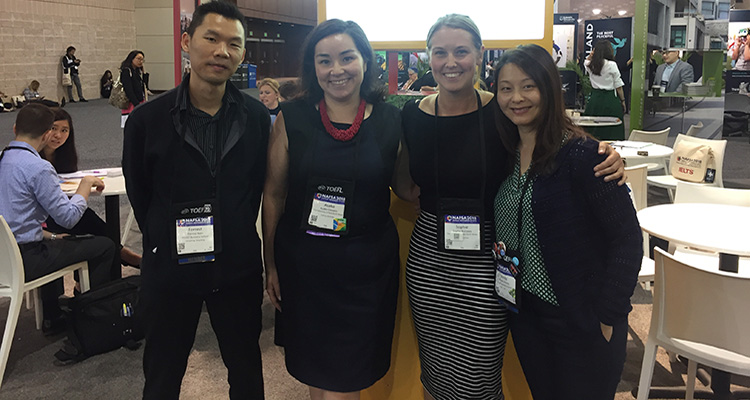 New opportunities for students: the message was clear when UNSW3+ was presented during a four-day showcase for global educators.
Our partners from around the world were keen to explore the benefits UNSW3+ would offer their students when the new term structure was launched at an international conference in the United States.
The UNSW3+ project team and members of the Division of External Relations showcased UNSW3+ to our Study Abroad and Exchange partners at the NAFSA: Association of International Educators conference in Philadelphia.
UNSW has partnerships with more than 200 institutions in 39 countries and it is a vital part of the UNSW3+ implementation plan to ensure students have the same opportunities under the new calendar as they do now.
"We met with more than 70 partners throughout the four-day conference and all were overwhelmingly positive about the new calendar," UNSW3+ Project Lead Shane Griffin said. "They were eager to talk to us about the new opportunities that their students will have access to because of the alignment with the northern hemisphere calendars."
The positive response follows a year of work behind the scenes by both teams to ensure the new calendar can accommodate the requests of key partners.
Integral to this work was the creation of a new study period known as T2C. The introduction of this term enables incoming students to do a required fourth course in addition to the maximum three allowed in a standard term.
PVC International Laurie Pearcey said: "So many of our partners say this is the most innovative thing to hit Australian mobility and will position UNSW as market leaders for years to come. There are many possibilities coming out of this and such goodwill with partners, where our profile seems stronger than ever before." For more information visit https://www.unsw.edu.au/about-us/the-university/unsw3-new-academic-calendar.
Photo: Asako Clonaris and Sophie Burrows with partners from KHUST at the NAFSA conference
Comments