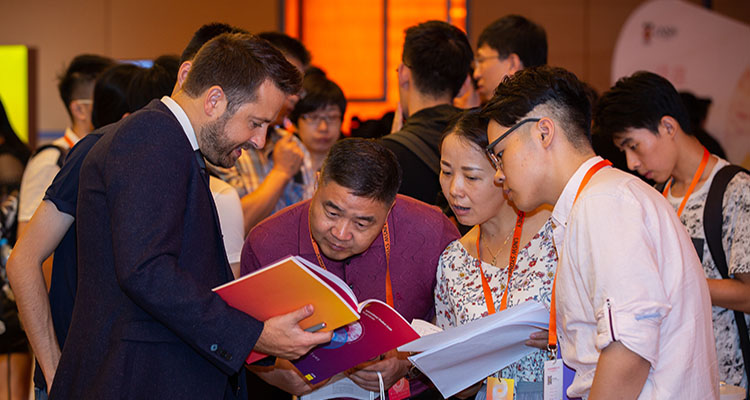 Flagship recruitment events at four centres in China this month established important links with future students and their families, as well allowing our staff to fine tune their teamwork.
The annual UNSW China Roadshows are our flagship recruitment events. This month a diverse cohort of UNSW staff attended major recruitment centres in Shanghai, Nanjing, Beijing and Qingdao. They visited three top schools, spoke to over 900 students and welcomed more than 1,200 guests to the four Open Day events.
"The events represent the culmination of months of hard work," says Matt Henderson, Head of Partnerships: Asia. "This year, with the new Division of External Relations, we were able to draw on the expertise and experience of our Creative Services and Digital teams to extend our reach and the overall scope of the events."
All eight UNSW faculties participated in the events, along with Accommodation, Admissions, Careers and Employment and UNSW Global, who launched and promoted our new Diploma pathways in Science and Engineering.
"What makes these events so special are the personal contacts the UNSW team is able to make with future students and their families," Matt says. "The opportunity allows us to answer key questions they have and convert general interest in our programs into enrolments."
The events are logistically challenging, but ran like clockwork thanks to the strong collaboration of everyone involved. "A surprising outcome was the relationships forged across the University Faculties and Divisions, among staff who would normally not enjoy the opportunity of working together. It was camaraderie at its best," says Matt.
"It is these new connections that will continue to open up new ways of working and new collaborative opportunities that will position UNSW strongly in the future as Australia's global university."
Also during the trip UNSW President and Vice-Chancellor Professor Ian Jacobs opened the new UNSW China Centre in Shanghai, as part of the University's work to bolster its presence in China and further build Sino-Australian relations.
The new interdisciplinary centre will be an academic and research hub for UNSW in one of China's fastest-growing innovation, learning and technology hubs - Yangpu Changyang Innovation Valley. It will continue to support the University's academic mission by advancing research and education partnerships, recruiting international students and developing opportunities for UNSW students to study, conduct research and engage in internships in China.
The University's China-based alumni will also benefit from graduate employment and network opportunities. The centre will work with leading Australian, Chinese and multinational companies to identify industry trends and prospects relevant to graduates.
Professor Jacobs said the new office solidified UNSW's important links to China and gave UNSW an edge in one of the world's largest economies.
"As a leader in international education and in the China market, it is critical for UNSW to have a permanent presence in China's largest city and such an important centre of innovation and technology," said Professor Jacobs. "We believe in the potential of global partnerships to transform society for the better – socially, culturally and economically."
Comments