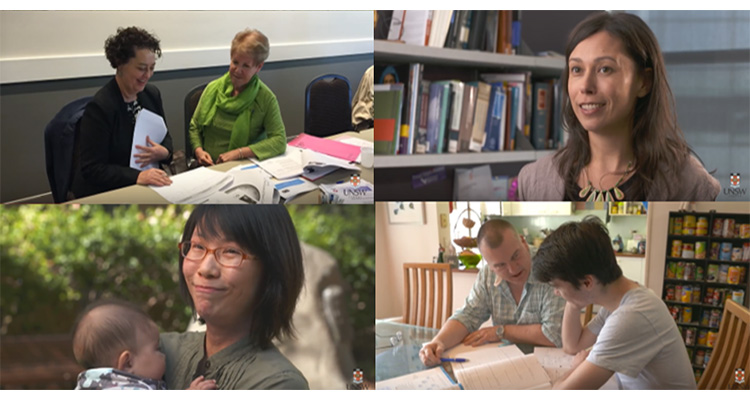 You can offer your opinion at upcoming discussions about flexible working arrangements at our university and how the needs of staff can be better supported.
Flexibility at work is an important enabler of the UNSW 2025 Strategy. It helps us to attract and retain talented staff who are also carers, parents, people with disability, and people from diverse cultural backgrounds.
Professor Eileen Baldry, Deputy Vice-Chancellor Inclusion and Diversity, said: "We all have personal lives outside the university. UNSW is working towards understanding how we can support staff to make it easier for them to factor in and honour their personal commitments and work responsibilities. I also want UNSW to have a culture that enables and permits staff who work flexibly to thrive and have interesting, satisfying careers."
UNSW's Diversity Champion for Flexible Work & Leave Options, Warwick Dawson, said it is vital the university ensures its flexible work and leave options are meeting the needs of staff and management.
"My goal is that by 2025 we have a workplace culture across all levels of academic and professional staff that acknowledges and embraces the productivity and health benefits that are available through flexible work and leave options," Warwick said.
This year on Flexible Working Day in June, Eileen and Warwick officially launched a new video that showcased how some staff are already using UNSW's flexible work and leave options and making it work for them.
Call for focus group volunteers – we want to hear from you!
Eileen and Warwick also announced that the UNSW Social Policy Research Centre in collaboration with the Centre for Social Impact (the Research Team) is running a series of focus groups at UNSW Sydney and UNSW Canberra during July and August.
The Research Team is currently calling for volunteer research participants to help them explore perceptions and experiences of flexible working arrangements at UNSW. All academic and professional staff interested in taking part should register via this online registration form as soon as possible.
This research will help UNSW learn more about flexible work arrangements at our University, explore perceptions and experiences of flexible work among different groups of staff, identify any barriers to embedding flexible work, and ways those barriers can be overcome. The focus groups will comprise 8-12 UNSW staff and run for 60-90 minutes. Taking part in this research is optional. Only the Research Team will be aware of the individuals who volunteer. After you have registered, you will be contacted by the Research Team during either July or August about next steps.
It will be ideal if this study achieves representation of staff from all divisions and faculties, all levels and all genders. For more information please email Dr Ciara Smyth.
Comments