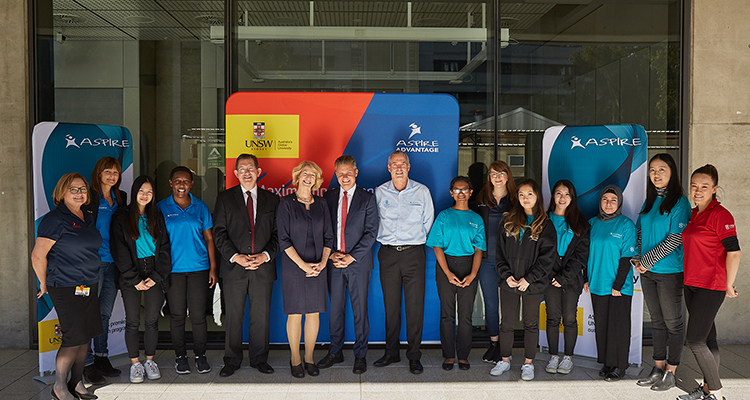 It has been fun this week to see our graduating students enjoying the stunning new entrance to the Clancy Auditorium and celebrating with their families. My thanks to all who have worked so hard to get our students to this point and to everyone involved in ensuring that the graduation ceremonies are such memorable events. As they entered and left the Clancy, our graduates may have caught a glimpse of the first light rail carriages going through trial runs just outside the university. Being an eternal optimist, I am hopeful that the light rail will be fully functioning well before graduation time in 2020!
It is frustrating that higher education has not featured heavily in the Federal election campaign but it is heartening to see the prominence of climate change and the growing public consensus on the need for greater and more urgent action. An important development in this context was the ALP's commitment last week, if elected, of $15 million to support a National Health and Climate Centre here at UNSW. Federal Member for Kingsford-Smith, Matt Thistlethwaite MP announced the initiative at UNSW and was joined by Associate Professor Donna Green, from UNSW's Climate Change Research Centre, who would lead the new Centre. Donna explained the impact of climate change on people's health in Australia, which include many indirect health impacts associated with droughts, heatwaves and storms.
Matt Thistlethwaite MP was on campus again this morning to announce Labor's $6 million commitment to the UNSW Aspire Program, which currently works with 54 schools across Sydney and regional NSW to address barriers students face in coming to university. The program runs school workshops, mentoring, parent events, and on-campus activities here at UNSW, and we know that these activities have the desired effect – over the life of the program we have seen a significant increase in the number of university offers made to students from Aspire schools. The new funding would expand the reach of the program to 24,000 more primary school students and 23,000 more secondary students and 40 new partner schools. 
Congratulations to the UNSW Business School for being ranked by the Global Research Rankings of Actuarial Science and Risk Management & Insurance, compiled by the University of Nebraska at Lincoln, as the number one school globally for Actuarial Science, Risk Management and Insurance. There are many areas where UNSW is in the top 50 globally but a number one ranking is exceptional and a source of enormous pride. Congratulations to the current Head of the School of Risk and Actuarial Studies, Associate Professor Bernard Wong, as well as previous Heads Professors Mike Sherris and Hazel Bateman, and all in the School for this outstanding result, even more impressive considering the School's relatively young age. Read more about this achievement in this edition of Inside UNSW, and if you're interested in hearing more from our Business School, I would encourage you to subscribe to BusinessThink.
The extraordinary story of research in quantum computing at UNSW continues. I was delighted to hear that Professor Andrew Dzurak and his team in the School of Electrical Engineering have this week published in Nature a milestone piece of research measuring the accuracy of two-qubit logic operations in silicon. This is another of the many steps needed to make silicon quantum computers a reality and a continuation of the stellar research output of the team which consistently produces high quality publications.  
I enjoyed meeting with UNSW Global staff last week. UNSW Global plays a key role in our international education effort, delivering programs such as Foundation Studies, Diplomas and English Language courses as a pathway for students to enter mainstream UNSW degree programs. I was impressed by the track record of achievement, the pride staff take in their work, and the commitment to a world-class student experience. I very much enjoyed the Q&A session and the opportunity to briefly join a practical physics lesson.  
I was delighted to attend the 'Innovate Rights' conference on Wednesday, hosted by UNSW's Australian Human Rights Institute. Forming the institute was one of our 2025 Strategy initiatives and the purpose of the conference is to look at the respective roles of business and government in addressing modern human rights challenges. The conference has attracted an array of notable thinkers including former PM, Julia Gillard, who spoke at a special Women in Leadership event at the Sydney Town Hall on Tuesday. Ms Gillard made candid reflections on the challenges of political life and her passion for her current role as Chair of the Global Institute for Women's Leadership at Kings College London. Her comments on the current landscape for women seeking leadership roles were powerful take-aways. One point the former PM made was that research shows that, consciously or unconsciously, men are more likely to be judged on their potential when in line for a promotion while women are judged on their track record.
Congratulations to Dean of Science, Scientia Professor Emma Johnston, on receiving the Clarke Medal for Zoology from the Royal Society of New South Wales recently. This is a well-deserved accolade and recognition of a significant contribution to marine ecology research. Well done Emma!
Congratulations also to UNSW alumnus, Tony Costa, on winning the 2019 Archibald Prize for his tranquil portrait of fellow artist, Lindy Lee. The portrait was selected among 919 submissions and 51 finalists, and makes history as the first winner in the Prize's 98-year history to feature an Asian Australian subject. Congratulations to Tony on this career-defining achievement. I hope to soon make it over to the AGNSW to see the portrait.
I hope that those of you who have visited The Lounge over the past week or so have enjoyed the experience as much as I have. The feedback we've been getting about the quality of the food, service and the venue has been highly positive. Following this initial soft launch period, The Lounge will officially open to all staff on Monday. You can explore the menus and make reservations here.
Finally, a reminder that the UNSW Respect! Survey closes on Friday. I encourage all staff to find 15 minutes to provide your input to this important process, which will allow our Division of Equity, Diversity and Inclusion gain a clearer picture of people's experience at UNSW. All responses will remain anonymous and confidential.  
Best wishes,
Ian
Comments