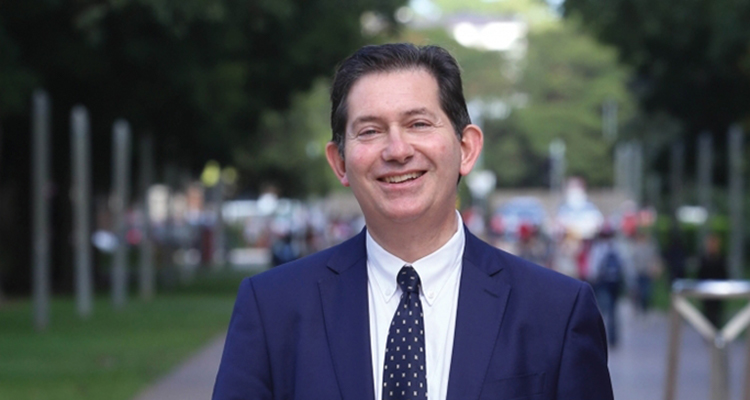 Dear colleagues
I had the privilege of attending a dinner at the Sydney Opera House this week, hosted by our Prime Minister, to welcome President Macron to Australia. Both leaders gave impressive talks emphasising our shared values and the many opportunities to work together. In part of his talk, President Macron spoke passionately about the need to address climate change: 'there is no Plan B because there is no Planet B. It is an obligation and a historic opportunity'. On Wednesday, at Kiribilli House, the two leaders oversaw an event at which UNSW signed three agreements with French organisations to progress collaborative work on solar energy, remote-sensing satellites and quantum computing. It was exciting to be there and get a sense of the energy and goodwill being created by the new President of France.
I have attended several other interesting and enjoyable events during the last month. A highlight was recognising our world-class researchers at the UNSW Celebration of Research Excellence evening. We celebrated: our six highly-cited researchers who rank among the top 1 per cent of researchers worldwide by citations for field and publication year; the 398 UNSW researchers who were successful in securing competitive grants in 2017; our 10,000 research outputs in that year; our 22 new Fellows of the Australian Learned academies; and our two Australian Laureate Fellows—Jill Bennett from the National Institute for Experimental Arts, and Fedor Sukochev from the School of Mathematics and Statistics. Jill and Fedor gave informative and entertaining talks. My congratulations and thanks to all who contribute to building UNSW's reputation as a leader in high-quality and impactful research.
Another noteworthy achievement is the success of the Economic and Labour Relations Review, a globally-respected journal produced at the UNSW Business School. The latest issue contains a symposium on inequality in honour of Tony Atkinson, one of the most deeply respected economists in the world. In it are papers from Nobel Laureate Joseph Stiglitz, as well as the renowned economist Thomas Piketty. This is an excellent example of UNSW's contribution to academic quality and thought leadership.
As high temperature records for the month of April tumbled, it was timely that we launched the new ARC Centre of Excellence for Climate Extremes, or CLEX, led from UNSW. Researchers at the new Centre will work closely with partners from Monash University, The University of Melbourne, The University of Tasmania and ANU on better understanding the processes behind extreme weather and climate events, to improve climate modelling in the future. CLEX Director, UNSW's Professor Andy Pitman, UNSW Dean of Science, Professor Emma Johnston and I were delighted to be joined for the launch by the Federal Minister for Small and Family Business, and Workplace and Deregulation—and proud UNSW alumnus —the Hon. Craig Laundy MP, as well as ARC CEO Professor Sue Thomas.
We also launched UNSW's new City Analytics Lab, to be led by Professor Chris Pettit at the Faculty of Built Environment. The world-first laboratory has been designed to improve collaboration between planning agencies, and will use big data visualisation, virtual reality and other interactive tools to inform the planning of smarter, and more liveable cities. Professor Pettit and UNSW's Vice-President of External Relations, Fiona Docherty, were joined for the launch by the Hon. Paul Fletcher MP, Federal Minister for Urban Infrastructure and Cities.
In my last message, I wrote about the Roundhouse being put to good use since its reopening in February. That continued with members of the UNSW Emeriti, our distinguished community of former Professors and senior officers, meeting at a lunch event in the refurbished Roundhouse. It was a wonderful opportunity to reflect on the history of this iconic venue, to update our Emeriti on progress with the 2025 Strategy, and to introduce them to a number of UNSW's recently-appointed or promoted Professors. Bringing these two generations of university leaders together, especially at the Roundhouse, was a special occasion. There was uniform delight at the quality of the Roundhouse refurbishment not least from two of UNSW's previous Vice-Chancellors, Mark Wainwright and John Niland.
As I mentioned last month, we have recently partnered with UK-based higher education thinktank, Wonkhe (pronounced Wonky). As part of that new partnership, UNSW hosted a delegation from the UK Global Engagement Program. Among them was Wonkhe founder, editor and CEO, Mark Leach. While at UNSW, Mark delivered a thought-provoking keynote about raising the quality of the higher education debate, drawing on his experience as a higher education adviser and commentator in the UK. Before Mark's lecture he joined me at a roundtable discussion with Australian higher education journalists. It was a fruitful exchange of ideas and useful to be able to have this sort of dialogue with members of the media.  
One of the themes of the evening was, of course, research funding. I have continued to advocate for new approaches to funding to incentivise greater collaboration between industry and publicly-funded research institutions. A key component is adequate funding for all phases along the discovery-translation-commercialisation pipeline. The response to my proposal for an Australian Translational Research Future Fund (ATRFF) in an op-ed in the AFR in March has been positive. Encouraged by this I have expanded on the ATRFF idea and the role of R&D tax incentives to encourage university-business collaboration in The Conversation.
As this update is being sent out I will be in flight to China where I am leading a Go8 delegation. Our aim is to reinforce the strong links between universities in China and Australia and to maintain a constructive dialogue about higher education and opportunities for cooperation. The visit starts in Beijing where we will be attending the World University Presidents' Forum at Peking University. We will then spend a day each at meetings in Xian and Shanghai.   
Finally, you will see in this edition a message from the Chancellor announcing the extension of my contract at UNSW through to 2025. That gives me an opportunity to thank all of those—staff, students, alumni, Council members, UNSW supporters—who have made me so welcome in my first three years at UNSW. It is an enormous privilege to hold the role of Vice-Chancellor and I will continue to do all that I can to ensure the success of UNSW.
Best wishes, Ian
Comments