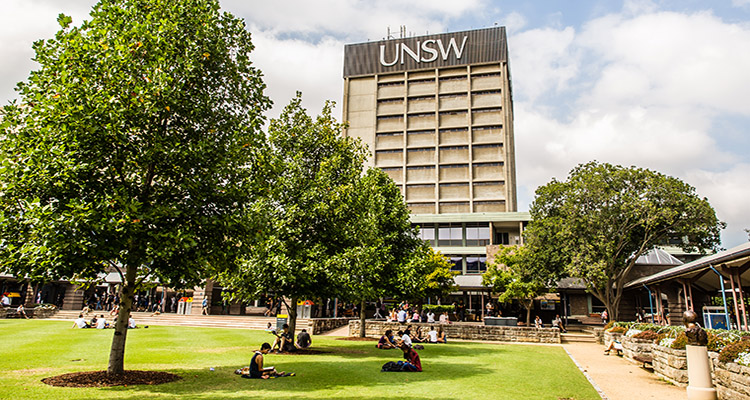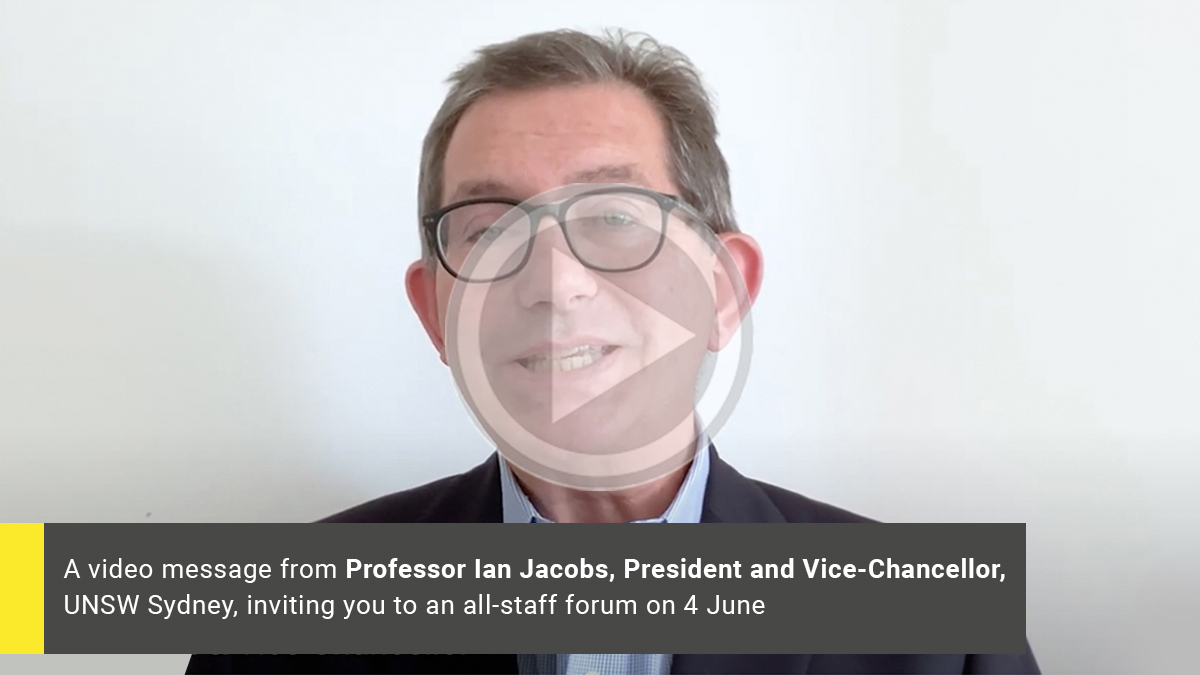 Dear colleagues
I have recorded this message of support for all in our community who are far from home or are in places of deep trouble due to the pandemic. On behalf of the UNSW community, I offer my deepest sympathy to our students, staff, alumni and friends who are feeling dreadful sadness at this dark time. Please know we are holding you close in our thoughts.
The recent cases of COVID-19 in Sydney are a reminder that the virus remains present, and that we must continue to practise COVID-safe behaviours to minimise risk and keep the community safe. But while the pandemic has touched all of our lives in some way, in Australia we have been relatively shielded from the magnitude of the crises unfolding in other countries. On Thursday I spoke over Zoom to our colleagues in the UNSW New Delhi office. Their distress was palpable as they described the daily loss of life, the continuous movements of ambulances in the streets, the hopelessness of people waiting outside overwhelmed hospitals, the lack of available oxygen – and a public health system that is breaking down. I came away from that call with a very heavy heart, a feeling I know many of you share as we see COVID-19 mercilessly decimating lives and livelihoods. For too many around the world, the trauma is great and the hopefulness scarce.
I remind our staff that free, confidential counselling is available through our Employee Assistance Program. The service is also available for immediate family members.
UNSW provides support in a number of ways to enable students affected by significant events, such as the COVID-19 crisis, to continue with their studies. This includes counselling support, health support, academic advice and special consideration. There is also financial support to help students in Australia with rent and living expenses – the student hardship fund that we created in the early stages of the pandemic last year is one such avenue. We plan to extend this fund in the next few weeks and students will be notified when it is open for applications. Students who would like further information about any of the non-financial supports can contact Student Support Advisors for assistance.
We are a better University for our rich cultural diversity. I ask that every member of the UNSW community shows great respect and compassion for all our students and colleagues during this current crisis, and always.
As you will read in this edition of Inside UNSW, May is a Month of Mindfulness at UNSW, and a range of mindfulness activities are on offer over the next few weeks.
Graduation ceremonies
The smiling faces of our newest graduates, their families and friends have been a welcome feature of the last few weeks of Term 1. I have enjoyed seeing the Library Lawn with groups of people celebrating a great milestone as years of commitment are rewarded. Our graduation festivals are a very happy part of university life that we are delighted to host on campus – in a COVID-19-safe manner – once again. My thanks to all involved in the organisational effort to ensure that graduations occurred within health and safety restrictions.
Please ensure that, wherever you are on campus or in the wider community, you comply with COVID-safe regulations including wearing of masks when required, physical distancing, and using QR codes to check into buildings and other locations. Continue to refer to our Safe Return to Campus Guidance and check the NSW government website for the latest COVID-19 updates and alerts.
NSW looks to lead the way with mRNA research and manufacturing
Last week, NSW Premier Gladys Berejiklian met with leading experts in mRNA technology, including Professor Palli Thordarson from the School of Chemistry, to discuss how NSW may establish an mRNA research and manufacturing industry.
Palli is an expert in nanomedicine and synthetic chemistry and has been a leading advocate for advancing Australia's RNA capabilities – in both research and manufacturing – since the pandemic began. Crucially, Palli has a substantial history of working across research and industry, a commitment to collaboration that will be vital in creating this life-changing hub. As the Premier noted, the pandemic has illustrated how universities, business and government can work together to great effect.
Throughout the pandemic, experts from UNSW have been a constant in the public health response, conducting research that is aiding understanding of coronavirus disease, and providing crucial advice to guide health policy and community safety. We can be proud of colleagues, who have been at the forefront of the response to COVID-19.
mRNA vaccines (the Pfizer and Moderna COVID-19 vaccines among them) are just the start of exciting developments in RNA therapeutics. UNSW has much to offer in this area and I look forward to providing more news as plans develop to create this hub in our state.
Professor Kim Beswick appointed Director, Gonski Institute for Education
I am delighted to share the news that Professor Kim Beswick, distinguished educator and education researcher, will continue the ambitious mission of the Gonski Institute for Education as its new Director. Kim succeeds Adrian Piccoli, who was the inaugural Director of the Institute. We were fortunate that after his time as NSW Minister of Education from 2011-17, Adrian agreed to join us as Professor of Practice to establish the Institute. I am enormously grateful to Adrian for all that he contributed during his time as Director.
Many will know Kim as the Head of the School of Education, a role she has held since joining UNSW in 2019. Kim's commitment to advancing equity in education is framed beautifully in her comment that "if we solve equity, we will solve almost everything". Hers is a heartfelt ethos that harmonises with the Institute's mission to address inequality in Australian education and improve access to high quality education for students, wherever they may go to school. Please join me in congratulating Kim on her appointment and wishing her well as she builds on the Institute's important work in advancing opportunity and outcomes for all students.
Congratulations to our UNSOMNIA 2021 participants
Congratulations to the successful applicants for UNSOMNIA 2021. The UNSW Centre for Ideas received 45 applications – more than double last year's number – in response to the question 'How can we thrive in the 21st century?'
The UNSOMNIA 2021 participants span all six faculties, proposing answers from fields as diverse as quantum computing and law. This is the sixth edition of the annual professional development program that gives our academics, researchers and PhD students the opportunity to showcase their research – and hone their presentation skills in front of a broad audience.
Tell Me Your Story Culture Conference celebrates postgraduates' diversity
In a celebration of the cultural diversity and personal stories of more than 10,000 postgraduate students at UNSW, the UNSW Postgraduate Student Council will present the Tell Me Your Story Culture Conference this Friday evening. A selection of UNSW community members will share their stories of culture, self-discovery and overcoming life's challenges. Prizes, including a People's Choice Award, will be decided by a judging panel that includes Professor Eileen Baldry, DVC Equity Diversity & Inclusion (EDI), and Shelley Valentine, CEO of Arc.
Tell Me Your Story promises to be both poignant and entertaining. Do consider going along: Friday 14 May at 5.30pm. Tickets are available online and $2 from each ticket will be donated towards the COVID-19 crisis in India.
Mental health first aid training for UNSW staff
As significant stressors including the pandemic, bushfires and floods have touched the lives of so many over the past year, mental health has, thankfully, become discussed more openly. Many have experienced mental health issues directly for the first time.
Helping someone who is experiencing a mental health problem requires the right skills. Just as first aid training is available to learn how to assist people with a physical health problem, so mental health first aid training teaches skills to help someone experiencing a mental health condition. UNSW Health is offering subsidised mental health first aid training to UNSW staff, to help in offering assistance to people experiencing mental illnesses or mental health crises.
The course is conducted over two days. Course details and dates are listed here, ranging from May until November.
New CEO for the NUW Alliance
The future of strategic initiatives including the Multiversity at the Western Sydney Aerotropolis is in excellent hands with the appointment of Dr Andy Marks as the CEO of the NUW Alliance, our partnership with the universities of Newcastle, Wollongong and Western Sydney. My thanks to Matt Gijselman for his excellent work as Director in recent years. Matt steered the Alliance through a challenging period, whilst completing a range of initiatives including adding Western Sydney University (WSU) to the membership and securing federal funding for the Multiversity.
Andy takes over the reins at a pivotal time in the NUW Alliance's evolution, and he is well equipped to deliver current programs and to develop our partnerships with industry, government and the community. Alongside his role with the NUW Alliance, Andy will retain his roles as Assistant Vice-Chancellor and Director of the Centre for Western Sydney at WSU.
I hope you are looking forward to some well-earned rest and recreation in the next couple of weeks as university days are a little quieter in the break between Terms 1 and 2. Please take care of each other and stay well.
Best wishes

Ian
Comments