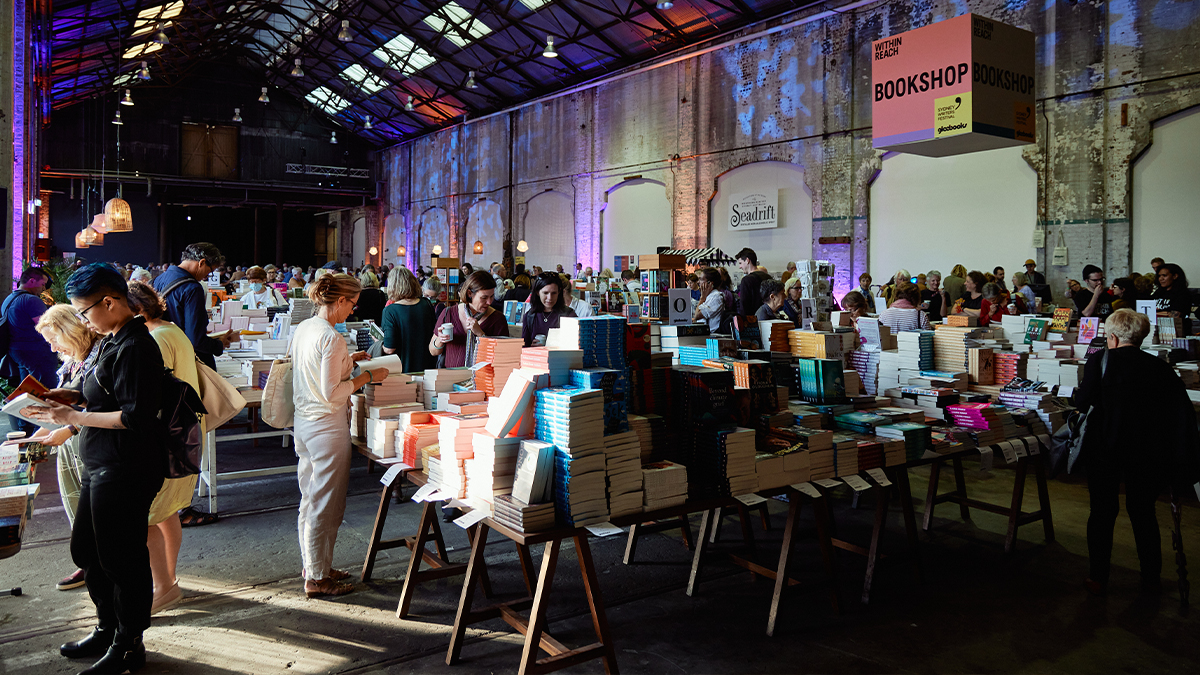 Students secure internships and researchers engage with international writers on an exciting program of panels.
The 2023 Sydney Writers' Festival program has just been released and while UNSW students undertake internships, our academics will feature in a week-long celebration of literature, stories and ideas. UNSW is the exclusive university sponsor and Premier Partner of the Festival.
The Festival returns to Carriageworks, from 22 – 28 May, with additional events on Kensington campus and across the state.
Three UNSW students have secured internships at the 2023 Sydney Writer's Festival. Maeve Carragher (Media) will work on Publicity, Abbey Goodridge (Social Sciences) on Volunteer Management and Peace Kwon (Information Systems) on Event Management.
Ms Carragher said she chose to work with the Sydney Writers' Festival because it's "an organisation rich with diverse ideas, conversations and opportunities".
"Being the Publicity Intern will provide valuable industry experience and connections for my degree, Bachelor of Media (Communications and Journalism). I am also studying Art Theory as a minor and have a particular passion for literary, arts and culture writing, so the SWF is an exciting place for me to soak up ideas from various creatives.
"I'll be working closely with regional media outlets across Australia. I am excited to gain a close understanding of regional media as well as practical experiences such as press release writing, rapport building and media monitoring. I also hope to have learning experiences where problem-solving and improvisation are needed," Ms Carragher said.
Explore the festival events
What will happen to us in the shocks of the future – including the next great pandemic? And how on earth can Gen Z and Millennials overcome the bitter economic legacy of the Boomers?
Featuring UNSW academics and researchers on Sydney Writers' Festival stages, and events at the UNSW Kensington Campus, this partnership brings together a shared vision of creativity, curiosity and thought leadership. 
The UNSW speakers will join 262 Australian authors, public figures and academics, as well as 18 prominent international guests.
This year's event, themed 'Stories for the Future', showcases the next generation of writers and thought leaders from Australia and around the world.  
UNSW Arts, Design & Architecture Dean, Professor Claire Annesley said the partnership is an opportunity for UNSW students and staff to collaborate with some of the world's best authors to fuel debate, champion diverse voices and spark innovation.
"Our faculty vision is to seek and solve problems to improve life on earth," Professor Annesley said. "Sharing ideas and collaborating with a diverse community of creative and curious people will inspire our faculty and the University to tackle some of the most pressing challenges of our time."  
Ann Mossop, Artistic Director of the Festival said, "Sydney Writers' Festival is thrilled to be partnering with UNSW Sydney as Premier Partner and exclusive university sponsor of the Festival.
"This is my first year as Artistic Director of Sydney Writers' Festival, and I am excited to be presenting a diverse Festival offering audiences a world of writing and ideas to explore. In 2023, we are fortunate enough to bring together a group of writers from Australia and around the world. This is an occasion for celebration, reflection, and joy, and I know that our audiences will come out in force to mark the occasion."
Read the full Sydney Writers' Festival program.
Explore the festival events
The Festival events feature UNSW speakers.
SWF X UNSW on campus event
Jenny Odell: Resisting the Attention Economy
Wed 24 May, 6.30pm – 7.45pm
Science Theatre, UNSW Sydney
Can we reclaim our attention from a world preoccupied by productivity? Join Jenny Odell, Toby Walsh and Emma A. Jane for a discussion on how we can resist the profit-driven tech landscape.
Future Shocks
Thu 25 May, 5pm – 6pm
Track 8, Carriageworks
In the wake of flood, fire, plague and ChatGPT, Joëlle Gergis, Norman Swan, and Toby Walsh consider what shocks lie ahead and how we can prepare. With host Julianne Schultz.
Sri Lankan Stories
Fri 26 May, 7.30pm – 8.30pm
The ARA Stage, Bay 20, Carriageworks
Booker Prize-winning author Shehan Karunatilaka, acclaimed playwright S. Shakthidharan, and novelist Shankari Chandran discuss the ripple effects of the Sri Lankan civil war in the cultural canon and their own storytelling with Roanna Gonsalves.
Ok Boomer
Sat 27 May, 10am – 11am
Track 8, Carriageworks
Comedian Tom Ballard, and writer Alison Pennington team up to examine why Millennials and Gen Z are getting such a raw deal and what can be done about it, alongside economist Richard Holden. With host Jessica Irvine.
Who's Afraid of AI?
Sun 28 May, 4.30pm – 5.30pm
The ARA Stage, Bay 20, Carriageworks
Asking ChatGPT to do your homework, or having an algorithm decide if you get a job interview are all part of the new normal. AI expert Toby Walsh and journalist Tracey Spicer tackle the big questions about living with AI with Erik Jensen.
Connections, Community and Culture: In Conversation with the Winners of the NSW Premier's History Awards 2022
Tue 23 May, 2pm – 3.30pm
Gallery Room, State Library of NSW
The winners of the 2022 NSW Premier's History Awards, including Mina Roces, talk about their fascinating inquiries into untold stories from Australia's past, appearing with Emeritus Professor Grace Karskens.
Curiosity Lecture Series | Free series supported by UNSW
Toby Walsh on the Artificial in Artificial Intelligence
Thu 25 May, 11am – 11.45am
Bay 24, Carriageworks
World-leading AI expert and Machines Behaving Badly author Toby Walsh delivers a Curiosity Lecture on the ethical considerations and unexpected consequences that new technologies pose in the world.
Brigitta Olubas on the Life and Work of Shirley Hazzard
Thu 25 May, 1pm – 1.45pm
Bay 24, Carriageworks
Author and English Professor Brigitta Olubas shares insight into Shirley Hazzard, her illuminating biography of one of Australia's greatest ever novelists.
Emma A. Jane on Living with a Late Diagnosis of Autism
Fri 26 May, 11am – 11.45am
Bay 24, Carriageworks,
When you have been navigating the world with an invisible disability like autism or ADHD, what does it mean to put a label on it? Emma A. Jane (Diagnosis Normal) talks about the liberation and the constraints of late diagnosis.
Raina Macintyre on Past, Present and Future Pandemics
Fri 26 May, 1pm – 1.45pm
Bay 24, Carriageworks,
World-leading epidemiologist and Dark Winter author Raina MacIntyre examines pandemics through the lens of history and how we can navigate the new frontiers of biosecurity.
Ben Newell on the Truth About Our Unconscious Minds
Sun 28 May, 1pm – 1.45pm
Bay 24, Carriageworks
Psychologist and author Ben Newell shares insights from his book Open Minded: Searching for Truth about the Unconscious Mind, upending commonly held notions about the human mind.
Comments