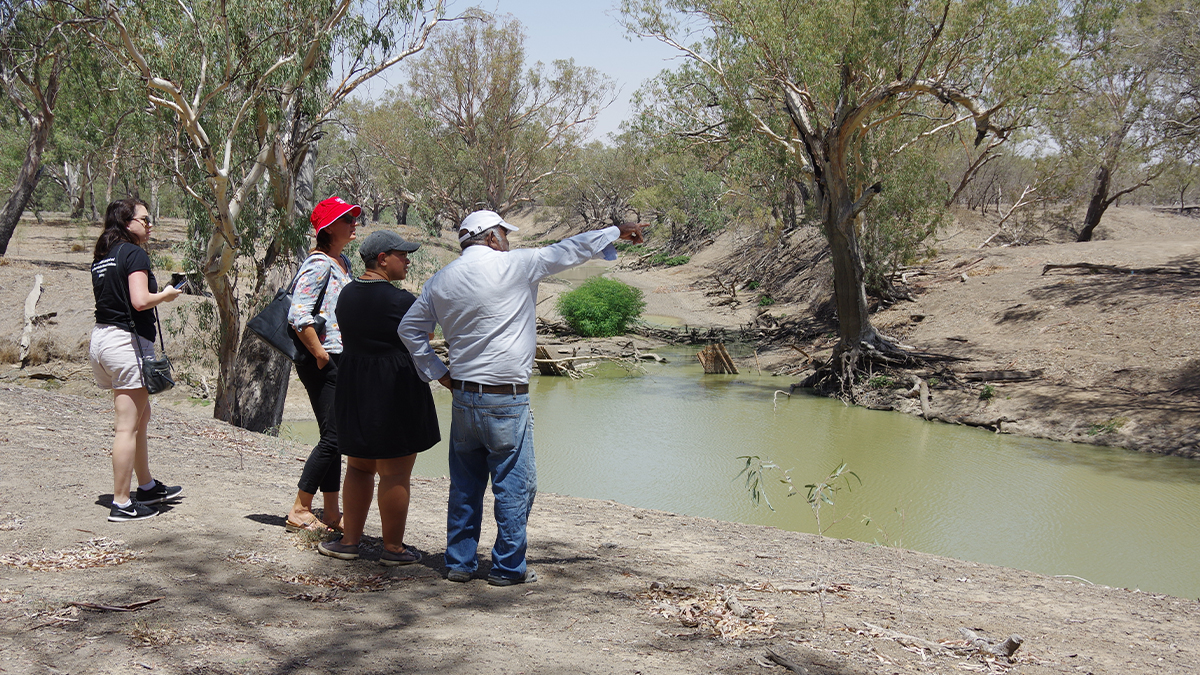 A community-led partnership between the Dharriwaa Elders Group and UNSW works to improve the wellbeing of Walgett residents.
The Yuwaya Ngarra-li partnership is producing tangible outcomes for Aboriginal community members, including increased effective use of diversionary mechanisms for young people and thousands of dollars of fine debt being written or worked off. There is also improved access to fresh, healthy produce from the local community garden and increased training and employment outcomes, such as a local ranger program.
"The name of our partnership, Yuwaya Ngarra-li, is taken from the Yuwaalaraay and Yuwaalayaay languages. It is the verb phrase for dream (yuwa-ya) and see (ngarra-li). The DEG [Dharriwaa Elders Group] chose this phrase to reflect the fact that it is our vision, it is what we see as the core collective sentiment for community-led development in our community," wrote Virginia Robinson, Secretary of the DEG, in her Core Principles Research Brief.
The partnership began with collaboration on a 2011-2015 ARC Linkage study about Aboriginal people with disability in the criminal justice system. After reporting the research findings, the DEG invited UNSW to work with them longer term on the Elders' vision for change in their community of Walgett in remote north-west NSW.
Since 2016, the partnership has grown to become a cross-faculty, multidisciplinary collaboration. It involves academics and students working with the DEG and other organisations in Walgett. Projects include diverting Aboriginal children and young people from the criminal justice system and improving food and water security. Philanthropic funding since 2018 has enabled the resourcing of Yuwaya Ngarra-li teams at the DEG and at UNSW.
The partnership's purpose and goals
The purpose of Yuwaya Ngarra-li is for the DEG and UNSW to collaborate to improve the wellbeing, social, built and physical environments and life pathways of Aboriginal people in Walgett. It will also build an evidence base for community-led solutions to some of Australia's most pressing policy challenges.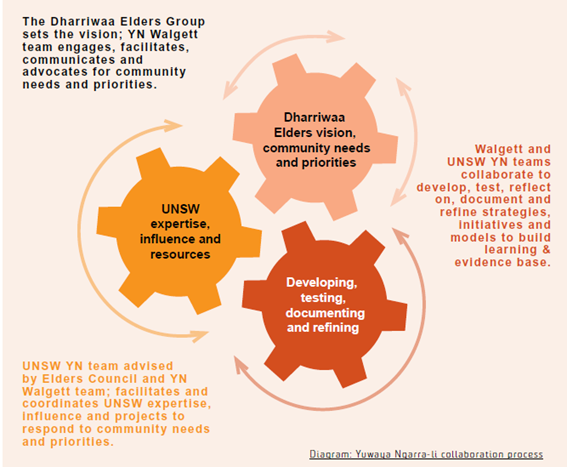 The DEG Elders Council's goals for Yuwaya Ngarra-li's work in Walgett are: 
Greater Aboriginal community control and capacity 

Increased numbers of Aboriginal young people in education, training and employment 

Reduced numbers of Aboriginal people in contact with the criminal justice system 

Improved social determinants of health and wellbeing among Aboriginal people 

Increased sustainable management of water and Country 

Redirection of government funding towards strengths-based, holistic, community-led initiatives
Yuwaya Ngarra-li is also leading to other important and innovative research, including a five-year NHMRC grant, Food and Water for Life: co-creation and evaluation of sustainable innovations to strengthen food and water security. Some of the student projects have also been recognised with national awards.
Learn more about Yuwaya Ngarra-li on their website.
---
Image Description/Caption: Dharriwaa Elders Group Speaker Clem Dodd discussing changes to the rivers near Walgett with Yuwaya Ngarra-li's Peta MacGillivray and Professor Jacqui Webster and Keziah Bennett-Brook from the George Institute for Global Health. 
 
Comments