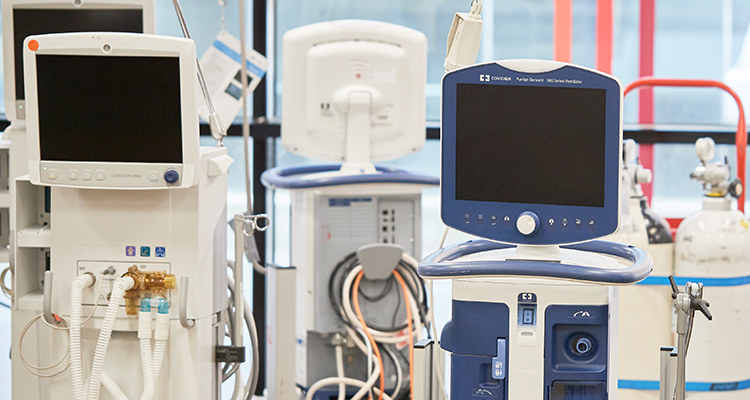 A partnership between UNSW Sydney and NSW Health will provide back-up ventilator capacity by collecting ventilators from non-hospital sources and preparing them for clinical use.
UNSW has been working closely with NSW Health and the University of Sydney on its Ventilator Innovation Project to provide back-up ventilator capacity as part of the State's preparedness for its COVID-19 crisis.
The University has set up a system whereby suitable ventilators can be collected from non-hospital locations that do not urgently require them and refurbish them for clinical use.
At the beginning of the crisis, projections showed that many thousands of ventilators would be needed if the spread of COVID-19 in Australia was at a similar scale as some other countries. The project team established contact with the Australasian Veterinary Board Council and called out to veterinary hospitals to lend their ventilators for back-up if required.
The first batch of high-spec ventilators was delivered to the James N. Kirby Makerspace at UNSW for cleaning and assessment for refurbishment in mid-March. UNSW staff quickly repurposed the James N. Kirby Makerspace to set up the ventilator processing facility, and with the help of UNSW Medicine volunteers, designed it for optimal staff health and infection control.
The process for collecting, cleaning and assessing the refurbishment requirements has been established and tested with the first batch of ventilators. The program has been paused but will be reactivated if the demand for ventilators in response to COVID-19 increases beyond a critical threshold.
Professor John Watson, Senior Vice Dean, Clinical Affairs at UNSW Medicine said he was proud of how quickly UNSW staff and students responded to the request from NSW Health to increase the supply of ventilators.
"We will continue to work collaboratively with NSW Health on this and other projects to create a back-up supply of ventilators should they be required. Every extra ventilator has the capacity to save lives and provides invaluable assistance to our hospitals and health care workers," Prof. Watson said.
Students from UNSW Medicine and the Graduate School of Biomedical Engineering volunteered to assist in the processing and technical set-up of ventilators and will be called upon if the program is reactivated.
Professor Klaus Schindhelm, Senior Deputy Dean, UNSW Engineering said: "The UNSW ventilator recovery and refurbishment program illustrates the agility and innovative spirit of UNSW staff and students and highlights the power of the government and university partnership to combat a crisis such as COVID-19."
NSW Health has been working with universities and industry partners to lead the NSW Government's rapid progress in the NSW-based manufacture of back-up ventilator solutions, should they be required in the response to the COVID-19 pandemic. The approach includes sourcing existing available ventilators, expediting deliveries of new machines, and rapidly manufacturing ventilators locally.
Health Infrastructure Chief Executive Rebecca Wark said the call to education and industry partners to address the global challenge of supplying much-needed medical equipment to support frontline workers received a fantastic response.
"These partnerships have led to true innovation in finding creative solutions to a complex, real-world problem and will support industry, the NSW economy and ensure people are employed during this challenging time," Ms Wark said.
Comments