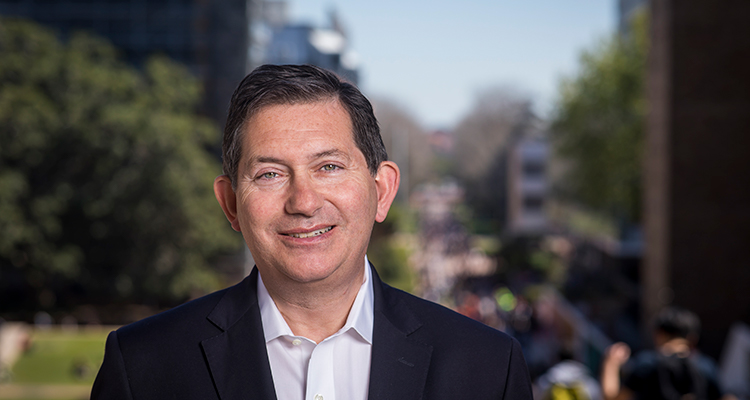 Dear colleagues
My warmest congratulations on the completion of Term 1 and my thanks to you all for making the best of such a challenging situation.
The camaraderie, compassion and respect with which our students and staff have adopted our abrupt move to online learning over the past eight weeks has reflected wonderfully the ethos of the UNSW community.
I write to you once more from home, even as NSW and other Australian states and territories begin to gently ease restrictions on our movements and interactions. I hope that, like me, some of you have been able to safely engage in the more 'usual' activities that we enjoyed previously, even if that is simply having a coffee made by someone outside your household. 
I will continue to share with you information about the financial impact of the pandemic on UNSW. We are considering every option available to protect jobs and limit the financial impact on our staff. Several universities have announced that they will not be pursuing the national framework proposed by the National Tertiary Education Union last week, because it places too many constraints on their options. We are carefully reviewing the document to determine whether its terms are suitable for UNSW's circumstances and will have discussions with our local NTEU representatives this week. Regardless of the outcome I am grateful to those involved in negotiating this framework.
I wrote in the Australian Financial Review last week about the key contribution universities can make to Australia's recovery from the broad-ranging impacts of COVID-19. We offer our nation outstanding research innovation leading to commercialisation and job creation, job-ready graduates, and a remarkable international education offering, all of which UNSW has and will continue to deliver. Australia's universities, our students and staff, are extraordinary national assets as our country emerges from the pandemic. You can read my op-ed from the link in the comments at the bottom of this page.
I encourage all our staff to provide input to the Taskforce 20/21+ initiative. Your input on the four themes of Faculties, Divisions, Horizons and Recovery will inform the recommendations that the Taskforce will make in the next two months, and the shape of our response to COVID-19.
Three years of the Uluru Statement from the Heart 
On 26 May 2017, at the National Constitutional Convention, First Nations issued the Uluru Statement from the Heart. The Statement, read aloud on that historic day by Professor Megan Davis, a member of the Referendum Council, was an invitation for all Australians to walk with First Nations peoples in a movement for a better future. Three years on, the Uluru Dialogue continues the work towards constitutional reform and a more just, prosperous future for Australia's First Nations peoples. UNSW has been part of this journey, through the UNSW Indigenous Law Centre, the Office of the Pro Vice-Chancellor Indigenous and the many students and colleagues who supported the movement.
As the anniversary of the Uluru Statement from the Heart approaches, you can engage in the Month of Awareness through @UluruStatement on social media. I encourage you to watch and share this short video presented by actor Deborah Mailman.
Making online meetings inclusive
Over the past couple of months, many of us have started to consider online meetings and videoconferences part of the furniture, so present are they in our days. As many of us meet with colleagues through Zoom and Teams, it is important to make sure that these gatherings are inclusive. Professor Jackie Leach Scully, Director of the Disability Innovation Institute at UNSW, has provided some practical guidance to ensure people with disability are actively included in online meetings.  
Increasing university access for students from low-SES backgrounds
With the excellent leadership of the Access and Equity (Students) team in the Division of Equity Diversity and Inclusion, UNSW has launched our first 'early conditional offer' pathway for students from low socioeconomic status backgrounds to study at our University in 2021. Year 12 students from UNSW's 400 gateway partner schools will be able to take part in the Winter Gateway preparatory program in the next school holidays and apply for entry to UNSW for 2021. I applaud all involved in this initiative for your commitment to breaking down socioeconomic barriers to attending university – especially in these uncertain times. 
Launch of new education website
Congratulations to the teams from the PVC Education portfolio and the Division of External Relations on the launch of the new Education website. The website is a terrific showcase of our commitment to teaching and learning excellence for people who are considering studying or working at UNSW, and others in the higher education sector. The new site also provides easy access to our range of education-related websites, including the Teaching Gateway. You can visit the new Education website at education.unsw.edu.au. 
English language learning goes online
Having shared the Zoom-enabled UNSW Chamber Choir with you in my last message, I was delighted to hear of the English language learning festival that took place via Zoom recently. Learning a new language can be a confronting experience and I applaud the tenacity of the students who took part in the first online Personalised English Language Enhancement Learning Festival. Congratulations to Associate Professor Mira Kim for creating this motivating, supportive event in which international students can strengthen their English skills together.
Artificial intelligence beautifies the world 
On another musical note, congratulations to Dr Oliver Bown, Dr Brendan Wright and their Uncanny Valley 'bandmates' on winning the inaugural AI Song Contest, an international competition in the style of Eurovision. The combination of human input and algorithms, complete with audio samples of koalas, kookaburras and Tasmanian devils, produced the track Beautiful the World. As an iconic Australian music journalist might say, 'do yourself a favour' and have a listen. 
UNSW collaborates to increase ventilator stocks
The availability of sufficient numbers of ventilators for patients hospitalised with COVID-19 has been a constant concern as communities around the world have responded to the coronavirus. I commend the students and staff from UNSW Medicine and our Graduate School of Biomedical Engineering who have collaborated with NSW Health and the University of Sydney on the Ventilator Innovation Project to locate and repurpose ventilators from non-hospital sources. It is inspiring to see the innovative thinking and eagerness to serve our community that has driven this partnership, and the very real impact it can have on the community's passage through the pandemic. 
2020 Academic promotions
For those wishing to take the next step in their academic career this year, application details for promotions to Professor, Associate Professor, Senior Lecturer and Lecturer for 2020 are now available. A variety of resources can be found online to guide you through these processes, along with key dates and contact people. My best wishes to all who are submitting applications.
Taking care of our physical and mental wellbeing
As we live with physical distance and daily routines that are considerably different from our norm, it is important to take care of our mental and physical wellbeing, albeit in different ways from our usual social interactions and exercise regimes. On 1 June, the Get on Track Challenge begins, the annual activity-tracking challenge that combines team spirit with friendly rivalry. This year's challenge also allows you to convert your fruit and vegetable intake into steps – making the competition even healthier. You can find out more about joining the UNSW Local Challenge online.
Please remember if you need support, free, confidential counselling is available through our Employee Assistance Program. The service is also available for immediate family members. Assistance for our students is available via The Nucleus on 02 9385 8500 and our Student Support Advisors.
I wish you a safe, healthy and restorative term break. Take care and stay well.
Ian
Comments