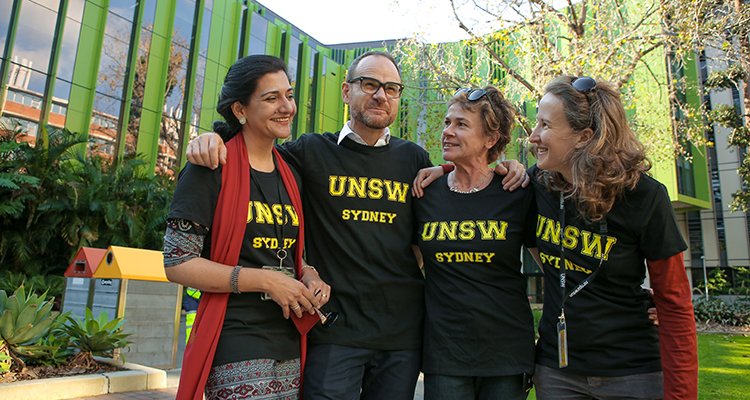 Sign up to the Get on Track challenge, a step-based program to get you moving. 
This year's Global Challenge has been replaced with the Get on Track challenge, a free web-based team program to help you increase your daily physical activity level and your fruit and vegetable intake.
You can use your own tracking device to monitor your steps, then enter them on the website. Syncing is an option for Garmin, Fitbit and Jawbone devices. 
Fruit and vegetable intake is also logged and translated into steps – a great new feature that wasn't available in the Global Challenge.
UNSW Sydney's Get on Track Challenge has been named the 'Local Challenge' and will be available to all staff and students of UNSW. Teams of up to four people will move along a virtual track map – the Northern Explorer Wildflower track in WA, competing with other teams from UNSW.
Mrs Ravit Danieli-Vlandis is a long-time participant in the Global Challenge and a wellbeing champion from the School of Public Health and Community Medicine. 
"I'm so excited that we managed to find a way to keep us all moving, and I think this could not have come at a better time to keep us healthy and connected. I'm especially excited that this challenge is also open for students. It's always such a great motivator and this year with the added nutrition component of fruit and veg consumption, I can't wait to tuck in," she said. 
 
"It is the best friendly competition and I hope we manage to do this every year!"
 
The Local Challenge will begin on Monday 1 June and run for 12 weeks, finishing on Monday 24 August. 
If you'd like to participate in this year's Local Challenge, now is the time to start putting your team together. Once you have a team, your team captain can register it here and then send a unique URL to the other team members. You can also register for any open teams at the same link.
For more information about the Local Challenge, visit the Wellbeing website.
Please contact Wellbeing Coordinator Liza Poppert for any further questions about the program. 
Comments