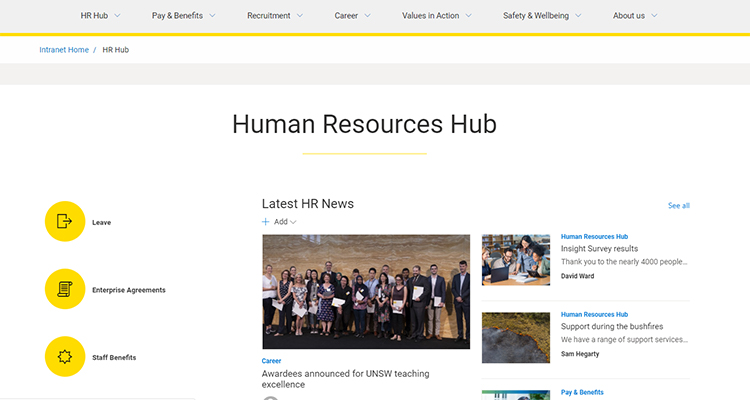 The new HR Hub will lay the foundations for further enhancements to HR's services to UNSW staff members.
Human Resources (HR) is pleased to announce the launch of the HR Hub, the first part of a new UNSW intranet.
The secure site, protected by login and only available to UNSW staff, is built on the latest SharePoint technology, allowing seamless integration with other Office 365 applications.
"This is a significant technology upgrade for HR, which will lay the foundations for further enhancement of our services, including digitisation of processes and forms," said David Ward, Vice-President, Human Resources.
"We've taken the opportunity to update significant content from the HR website based on feedback from staff in Faculties and Divisions."
"We've built the HR Hub on technology that our staff are already familiar with. By doing this, it will make it significantly easier to find the resources needed for people to get their jobs done. This will be realised even further as other shared services join the same platform, meaning staff will only have one place to go for any central information," said Sam Hegarty, Digital Quality Improvement Lead.
Additional shared services will be added to the platform throughout 2020.
"This has been a great collaboration between External Relations (DEx), IT and HR. I would also like to call out the efforts of Ahmad Hamzy from the Microsoft Solutions Team in IT, and Tracy Carter from Digital Experience and Mark Houston from Internal Communications (both DEx) who brought invaluable experience to the project from their involvement in the development and rollout out the Business School's intranet, Connect," said Mr Hegarty.
Following the launch of the new platform, HR's existing website (hr.unsw.edu.au) will be retired later in 2020. Existing links to the HR websitewill be updated before this takes place. HR's external-facing presence will be consolidated on jobs.unsw.edu.au and will focus on attracting staff to UNSW. Jobs@UNSW is planned for a refresh in late Q1 of this year.
Visit the HR Hub at https://unsw.to/hr.
Comments