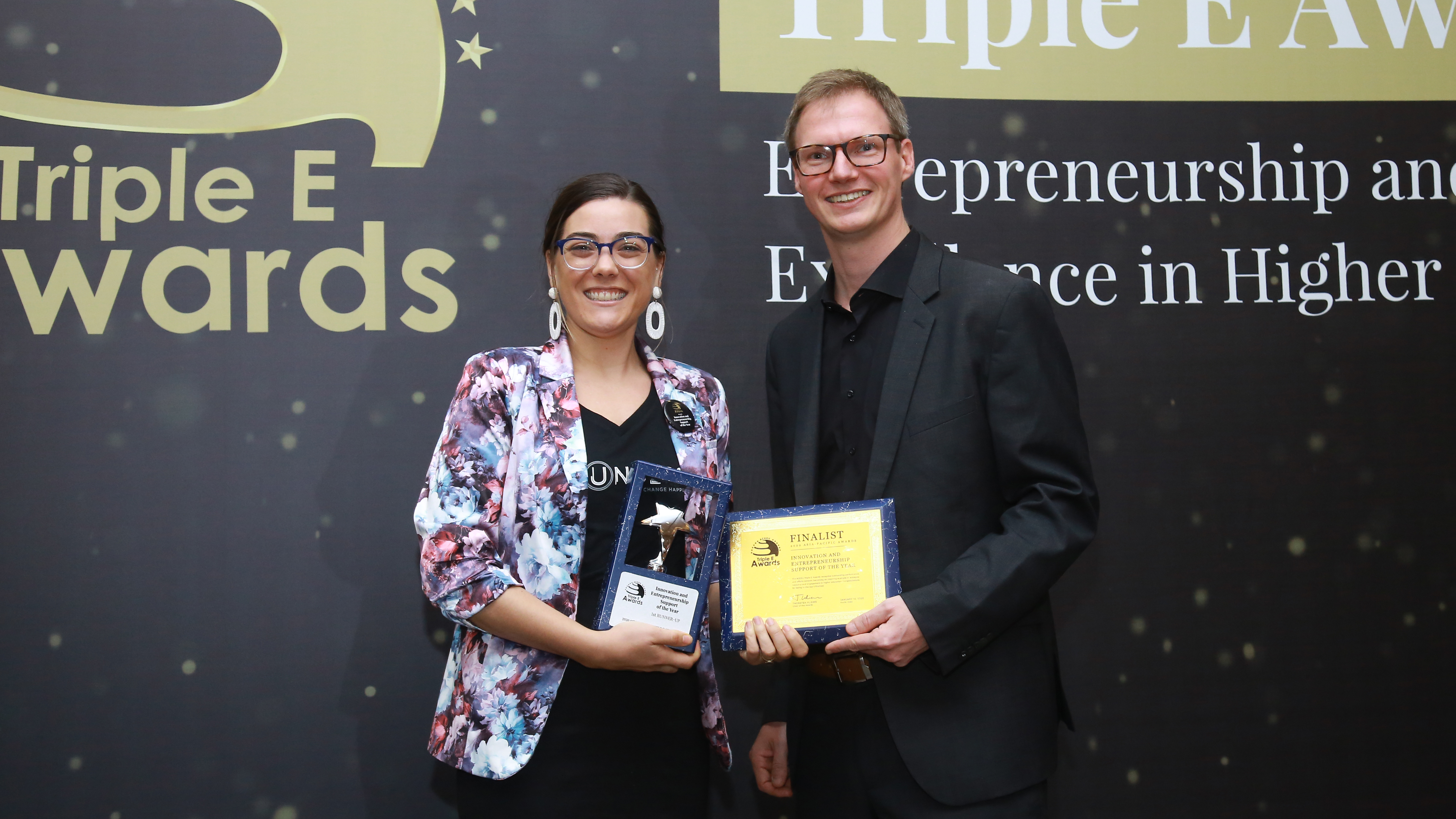 The UNSW Founders Program has been awarded first runner up at the 2019 Asia Pacific Triple E Awards. 
The UNSW Founders Program has been awarded first runner up at the 2019 Asia Pacific Triple E Awards, within the Innovation and Entrepreneurial Support category. The Program is UNSW's platform to embed entrepreneurship on campus. It assists students, staff and Alumni to develop entrepreneurial skills and found and grow successful start-ups. 
The Triple E Awards seek to foster change in universities and to highlight their role within their communities and ecosystems. The awards provide global recognition of efforts towards entrepreneurship and engagement in higher education. The finals ceremony, which took place in Kochi, India on 10 January 2020, showcased a range of innovative and inspiring initiatives and individuals who have positively impacted the lives of students, colleagues, children and citizens. 
All entries underwent a rigorous application and selection process, with an external panel of reviewers – entrepreneurship and innovation experts from across the Asia-Pacific region – reviewing each applicant's adherence to an extensive list of criteria. With over 300 entries, and 60 finalists from 17 countries, the Triple E Awards are evidence that universities are choosing to actively embrace their role in empowering entrepreneurship.  
The ceremony was also held in conjunction with the International Conference on Sustainable Globalization, bringing together academics, administration and industry committed to a sustainable world.  
"It was an honour to represent UNSW at the awards," said Tash Jamieson, Global Founders Program Manager. "On more than one occasion, when I introduced myself as being from UNSW, the immediate response was overwhelmingly positive, which is a testament to the amazing founders and start-ups coming out of our program." 
Since its inception in 2018, UNSW Founders has reached 20,000+ students in entrepreneurial skill building, has seen 39 teams go through its flagship 10x Accelerator program and boasts a rate of 43% of start-ups being founded by women.  
You can sign up to the UNSW Founders e-newsletter to keep up-to-date with program activities for 2020 and to find out how you can get involved.  
Comments