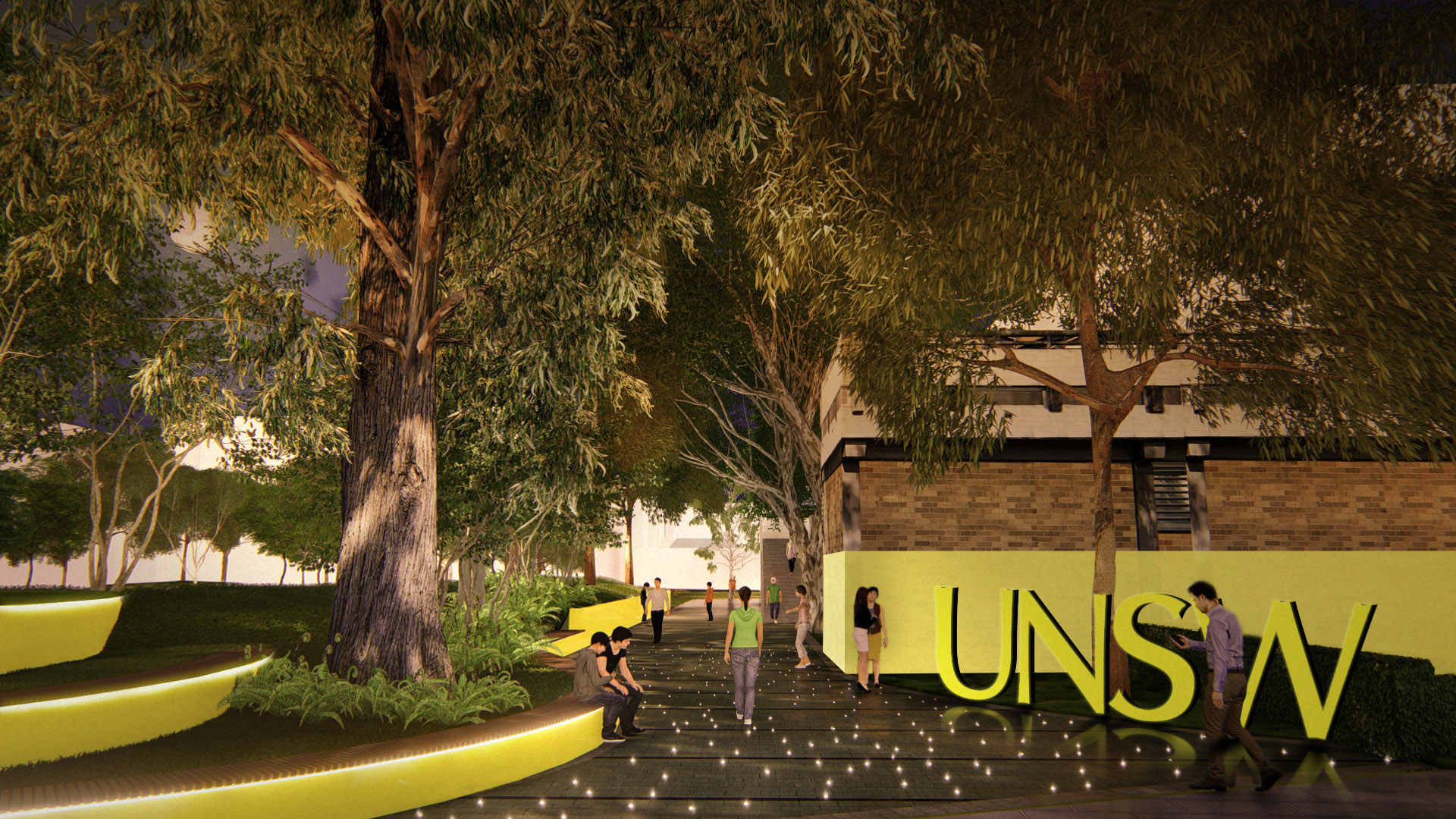 The Roundhouse public domain project will convert the path between Anzac Parade and Alumni Park into a new fun and creative route. 
The area between Pool Lawn and the Squarehouse, adjacent to Anzac Parade, will become an alternate entryway to the Kensington campus, opening a path of discovery through UNSW parallel to the University mall. The route will welcome students, staff and visitors into the University in a relaxing and enjoyable new way, providing an alternative entry for those hopping off the L3 Light Rail line due to open in March. 
 Key features of the new domain include patterned granite pavement with a scattered lighting effect resembling stars in the sky, vibrant landscape designs and curved timber seating near the entry to make the space more welcoming.  
Different sections of the walk will have seating and opportunities for gathering or study. 
Executive Director of Estate Management, Jeff Peers, said: 
"In response to the soon to commence Light Rail on Anzac Parade, Estate Management is excited to create a new and alternate entry point into the Kensington Campus. This project will connect to recently completed buildings such as the UNSW Roundhouse, the new Science and Engineering Building, the Esme Timbery Creative Practice Lab and Alumni Park expansion, and continues the enhancement of UNSW's campus environment." 
The project is part of an emerging approach to the design of our walkways, courtyards and outdoor spaces at UNSW. Our aim is to improve the experience of pedestrians on campus by creating an intuitive unified pathway system and interactive, attractive connections between spaces. 
Estate Management has already started works on the site, with various sections of the public domain fenced off in stages until May 2020.  
View more of our current and recently completed projects here.  
More information 
For information about the project, contact Delivery Manager, Estate Management, Ken Flook at k.flook@unsw.edu.au or 0408 885 995. 
Comments