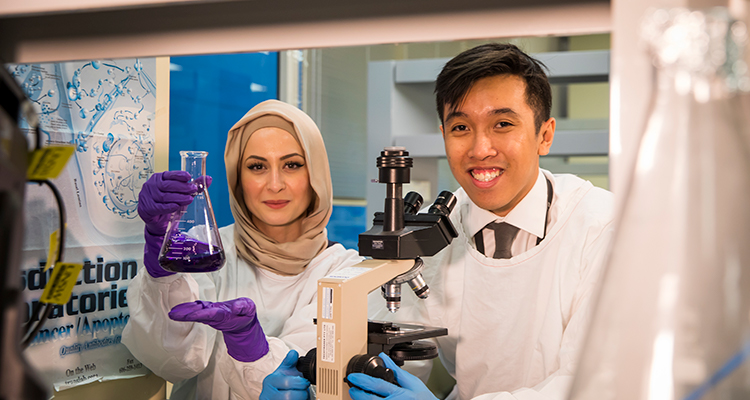 Thirteen research projects will receive support under UNSW's recently established Rapid Response Research Fund to help tackle the impact of COVID-19.
The Rapid Response Research Fund was established as a pivotal part of UNSW's contribution to addressing the current global pandemic and biosecurity emergency. It draws on a wealth of expertise across UNSW to confront the biomedical, societal and economic consequences of COVID-19.
Despite our constrained finances, UNSW's COVID-19 Rapid Response Research Fund has been prioritised in the national interest and is the subject of a major fundraising effort through the Division of Philanthropy. Thirteen research projects have been chosen for initial support from a competitive field of 167 submissions, and with donor generosity, further projects may be resourced from the Fund in the future.
The selected projects range in scope from developing clinical immunotherapies, point of care testing, and viral mutation tracking through to addressing the social and mental health aspects of COVID-19.
A full breakdown is listed here.
Deputy Vice-Chancellor Research, Professor Nicholas Fisk said: 
"The calibre and depth of proposals was hugely impressive, even more so given research teams only had a ten-day window for submissions. It was pleasing to see so many novel multidisciplinary proposals, with the 13 selected representing a broad cross-section of UNSW expertise and our best shot at making an impact on the global COVID-19 effort."
A panel of three senior research leaders reviewed the applications against set criteria to identify high quality rigorous projects of national or global significance, that could commence shortly and with existing staff.  While many were creative and worthy of funding, only 13 could be prioritised in this first round.
"The large number of applications has certainly focused the UNSW community's mind on COVID-19 research, and will assist future philanthropic efforts, internal expertise mapping, and maximising external grant opportunities", said Prof. Fisk.
Comments