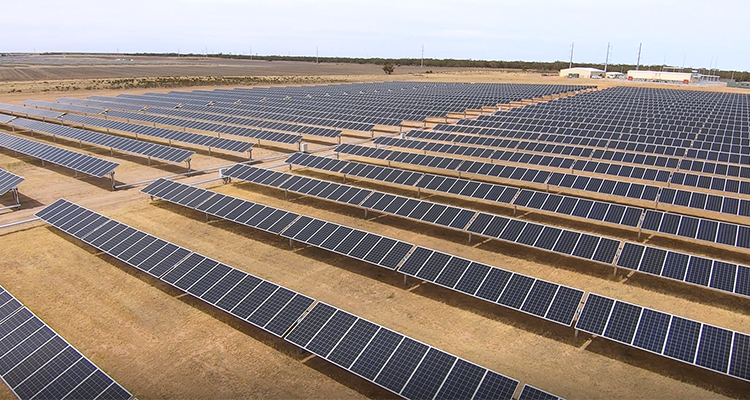 Greenpeace has ranked UNSW Sydney as one of the leading organisations on its progress towards 100% renewable energy, against some of Australia's largest companies.
Focusing on factors like securing a renewable Power Purchase Agreement (PPA) and investing in on-site solar, UNSW ranked well because of its key involvement in the Sunraysia solar farm, which is forecast to commence supplying UNSW with 100% renewable electricity in June 2020. The facility will save 1.5 million tons of carbon emissions over the next 15 years.
Last year, Estate Management also installed new solar panel systems on the Central Lecture Block, Morven Brown building and Scientia building, bringing installed capacity close to our Environmental Sustainability Plan 2019-21 target of 1.2MWp.
The negotiations for UNSW's Solar PPA, which took over 12 months, were also led by Estate Management's energy team.
"Over the 15-year life of the PPA, UNSW is on target to save 1.5 million tons of carbon emissions," said Estate Management Energy Manager, Nick Jones.
"Our progress in solar has been possible because of the hard work and perseverance of so many people, from those who negotiated this agreement and championed this cause to our visionary leaders who saw the importance of this project and supported it," said Executive Director of Estate Management, Jeff Peers.
"As a result of the PPA our carbon emissions from building energy use will reach net zero, as we are purchasing additional carbon certificates to offset our natural gas use. We will continue to focus on onsite solar and energy efficiency, but our next challenge is quantifying emissions from travel, supply chain and other sources and reducing them to net zero," said UNSW Head of Environmental Sustainability, William Syddall.
UNSW has also played a significant part in the development of Photovoltaic technology. Scientia Professor Martin Green from the School of Photovoltaic and Renewable Energy Engineering pioneered the world's first 19% and 20% efficiency solar cells in 1983 and 1985 respectively.
Watch out for more news on our journey to 100% renewable energy later this year.
Comments