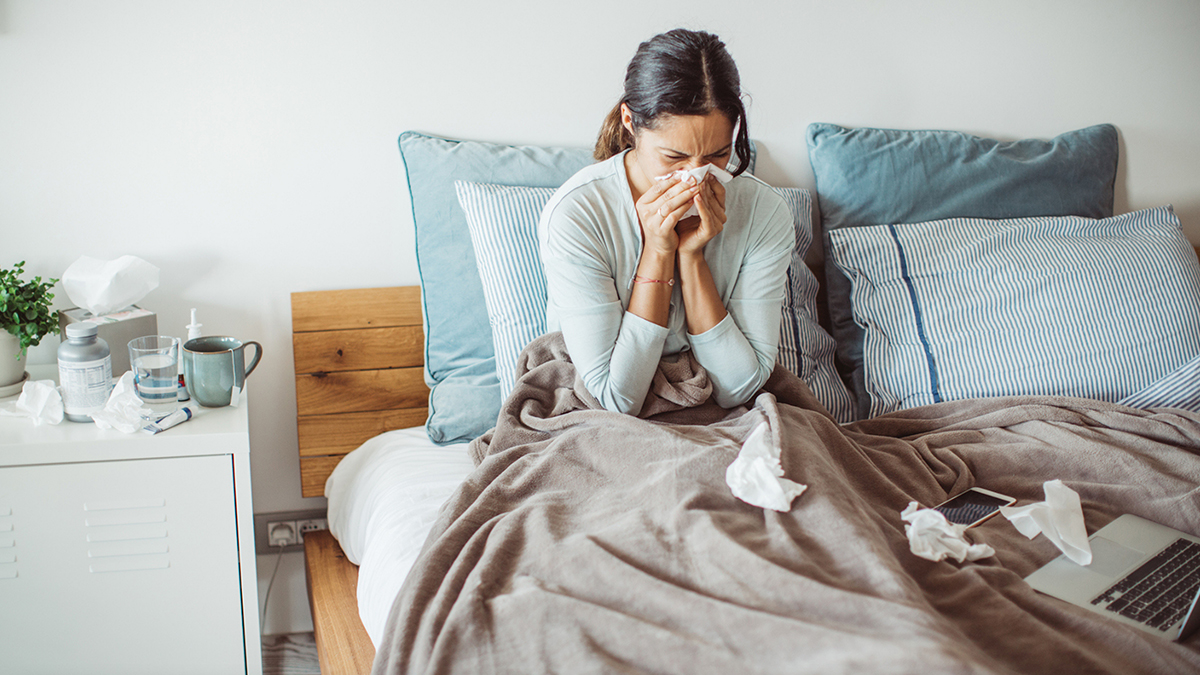 Dr Bill Kefalas from the UNSW Health Service explains why keeping up to date with both your COVID-19 and influenza vaccinations is essential this winter.
Flu season 2022
Influenza is a highly contagious viral infection that can cause widespread illness and deaths every year. The viruses usually spread when an infected person coughs or sneezes and people may spread the virus before they know they are infected.
This year we are all more vulnerable to influenza due to lower recent exposure to the virus and lower uptake of influenza vaccines. With international borders reopened and mask wearing reduced we are already seeing an earlier spike of influenza in 2022. Cases doubled in the week ending 7 May.
Influenza infection is more serious in pregnant women, babies, older people, and people with chronic health conditions such as heart, lung or kidney diseases, or weakened immune systems.
However, even fit and healthy people, especially children, can get very sick from influenza. It can cause a serious infection in the lungs and can make chronic health conditions worse. Some people can even die from influenza and its complications. Babies and small children will usually be much sicker with influenza, compared to COVID-19.
Flu vaccine clinics providing free flu shots for staff and students have started at the UNSW Health Service and capacity has been increased. You can book your appointment here.
COVID-19 and the flu
In addition, it's important to keep up to date with your COVID-19 vaccinations. The best protection against the Omicron variant is to be fully vaccinated with three doses, regardless of whether you have been infected with COVID-19 or not.
Early evidence is telling us that catching both influenza and COVID-19 is possible and causes a more severe illness.
There have been recent important changes to ATAGI recommendations for COVID-19 vaccination intervals:
The interval between doses one and two for Pfizer or Moderna vaccines is now eight weeks
The interval between the second dose and third dose is three months
The interval from a COVID-19 infection to the third or fourth booster dose is three months.
ATAGI recommendations for the fourth dose are:
Adults aged 65 years and older
Residents of aged care or disability care facilities
People aged 16 years and older who are severely immunocompromised
Aboriginal and Torres Strait Islander people aged 50 years and older.
It should be noted that the US FDA has approved the fourth dose for people over 50, due to the increased risk of severe disease in the 50-65 year age group. If you feel you need a fourth dose and do not fit the qualifications above, you should discuss your situation with your GP or make an appointment with us at the UNSW Health Service for advice.
The UNSW Health Service has combined flu and COVID-19 vaccine clinics available for those who require both. COVID-19 vaccine appointments can be made here.
Many students and staff at UNSW have contracted COVID-19 during the first two months of 2022 and are now reaching three or more months since their infection. COVID-19 cases will increase again in winter so plan ahead to get any remaining booster shots, in order to protect yourself and your family during winter.  
Dr Bill Kefalas
UNSW Health Service 
Comments