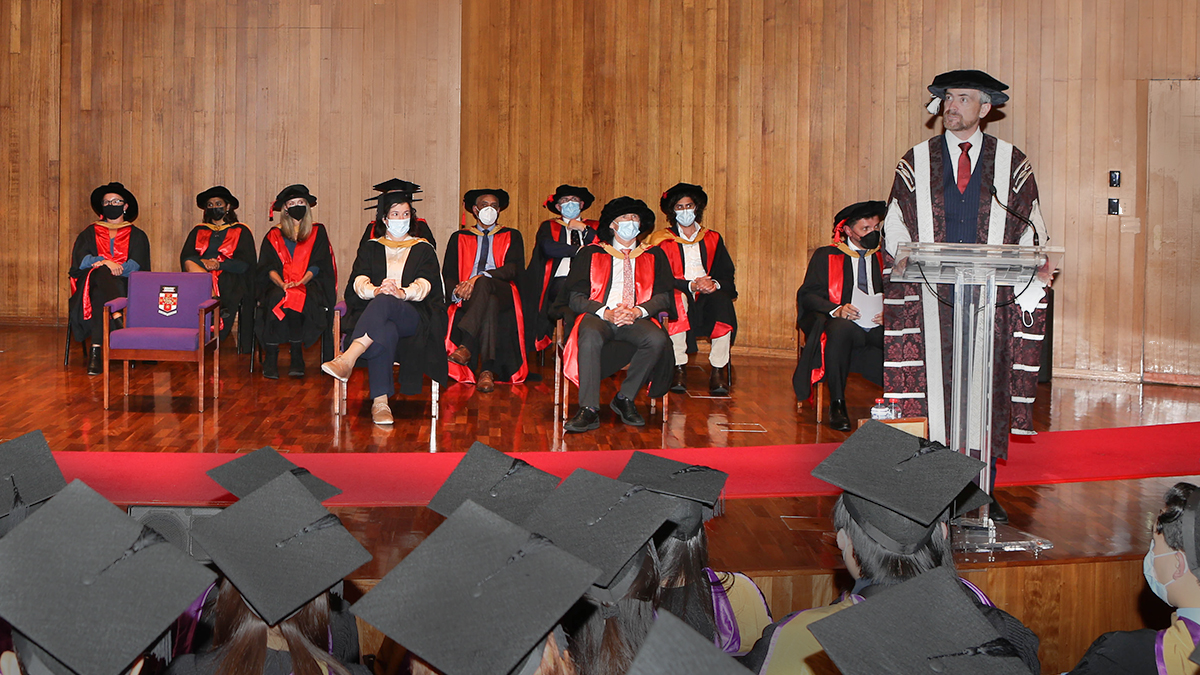 Dear colleagues
Uni has been a unique mix of celebration and studiousness over the past couple of weeks as the May Graduation Festival and Term 1 exams have coincided. I hope the sight of graduates gathering for photographs has been a great motivator for students heading to and from assessments: proof that years of dedication leads to jubilation, for graduates and loved ones alike. I had the honour of addressing graduates and I highlighted their immense potential to have a positive impact on society – whether in Australia or across the world. Seeing the sense of achievement on so many students' faces reminded me that the goal of education for the greater good is as much personal as it is collective. I offer my sincere thanks to all our colleagues whose hard work ensured the success of our graduation ceremonies and examinations. These are pivotal events in University life and just as complex to facilitate. 
UNSW strengths combine: research excellence + sustainability + collaboration
Our research excellence and razor-sharp focus on research impact have again come to the fore in the past fortnight, with announcements of three major initiatives in which UNSW has a leading role, as well as Special Commendations from the Australian Council of Graduate Research for two of our academic colleagues.
Last Wednesday I travelled to Warner's Bay near Newcastle where the Prime Minister announced $50 million in federal government funding for our Trailblazer bid in partnership with the University of Newcastle. This is UNSW's second successful Trailblazer bid, the first being related to defence capability, and it will lead research commercialisation initiatives to help Australia and the world transition to sustainable recycling and clean energy solutions.
UNSW has been selected as academic lead – alongside University of Newcastle – and headquarters for the $15 million NSW Decarbonisation Innovation Hub. The Hub is a key part of the NSW Government's Net Zero Industry and Innovation Program, bringing together government, industry, and researchers to fast-track technologies to decarbonise NSW.
UNSW also successfully led a consortium of university and industry partners to secure a $70 million grant for the Sovereign Manufacturing Automation for Composites Cooperative Research Centre (SoMAC CRC). This is a collaboration between six leading Australian universities, Australia's Nuclear Science and Technology Organisation (ANSTO) and 29 industry partners to advance Australia's next-generation manufacturing industry. SoMAC CRC will use the grant to progress the nation's capabilities in manufacturing and high-value industries, including green energy production, space vehicles manufacturing and civil and marine infrastructure.
The excellence of Australian universities in general and UNSW in particular is being recognised by government and the private sector alike as a rich resource. As we emerge from the social and economic trials of the pandemic, we will increasingly be called up on to support our local and global community.
The all-staff forum this Friday – 10.30am until midday
I hope everyone will join the all-staff forum this Friday via Teams. This is my first opportunity to address you all, to give my reflections on my first four months as VC and to provide an opportunity for questions and further discussion. I'll share my observations from conversations with students, colleagues and external partners on emerging priorities for implementation of the next few years of the excellent S25. Of course, I'll give an overview of the themes that came through from your submissions to the Ideas Hub (thank you). After one of the toughest times in UNSW's history, I am pleased to see we remain in relatively good financial shape to face the challenges ahead. I will provide a broad financial update and would like to thank you all for the prudent financial management at every level across the entire University community that has brought us to where we are today. I look forward to seeing you all and hearing the questions and insights you have for senior leaders and me.
Cryptocurrency donation in support of EPIWATCH
In a sign of the times, UNSW received a cryptocurrency donation that converted to $5.3 million. The gift, from Vitalik Buterin, a global philanthropist and co-founder of Ethereum – a decentralized, open-source blockchain, is believed to be the largest cryptocurrency donation to an Australian higher education institution. The money will support the further development of EPIWATCH, an open-source intelligence (OSINT) tool that will provide pandemic early warning signals. Congratulations to the UNSW Kirby Institute's Head of Biosecurity Research Program, Professor Raina MacIntyre, on developing this tool and many thanks to our generous donor.
And finally…
If my excitement about our Graduation Festival and exam period has piqued your interest, please consider the Employee Education Discount – new applications are open for Term 2.
I also encourage you to read the new Disability Inclusion Action Plan 2022–2025, which is available for review and feedback prior to implementation.
My very best wishes to all who are getting ready for Term 2 O-Week. I look forward to finding more of those donuts I discovered in Term 1…
Best regards
Attila
Professor Attila Brungs
Vice-Chancellor and President
Comments