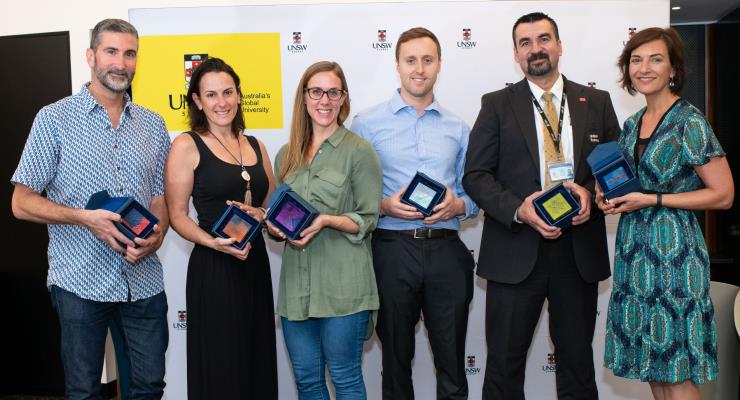 UNSW colleagues filled the Roundhouse to celebrate the second annual President's Awards event where seven employees were recognised for living the Values in Action.
On display were each of the Values in Action, symbolically displayed in neon lights to reflect the theme of this year's event, celebrating those employees who 'light up UNSW'.
Employees are recognised not only for what they do but how they approach their work; and their ability to energise colleagues and be supportive. The Values in Action provide us all with a guiding definition and support to discuss expectations with a positive, recognition-based intent.
President and Vice-Chancellor Professor Ian Jacobs acknowledged the 230 individuals and teams across UNSW who were nominated in this year's awards along with the seven inspirational winners.
Congratulations to all the winners who received $5,000 each for professional development at UNSW and dinner with the President and Vice-Chancellor Professor Ian Jacobs:
2018 President's Award Winners and The People's Choice Award Winner
Demonstrates Excellence

awarded to Kiran Thwaites, Education Support Officer, Medicine Education Support Unit (presented by Professor Nicholas Fisk, DVC Research)

Embraces Diversity

awarded to Melanie Schwartz, Faculty of Law (presented by David Ward, Vice President Human Resources)

Builds Collaboration

jointly awarded to Sarah Walker, Senior Lecturer, Faculty of Business and Associate Professor Anne Bartlett, School of Humanities, Faculty of Arts & Social Sciences (presented by Professor Brian Boyle)

Drives Innovation

awarded to Sam Hegarty, Digital Learning Specialist, People and Culture (presented by Andrew Walters, Vice President Finance and Operations)

Displays Respect

awarded to Andrew Coulter, Customer Service Officer, Graduate Research School (presented by Fiona Docherty, Vice President External Relations)

People's Choice Awardee

Osman Karakaya, Security & Operations, Division of Finance and Operations (presented by Deputy Vice Chancellor, Professor Merlin Crossley).
On accepting the award for Drives Innovation, Sam Hegarty in the People and Culture team said, "It was a huge surprise to receive the Innovation Award. I was very humbled to be nominated by my peers and really honoured to be amongst such talent at UNSW."
This year, a Showcase was launched as part of the annual Awards celebration. Held the day after the President's Awards, the Showcase is for all staff to join in the celebration and excitement of the 2018 President's Awards.
David Ward, Vice President, Human Resources, said, "The Showcase provides a wonderful opportunity for all UNSW employees including, awardees, nominees, leaders, teams to join in celebrating the inspirational individuals and stories recognised as part of the 2018 President's Awards; those who 'light up' UNSW.
"Congratulations to all awardees and nominees and thank you to the wider UNSW community for your ongoing support and engagement in making this year's President's Awards a great success."
For information on the 2018 President's Awards, awardees and nominees, and all the photos and videos please visit the Award's website.
Comments