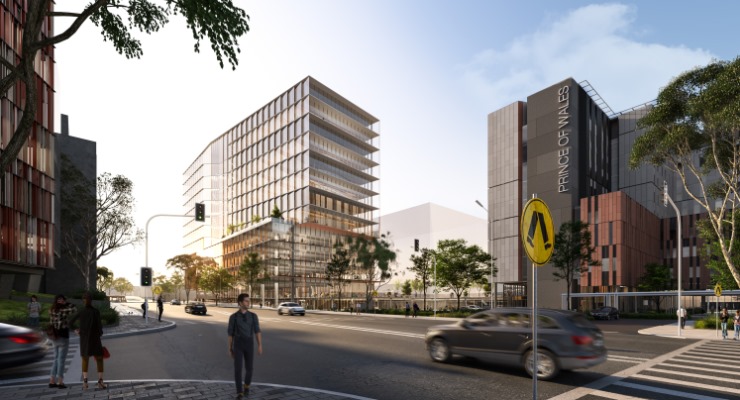 Under a unique partnership between UNSW Sydney and the NSW Government, a new hub for multi-disciplinary medical, education, training and research will be established at our Randwick Hospital Campus.
UNSW President and Vice-Chancellor Professor Ian Jacobs said this new partnership will ensure the latest research leads to faster improvements in patient care, allowing us to compete at the forefront of health research and education internationally. 
"The new hub will attract more outstanding clinicians, health professionals and academics to the Precinct; drive better healthcare, research and outcomes for patients; and generate economic benefits for the community," said Professor Jacobs.
UNSW will make an initial investment of up to $250 million in the new UNSW Health Translation Hub, which will deliver state-of-the-art education, training and research rooms and expanded ambulatory care clinics in fields such as neuroscience, public and population health.
The new building will co-locate the Prince of Wales of Clinical School, the School of Women's and Children's Health, and the School of Psychiatry. It is currently being planned with clinicians, researchers and health planners and is expected to be completed and functioning within five years.
Professor Jacobs noted that UNSW has had teaching hospital affiliations on the Randwick Hospitals' Campus for nearly 60 years.   He said the University plans to invest an additional $250 million across the Randwick Campus over the next 10 years, including the purchase of new medical and research equipment and an investment in the University's Faculties of Medicine and Science to attract world-class health professionals.
Premier Gladys Berejiklian made the announcement alongside the NSW Minister for Health and Medical Research, Brad Hazzard, and the Member for Coogee, Bruce Notley-Smith, at UNSW's Kensington campus.  Berejiklian welcomed the innovative partnership and the opportunities it will bring to academics, students and the hospital community.
"We want to attract the best and brightest scholars, researchers, lecturers and students to NSW," she said.  "With partners such as UNSW, we are creating precincts that will be the envy of the rest of the world. By working with world-leading health and education professionals, we will grow the State's medical research sector, create more jobs and cultivate excellence in medicine, research and public health."
Health Minister Brad Hazzard said it was a great example of collaboration to produce better outcomes for the community.  Students, academics and researchers will have incredible access to clinical settings, leading to better outcomes for patients and the community," he explained.
Comments